Click Here for More Articles on NEW YORK CITY
PEACE, LOVE AND CUPCAKES: THE MUSICAL Opens Tonight at NYMF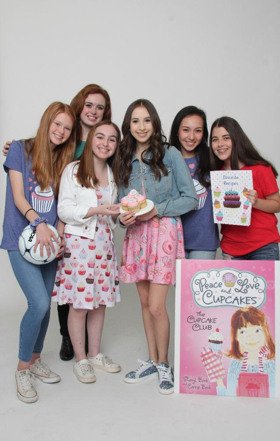 PEACE, LOVE AND CUPCAKES: THE MUSICAL, appearing as an Official Selection of the 2017 New York Musical Festival, opens tonight, July 27, at 8 p.m. at The Acorn Theatre at Theatre Row, 410 West 42nd Street between 9th and 10th Avenues.
Performances continue Friday July 28 at 5 p.m.; Saturday, July 29 at 1 p.m.; and Sunday July 30 at 10:30 a.m. and 2 p.m. Individual tickets are $27.50 and can be purchased online at nymf.org or at the theater box office or by calling (212) 352-3101. For more information, visit www.plcmusical.com or follow www.facebook.com/PLCthemusical and @plcthemusical on Instagram.
"The goal of the musical is to inspire kids to embrace their individuality and use their voices to positively impact the world around them," explains co-playwright and producer Jill Jaysen.
"We are proud to support the New York Musical Festival and productions like Peace, Love and Cupcakes: The Musical that positively and powerfully articulate messages and themes of inclusion and youth empowerment that are representative of the fabric of communities like New York," adds Jason D. King, Vice-President, Corporate Communications, Clear Channel Outdoor Americas. "Kids and parents alike will leave this show inspired to do their part to spur the anti-bullying movement which this show is sure to help invigorate."
"TD Bank is proud to support Peace, Love and Cupcakes: The Musical. We look at our united focus on diversity and inclusion as a positive catalyst for social change. Together we can send a powerful and visible message of encouragement to others and strengthen our community."
Richard Wiese, host of PBS Emmy-Award Winning Series "Born To Explore", says "We need to celebrate every culture and the gifts they bring. Inclusivity makes us all better. Peace, Love and Cupcakes: The Musical's mission drives home an important message, one that needs to be shared globally."
Michelle Charlesworth, Award-Winning Anchor/Reporter, WABC-TV Channel 7 is the voice of Kylies's mother in the show. "Peace, Love and Cupcakes: The Musical is equipment for living for all of us," says Charlesworth. "Seeing this show is a perfect way to start or continue a conversation about bullying for parents and kids with really positive results. When I was a seventh grader, I dealt with an awful bully who changed how I felt about myself and school and friends. I really wish this show had been around."
PEACE, LOVE AND CUPCKAKES: THE MUSICAL is proud to align with NoBully.org which trains schools how to activate student compassion to stop bullying and cyberbullying and has created bully-free campuses for over 100,000 students. "No Bully is thrilled to be associated with Peace, Love and Cupcakes: The Musical. The story encourages inclusion and empathy which are primary in our teaching to eradicate bullying," says Erick Stangvik, Vice-President of Strategy and Development for the organization.
At each performance, books donated by Sourcebooks, cupcakes donated by Georgetown Cupcake SoHo, and Peace, Love and Cupcakes: The Musical t-shirts will be sold with all proceeds benefitting NoBully.org.
Kids around the country, from elementary school through college, are encouraged to get involved and immediately qualify to become an Ambassador For Making A Difference. Students can submit a photo and have a chance to make their Off-Broadway Debut on-screen in the show. They can also participate in the production's video campaign by submitting a video singing the show's theme song. For complete details, visit the production's website at www.plcmusical.com.
The New York Musical Festival nurtures the creation, production, and public presentation of stylistically, thematically, and culturally diverse new musicals to ensure the future vitality of musical theater.
Now in its fourteenth year, the Festival is the premier musical theater event in the world. The preeminent site for launching new musicals and discovering new talent, the Festival provides an affordable platform for artists to mount professional productions that reach their peers, industry leaders, and musical theater fans. More than 90 Festival shows have gone on to productions on and Off-Broadway, in regional theaters in all 50 states and in more than 24 countries worldwide. Festival alumni have received a wide array of awards including the Tony Award and the Pulitzer Prize. In 2013, NYMF received a special Drama Desk Award in recognition of its work "creating and nurturing new musical theater, ensuring the future of this essential art form."
NYMF is the flagship program of National Music Theater Network, Inc., a 501(c) (3) not-for-profit organization. 2017 NYMF is sponsored by The City of New York Mayor's Office of Media and Entertainment, PRG, TheaterMania, Clear Channel Outdoor and the Village Voice, and is supported, in part, by an award from the National Endowment for the Arts and by public funds from the New York City Department of Cultural Affairs.
The NYMF PASS is a great way to experience The New York Musical Festival. With a NYMF PASS, you can get into the theater before individual ticket holders. Passes also offer the exclusive ability to book tickets before they go on sale to the public. Individual tickets are on sale now.
The 2017 New York Musical Festival will take place July 10 - August 6. For more information, visit www.nymf.org.
Pictured: Ksenia Nakonechny, Calli McRae, Madison Mullahey, Carrie Berk, Miranda Jo DeMott and Merin McCallum in a scene from Peace, Love and Cupcakes: The Musical.