Original Broadway Producer Bringing 50th Anniversary Production of HAIR to L.A. Before National Tour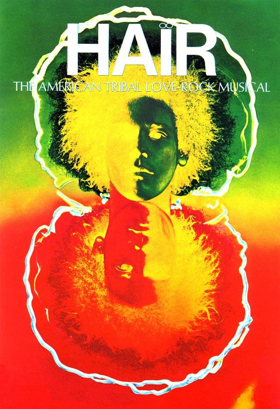 On the occasion of the 50th anniversary of HAIR - The American Tribal Love-rock Musical, Michael Butler, the Broadway producer who brought the musical to its greatest fame and popularity, announces his new production with performances April 20 to June 30 (opening night is April 29) at the newly renovated Palace Theatre at 630 South Broadway, DTLA (Downtown Los Angeles). Michael Arabian directs the new production.
HAIR will have a new revised book rewritten by the original writer/lyricist James Rado, who has survived his co-writer/collaborator, the late Jerome Ragni. The music by Galt MacDermot remains the same.
A national tour will follow this Los Angeles engagement, beginning with a run at the Laguna Playhouse, (606 Laguna Canyon Road, Laguna Beach) from August 8 to September 2, 2018
This production also marks an important moment for downtown Los Angeles' Palace Theatre, at 615 South Broadway. With HAIR, The Palace is hosting its first longer-run theatrical production; The Broadway Theatre Group, a company that also includes the Los Angeles Theatre, Tower Theatre, and State Theatre, restored the Palace Theatre in 2011 for its 100th anniversary.
The Broadway Theatre Group is excited to be the chosen venue for the 50th Anniversary Production of HAIR. The Broadway Theatre Group considers it an honor to have this magical Broadway musical on Broadway in DTLA, working with producer Michael Butler and Director Michael Arabian.
The Palace Theatre opened in 1911 as the Orpheum Theatre and is the oldest remaining Orpheum Theatre in the United States. Vaudeville stars like Rita Hayworth, W.C Fields, the Marx Brothers, and Harry Houdini all regularly performed on its stage.
From its off-Broadway debut in 1967 at The Public Theater to its stunning Broadway premiere in 1968,HAIR changed everything: Theater. Broadway. Politics. Film. Music. HAIR's famous tribe brought drugs, anti-war politics, rock 'n roll music and even the audience onto the stage for the first time.
HAIR defined the "rock musical," exuberantly celebrating the hippie counterculture, anti-war movement and sexual revolution of the 1960s with a rainbow score of hits - including "Aquarius," "Hair," "Easy to be Hard," "Be In," "Where Do I Go?" "Good Morning Starshine," and "Let the Sunshine In" - that have become ingrained in pop culture. Billboard said that HAIR's score is "the most successful score in history as well as the most performed score ever written for the Broadway stage." Music from HAIR is still heard or performed daily all over the world.
Butler said, "HAIR was the Oklahoma! of its time. It was as though all of Broadway stopped in its tracks as we were able to define relevancy, not just for a theatre audience, but for an entire generation. Everyone had to see it - more as an experience than a show -- and the numbers of productions we oversaw really couldn't satisfy the demand at its height. And in the waning days of when popular music looked to Broadway for hits, it felt like the radio was stocked with our songs."
Director Michael Arabian said, "The timing of this revival could not be better, as we are experiencing once again social activism very much like the 60's. Fighting for human rights, love and peace, pro-environment, anti-war, freedom of religion, race and gender equality -- all proving that the themes of HAIR are still relevant. This production will be as much a movement for social awareness, as it is a musical event. It can and has had impact all over the world, being the only musical in history - save Hamilton -- that entered the mainstream pop and political cultures."
Arabian continued, "There will be a 'Happening' outside of the theatre before the show, with displays and representatives from many progressive organizations. The audience will then enter into the theatre where they will have an immersive experience encountering the tribe of HAIR, who have inhabited the space preparing their movement for social change. The show will have a new staging, using period TV broadcasts and images from the 60's combined with the state-of-the-art projection technology of today."
HAIR was a theatrical portrait of the kids the creators knew who were dropping out, dodging the draft, and protesting the war in Vietnam. Otis L. Guernsey in the annual "Best Plays 1967-1968" said, "There must come a moment in life ... a moment of determination to do one's own thing, this act of confirmation of the rebellious spirit, is the moment that HAIR captures, prolongs and splinters into its dozens of jagged comments on sex, drugs, military service, money, religion, etc. HAIR was a detonation of a musical that shook up its audience and made them hear the hippie's cries of joy in living and of anger at any sign of generalization of conformity."
The 1968 Broadway production of HAIR paved the way for all subsequent Rock Musicals. But, at the time, the Broadway community was shocked, and declared HAIR ineligible for that year's Tony Awards. But Butler's belief in the show never wavered. While 1776 won the Tony for best musical in 1968, HAIR became a global phenomenon.
Millions of people have seen HAIR and never forgotten the experience. HAIR is one of the most recognized and most performed pieces of contemporary theater since its debut 50 years ago - and has literally never been out of production.
The Broadway production ran for 1,750 performances. Simultaneous productions in cities across the United States and Europe followed shortly thereafter, including a successful Los Angeles production that opened just six months after the Broadway production, and the London production that ran for 1,997 performances.
HAIR has been produced dozens of times across the United States and in England, France, Germany, Australia, Mexico, Scandinavia, South America, Italy, Israel, Japan, Canada, the Netherlands, Switzerland and Austria, behind the Iron Curtain and has now been running in Russia for the last 10 years.
There are many recordings of the musical, including the original Broadway cast recording, which has sold over 3 million copies. A feature film adaptation was released in 1979, directed by Academy Award winning Milos Forman.
A Broadway revival opened March 31, 2009, earning strong reviews and winning the Tony Award and Drama Desk Award for best revival of a musical.
HAIR was the opening production at the new Public Theatre in New York City's East Village in 1967. HAIR opened on Broadway, at the Biltmore Theatre, on April 29, 1968 and ran for 1,750 performances, closing on July 1, 1972. The original Broadway "tribe" (i.e. cast) included Diane Keaton, Ben Vereen, Paul Jabara, Melba Moore, Keith Carradine, Meat Loaf, and Heather MacRae.
Michael Butler and documentary filmmaker Richard Marsall are also assembling a new
non-fiction film about HAIR that reflects today's tipping points in the youth social movement while celebrating HAIR's music, energy, influence and infinite cultural relevance. The documentary will include behind-the-scenes casting, rehearsals and the staging of this 50th anniversary HAIR.
Marsall has begun filming behind-the-scenes creative meetings and interviews between the live tour's stage director, Michael Arabian, Mr. Butler, and the production design team to capture every stage of this once-in-a-lifetime live stage production and tour. The filmmaker will also involve the remaining original creative team including HAIR co-author/writer James Rado, composer Galt MacDermot and and a variety of former cast members, including Diane Keaton, Ben Vereen, Keith Carradine, Melba Moore, and Jim Carrey, among others.
About Michael Arabian (Director)
Michael Arabian has directed and produced numerous West Coast and world premieres in New York and Los Angeles, winning over 50 awards. At San Diego Rep, he directed Disgraced in 2016 (San Diego Critics Award nomination for Best Production); and Red in 2012, starring John Vickery. Both shows were in the San Diego Stage Beat's Top 10.
Earlier in 2016, he directed the critically acclaimed production of Kingdom of Earth by Tennessee Williams at the Odyssey Theatre in Los Angeles. Charles McNulty said in the Los Angeles Times, "it was a discovery of a hidden gem by Williams." Additional recent credits include, directing Hollywood film legend and dance icon Leslie Caron in Six Dance Lessons in Six Weeks at the Laguna Playhouse; Staging the Unstageable (centennial of the Armenian Genocide) at the Kirk Douglas Theatre, and God of Carnage at La Mirada Theatre.
His production of Waiting for Godot at the Mark Taper Forum was honored with five Los Angeles Drama Critics Circle Awards, including outstanding production and direction; was nominated for 10 Ovation Awards, winning five, including best production; and was cited as one of the ten most memorable productions of 2012 seen in either New York or LA by Los Angeles Times critic Charles McNulty who called it a "luminous revival."
Other productions at the Taper include Samuel Beckett's Krapp's Last Tape, Edward Albee's The Sandbox, Harold Pinter's A Slight Ache and workshops of new works. His site-specific company, Theatre InSite, formed a partnership with CBS (Radford) Studios (a first for L.A. theater), to produce live TV pilots (Third Rock from The Sun picked up) and inventive, large-scale productions... an updated Romeo and Juliet where audiences followed scenes and car chases through the backlot's suburban streets; The Trojan Women, starring Mariette Hartley and an amphibious Marine Corps Humvee, set during the Gulf War and staged in 400,000 gallons of water at the old "Gilligan's Island" lagoon site; and Is It Just Me or Is It Hot in Here?, a musical about menopause.
Other local LA credits include John Patrick Shanley's Danny and the Deep Blue Sea (14 critics choices),The Laramie Project, Ten Years Later starring Barbara Bain for the Tectonic Project in one of 150 presentations around the world, and Some Kind of Love Story by Arthur Miller, produced by Martin Landau and Mark Rydell for The Actors Studio. His film "King of the Ants," shot on 35mm, is distributed by Vanguard Cinema.