New Play About Gloria Steinem to Make World Premiere in New York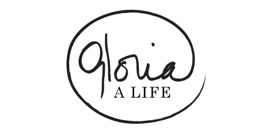 Tony Award-winning producer Daryl Roth has announced the world premiere of GLORIA: A LIFE, a new play about Gloria Steinem as a symbol of past, present and future change. The play is based on her life and work, and written by Tony Award-nominee Emily Mann (Having Our Say). It is directed by the visionary Tony Award-winning Diane Paulus (Waitress, Pippin).
Featuring an all-female creative and producing team, the show will begin previews October 2nd, and open October 18th at the landmarked Daryl Roth Theatre on Union Square (101 East 15th Street at Park Avenue South).
GLORIA: A LIFE weaves together personal and history-changing moments of the past fifty years, from consciousness among a few women, to the majority tipping point of national and global consciousness that we are now witnessing. Starting with Gloria's early adventures as a rare female reporter, the revelations of the play include stories of the people who inspired her and led her to inspire others.
Act One focuses on her personal life and activism, and Act Two is a Talking Circle in which the audience will be invited to carry the themes of the play into a conversation of their own. This exciting and unique production offers a new form of communicating through theatre.
As Gloria explains, "What makes me feel enthusiastic about this whole idea is that after Act One about my life, the audience will take over and become a talking circle with a life of its own. During many years of traveling and organizing, I've come to have great faith in the magic of people talking together after a shared experience. Computers may give us information, but only being together with all five senses creates empathy and action."
As Daryl Roth explained, "We feel it's incredibly important to be telling this story at this moment in time, Gloria's life and all she has accomplished brings us hope, reminding us how far we've come, and inspiring a new generation to go further."
Tickets will go on sale on Monday, June 25 at www.gloriatheplay.com. From October 2 through October 21, performances are Monday and Tuesday at 7:00 PM, Wednesday at 2:00 and 8:00 PM, Thursday at 7:00 PM, dark on Friday, Saturday at 2:00 and 8:00 PM and Sunday at 3:00 PM. Starting October 23, performances are Tuesday at 7:00 PM, Wednesday at 2:00 and 8:00 PM, Thursday at 7:00 PM, Friday at 8:00 PM, Saturday at 2:00 and 8:00 PM, and Sunday at 3:00 PM.
Gloria Steinem is a writer, speaker, activist and feminist organizer. She co-founded New York Magazine and Ms. Magazine, where she remains a consulting editor. She has produced a documentary on child abuse for HBO, a feature film about the death penalty for Lifetime, and WOMAN, a series of eight documentaries for VICELAND about violence against women in eight countries, from the United States to Zambia. She is also the subject of The Education of a Woman, a biography by Carolyn Heilbrun, and HBO's "Gloria: In Her Own Words." Her books include the bestsellers My Life on the Road, Revolution from Within, Outrageous Acts and Everyday Rebellions, Moving Beyond Words, Marilyn: Norma Jean, on the life of Marilyn Monroe, and in India, As If Women Matter. She was a member of the Beyond Racism Initiative, a three-year effort to compare racial patterns in South Africa, Brazil and the United States. She co-founded and serves on the boards of the Women's Media Center, Equality Now and Donor Direct Action, and is a frequent speaker on campuses and in the media. She is an advisor to TIME'S UP, a part of a global movement against sexual harassment and violence. In 2013, President Obama awarded her the Presidential Medal of Freedom, the highest civilian honor. She lives in New York City.
Emily Mann (Playwright), is in her 28th season as Artistic Director and Resident Playwright of the Tony Award-winning McCarter Theatre Center. Her plays include Having Our Say, adapted from the book by Sarah L. Delany and A. Elizabeth Delany with Amy Hill Hearth; Execution of Justice; Still Life; Annulla, An Autobiography; Greensboro (A Requiem); Meshugah; Mrs. Packard, and Hoodwinked (a Primer on Radical Islamism). She is currently writing the stage adaptation of The Pianist. Adaptations: Baby Doll, Scenes from a Marriage, Uncle Vanya, The Cherry Orchard, A Seagull in the Hamptons, The House of Bernarda Alba, Antigone. Awards: Peabody, Hull Warriner, NAACP, Obies, Guggenheim, Tony, Drama Desk, Outer Critics Circle nominations, a Princeton University Honorary Doctorate of Arts, a Helen Merrill Distinguished Playwrights' Award, and the Margo Jones Award.
Diane Paulus (Director), is the Terrie and Bradley Bloom Artistic Director of the American Repertory Theater (A.R.T.) at Harvard University. Broadway: Waitress (Broadway and US national tour), Pippin (Tony Award, Best Revival and Best Director),The Gershwins' Porgy and Bess (Tony Award, Best Revival; NAACP Award, Best Direction), HAIR (Tony Award, Best Revival). Current: Jagged Little Pill at the A.R.T., opening May 2018. Recent: In the Body of the World (Drama League nomination) Off-Broadway at Manhattan Theatre Club. Additional A.R.T.: The White Card by Claudia Rankine, Crossing, Witness Uganda, Prometheus Bound, Death and the Powers: The Robots' Opera, Best of Both Worlds, The Donkey Show. Other recent work includes Cirque du Soleil's Amaluna, currently on tour in South America. Paulus is Professor of the Practice of Theater in Harvard University's English Department. She was selected for the 2014 Time 100, Time magazine's annual list of the 100 most influential people in the world.
Daryl Roth (Producer) holds the singular distinction of producing seven Pulitzer Prize-winning plays: Anna in the Tropics; August: Osage County (2008 Tony); Clybourne Park (2012 Tony); How I Learned to Drive; Proof (2001 Tony); Edward Albee's Three Tall Women; and Wit. The recipient of 11 Tony Awards and London's Olivier Award, her over 110 award-winning productions both on and Off-Broadway include Kinky Boots, now in its sixth year on Broadway, with productions in London, Toronto, Australia, Korea, Japan, and Germany; Angels in America; Caroline, or Change; A Catered Affair; Closer Than Ever; Curtains; Edward Albee's The Goat, or Who Is Sylvia? (2002 Tony Award); Paula Vogel's Indecent; It Shoulda Been You; Nora Ephron and Delia Ephron's Love, Loss, and What I Wore; The Normal Heart (2011 Tony Award); The Tale of the Allergist's Wife; War Horse (2011 Tony Award); and Wiesenthal. Proud to have been inducted into the 2017 Theatre Hall of Fame, she was named to Crain's 2017 "50 Most Powerful Women in New York."www.DarylRothProductions.com.

Related Articles
More Hot Stories For You
QUIZ: Which Broadway Song Matches Your Personality?
Are you more of a 'My Shot' or 'Don't Rain On My Parade'? Take our personality quiz to find out!... (read more)

VIDEO: Watch HAIRSPRAY LIVE!, Starring Ariana Grande, Jennifer Hudson, Kristin Chenoweth, and More- Live Now!
Hairspray Live! will be broadcast online as part of The Shows Must Go On! The show will launch today at 2:00pm EST and be available for 48 hours. The ... (read more)

Governor Cuomo Announces New York City Will Begin First Phase of Reopening
New York Governor Andrew Cuomo announced in today's press conference that New York City will begin its first phase of reopening on June 8. This means ... (read more)

HADESTOWN Tour Postpones Hartford Performances
Hadestown, which had previously announced a tour beginning this fall has delayed the launch of the tour. The previously scheduled official tour openin... (read more)

Josh Groban To Present Virtual Livestream Concert, June 27
Renowned singer Josh Groban has announced that he will host a special livestream concert June 27 on his website!... (read more)

GYPSY, NINE, HELLO AGAIN and More Featured in BroadwayHD June Lineup
BroadwayHD today announced its upcoming June titles, which feature an exciting lineup and star studded casts, including hit comedies, original musical... (read more)