New Musical Reading Announced At Hudson Theatre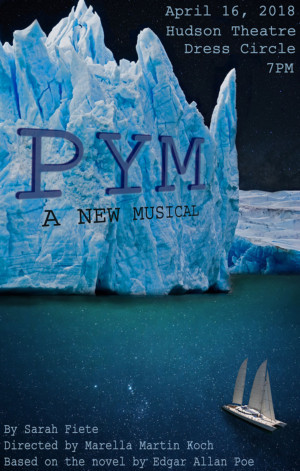 Book, Music & Lyrics by Sarah Fiete, PYM, a modern, female-driven musical adaptation of Edgar Allan Poe's "The Narrative of Arthur Gordon Pym of Nantucket" receives an invitation-only reading on April 16, at 7PM, in Hudson Theatre's Dress Circle Lobby.
Told in an indie-rock style that combines power ballads with sea chanteys, this haunting adventure tale follows two young women, Pym and her best friend A.B, who wind up in the middle of a mutiny. They, along with the first mate Dirk Peters, must navigate mysterious islands, murderous sailors, and grim legends. But when you've been a sidekick your whole life, how do you become the protagonist of your own story?
Directed by Marella Martin Koch, with Robert Frost as Music Director, and Yue Liu as Co-Producer, the cast of PYM includes Maritza Bostic*, Molly Coyne*, Daniel Plimpton* as Pym, A.B., and Dirk Peters, respectively.
They will be joined by Lexi Rhoades* as Captain Block, Craig McEldowney* as Capt. Barnard/Capt. Guy, Joshua Israel* as Seymour/Ens, Doug Shapiro* as Rick/Ens, and Lauren Baez as Narrator Pym/Ens.
The PYM reading is on Monday, April 16th, 2018, at 7PM, in Hudson Theatre's Dress Circle Lobby. Industry members interested in attending should email: PYM.The.Musical@gmail.com.
*Appearing courtesy of Actors' Equity Association.
Featured BroadwayWorld Events
Check out these concerts...
Related Articles
More Hot Stories For You
Breaking: Tony-Winning Choreographer Bob Avian Passes Away at 83
BroadwayWorld is saddened to report that beloved Broadway choreographer Bob Avian passed away yesterday from cardiac arrest at Holy Cross Hospital in ...

Disney Adaptation of BETTER NATE THAN EVER Holds Virtual Open Call
Calling all kids! Casting is underway for Walt Disney Studios Motion Pictures' film adaptation of Tim Federle's children's book Better Nate Than Ever....

Ellen's Stardust Diner Presents STARDUSTERS Concert Next Weekend
An interactive musical theatre benefit show, Broadway Alive, will stream live from Broadway's iconic Ellen's Stardust Diner, on Saturday, January 30 a...

Final Lineup Announced For SAVE BIRDLAND: A Celebration Of Music, History, And Community
The fundraising campaign for Birdland Jazz Club will conclude on January 24th with a free streaming concert titled Save Birdland: A Celebration of Mus...

VIDEO: Christopher Jackson Performs 'The Times They Are a-Changin' at The Creative Coalition's Inaugural Ball
On January 20, 2021, The Creative Coalition brought together leaders from entertainment, media, Congress, and the White House Cabinet and Administrati...

Social Roundup: The Theatre Community Mourns the Loss of Bob Avian
Read what theatre stars from across social media are saying about the passing of Bob Avian....