New Musical, LET THERE BE LIGHT Wins New York Theatre Festival's Summerfest 2018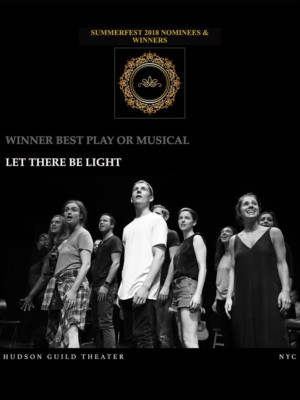 The New York Theatre Festival selected 120 productions for their Summerfest Competition this year which was held from July 11th through October 4th, 2018 at The Hudson Guild Theater. On October 9th, the awards ceremony took place. LET THERE BE LIGHT, a new musical with Book, Music, and Lyrics by Brianna Barnes, took home the top prize of BEST MUSICAL/PLAY and won $3,500. LET THERE BE LIGHT also won BEST SCORE, and received three Best Singer nominations (Lou Steele*, Tommy McDowell,* and Brianna Barnes) as well as a Best Actress nomination (Calli McRae).
24-year-old, Brianna Barnes, created the show her senior of college at The University of Cincinnati-College Conservatory of Music while earning her BFA in Musical Theater. With a background in pop-folk songwriting, she began to craft an idea for a musical about people's experiences with Christianity in America in 2018. She conducted professional interviews around the Cincinnati area and began piecing together a script while writing new music. Under the supervision of Vince DeGeorge, CCM Musical Theater Faculty, she birthed a workshop featuring 8 CCM students, concluding in a staged performance in the spring of 2016. After moving to New York, Brianna entered LET THERE BE LIGHT's opening and closing numbers, "Illuminate the Night" and "United" into the New York Musical Festival's songwriting competition in 2017. Both songs were selected to be featured in NYMF's United We Stand Concert at Green Room 42. The following summer in 2018, LET THERE BE LIGHT was selected to compete in The New York Theatre Festival's Summerfest 2018! It was presented as an Equity Showcase for 3 fully staged (and sold out) performances! The show featured Tommy McDowell*, Lou Steele*, Kelsey Crismon Morgan*, Clara Cox*, Sarah Bishop*, Alison Bagli, Calli McRae, Trevor Miles, Lori Eure*, Michelle Girolami, Yolette Josey, Madeline Lynch, and Brianna Barnes. (*Denotes Member of The Actors Equity Association). Choreographed by Elizabeth Troxler and Assistant Directed by Tom Meglio.
Let There Be Light is a new 90 minute folk-pop musical created by Brianna Barnes. Based on real interviews, Let There Be Light features a unique collection of 13 people's diverse experiences, struggles, and questions to do with Jesus Christ and Christianity in America in 2018. Can the Jesus-lover, the Jesus-hater, and the ex-Jesus follower all have a seat at the same table? And can a space exist in which they can share their most powerful stories and expose their deepest fears about The Church into the light? Through authentic, raw, and provocative storytelling, Let There Be Light invites anyone who has been impacted by the Church, for better or for worse, to break the divisive walls of religion that separate and enter into an illuminated space where one can share and learn from the perspectives of the others.
To learn more: www.brianna-barnes.com/lettherebelight and check out performances below:
Related Articles
More Hot Stories For You
Patti LuPone Wants to Narrate Mary Trump's New Book For Randy Rainbow to Lip-Sync
Could we be getting a new Randy Rainbow/Patti LuPone collaboration? We sure hope so!...

QUIZ: Attend the Winter's Ball to Find Out Which Hamilton Star Will Be Your Date!
We're going back to 1780 for A Winter's Ball (you know, where the Schuyler Sisters are the envy of all?) for our latest Hamilton quiz!...

VIDEO: On This Day, July 9- Lin-Manuel Miranda, Phillipa Soo, Ariana DeBose, and Leslie Odom, Jr. Say Goodbye to HAMILTON
On this day in 2016, original Hamilton cast members, Leslie Odom Jr., Phillipa Soo, and Ariana DeBose along with the musical's star and composer, Lin-...

VIDEO: Listen to Act 1 of HAMILTON, Acted Out by The Muppets
Voice actor and comedian Ricky Downes III has recorded all of Act I of Hamilton... in the voices of all The Muppets!...

Broadway League Approves 15-Second COVID-19 Test For Actors and Crew; League President 'Cautiously Optimistic' About Early 2021 Return
Broadway League President Charlotte St. Martin told the New York Post that for the first time, she feels 'cautiously optimistic' about Broadway being ...

BROADWAY AT HOME on PBS Continues With GREAT PERFORMANCES: SHE LOVES ME & More
Beginning July 24, GREAT PERFORMANCES will continue to keep the performing arts alive with Broadway at Home, broadcasting a theatrical favorite every ...