NYTF Announces Spring-Summer Season 2018 Including FIDDLER ON THE ROOF in Yiddish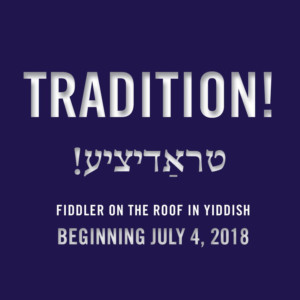 National Yiddish Theatre Folksbiene (NYTF), the longest consecutively producing theatre in the United States and the world's oldest continuously operating Yiddish theatre company, today launched its Spring-Summer 2018 season, including the American premiere of Fiddler on The Roof in Yiddish.
"Throughout our storied history, National Yiddish Theatre Folksbiene has created a living legacy through the arts, presenting a range of dynamic plays, musicals, concerts, educational programs and much more that engage and inspire people of all ages," said NYTF's Chief Executive Officer, Christopher Massimine. "In 2018, we continue this rich cultural heritage by bringing 'the people's stage' to even more audiences."
"This season, the National Yiddish Theatre Folksbiene will continue to offer enriching experiences showcasing both old and new traditions, and even seed some new ones," said NYTF's Artistic Director, Zalmen Mlotek. "Yiddish is the heart and soul of language and culture, and where better to experience this amazing language and create lasting memories than in our country's longest-running Yiddish theatre company."
Anchoring the season is the Yiddish version of Fiddler on the Roof, which has not been staged since its world premiere production in Israel more than 50 years ago. Translated and adapted by Shraga Friedman, performances are set to begin July 4, 2018 in the Edmond J. Safra Theatre at the Museum of Jewish Heritage at 36 Battery Place, in Battery Park.
"NYTF's version of Fiddler is set to design an accurate re-creation of how this musical might look and sound in its native Yiddish tongue," stated Mr. Massimine. "The context of this production will be presented to provide a culturally historical retrospective. Concurrently, we are working with filmmaker Max Lewkowicz of Dog Green Productions, who is creating the official Fiddler documentary."
NYTF will be actively consulting with Pulitzer Prize-, Grammy-, and four-time Tony Award-winning lyricist Sheldon Harnick, a member of NYTF's newly formed Artistic Council, about the show's development. We will work together with The Jerome Robbins Foundation to honor both his original choreography and his connection to Yiddish culture. 2018 is the 100th anniversary of Jerome Robbins' birth and his centennial year will be celebrated with hundreds of programs around the world.
Fiddler on The Roof features music by Jerry Bock, lyrics by Sheldon Harnick, and book by Joseph Stein. The original Broadway production of the show, which opened in 1964, was the first musical theatre production in history to surpass 3,000 performances. The show won the 1965 Tony Award for Best Musical in addition to eight other Tony Awards that year.
The Yiddish translation was artfully crafted by noted Israeli actor/director Shraga Friedman in 1965, just one year after the Broadway debut of Fiddler on the Roof and deepens the connection of the work to the original stories of Sholom Aleichem. For an example, "If I Were a Rich Man" is translated into Yiddish as "If I Were a Rotshschild", referencing the title of another short story by the beloved author.
Fiddler on The Roof performances will run from July 4 through August 12. NYTF members will have exclusive access to sales until February 12, when tickets will go on sale to the general public. For advance sales/membership/groups, call 212-213-2120 Ext. 204. For tickets after February 12 visit NYTF.org or call 866-811-4111.
From February through the summer, the new season is filled with programs serving a diverse audience of performing arts patrons, cultural enthusiasts, Yiddish-language aficionados and the general public. For more information on Fiddler on the Roof and other upcoming events, please visit our website at www.NYTF.org.
On tap this season are signature events, most held at the Museum of Jewish Heritage at Edmond J. Safra Plaza, 36 Battery Place, Battery Park, Lower Manhattan, such as:
Vilnius
February 6 at 6:30 p.m.
A staged reading of a new play by Ira Fuchs, "Vilnius" is about the real people who sustained the civilized fabric of the Vilna Jewish community during its degradation in the Interwar years and its complete destruction by the Nazis in World War Two. The play follows the lives of Motke Zeidel and Yudi Hirschmann, from the ages of 11 through 28, as they grow up together and become central characters in the political and social events of their time. Their encounters with historical people and situations tell a story of heroic perseverance under extraordinary circumstances.
Early Yiddish Theatre and Vaudeville
February 11 at 2:00 p.m.
Join NYTF for an exclusive concert of rediscovered and revitalized work from Vaudeville and the early years of Yiddish theatre. This concert features rarely heard songs from earliest stirrings of Yiddish theater in the taverns of Romania in the 1870s through the operetta, operas and musicals that filled 2,000-seat theaters along Second Avenue during the Golden Age in the 1910s and 1920s. The repertoire includes hits by Goldfaden, Rumshinsky, Ellstein and more. Starring Daniel Greenwood (The Mikado), Cameron Johnson (The Golden Bride), Raquel Nobile (Amerike - The Golden Land), Rachel Policar (The Golden Bride), Daniella Rabbani (The Golden Land) and Adam Shapiro (The Golden Bride), and featuring the Uptown Downtown Orchestra. The concert is conducted by Zalmen Mlotek.
House of Esther: Immersive Purim Event
February 28 and March 1 at 8:00 p.m.
At The Paper Box, 17 Meadow St, Bushwick, Brooklyn
This FolksbieneRU immersive theatrical experience showcasing the many faces of Esther will unfold with interactive theatrical performances by Lost & Found Project set against a mesmerizing live musical score. You will trace the unpredictable journey of a woman who answers the call of opportunity and finds her powerful and heroic voice. The House of Esther experience will culminate with cocktails, conversation, and a dance party. This event is 21+. FolksbieneRU is a partnership initiative of the Genesis Philanthropy Group and National Yiddish Theatre Folksbiene.
KOMPOT
March 4 from 11 a.m. to 1 p.m.
This dynamic and engaging series geared for Russian-speaking families with children ages 2-8 returns for a special Purim-themed program. After the premier of a new original play for kids created by acclaimed actor Gera Sandler, families will enjoy creative face-painting and mask-making activities in celebration of Purim. KOMPOT is made possible with the generous support of PJ Library in partnership with Genesis Philanthropy Group.
King of the Jews
March 5 at 7:00 p.m.
A staged reading of play by Leslie Epstein, King of the Jews tells the story of a runaway boy. When he seeks refuge in their cafe, 10 unassuming Jews in Nazi-occupied Poland find themselves selected to form a Jewish ghetto council in charge of policing their own people. Led by the morally ambiguous Doctor Trumpelman, the council revels in their newfound power until they are faced with the impossible task of handing over the names of 100 of their fellow Jews. Unable to choose and unable to disobey, the council members grapple with the assignment of sentencing their own people to death. The reading is directed by Alexandra Aron.
From the Yiddish Rialto to the Silver Screen
March 11 at 2:00 p.m.
The musical rediscovery continues with songs from jazz infused Yiddish musicals, hits made popular on the Yiddish radio and melodies accompanied by film clips from the Yiddish musical cinema of the 1930s and 1940s. This restoration concert stars: Daniel Greenwood (The Mikado), Cameron Johnson (The Golden Bride), Raquel Nobile (Amerike The Golden Land), Rachel Policar (The Golden Bride), Daniella Rabbani (The Golden Land), and Steve Sterner (The Sorceress), and features the Uptown Downtown Orchestra. The concert is conducted by Zalmen Mlotek.
Pop-Up Passover
March 25 from 10 a.m. to 12 p.m.
A Passover celebration, co-presented with the Museum of Jewish Heritage, where parents and children can take part in old and new Passover traditions, sing Yiddish songs, create personalized Hagados, and experience new Seder recipes.
Untold Stories of Jewish Women
March 20 to 22 (all-day)
This is a three-day festival of readings and performances, including theater, music and poetry, and telling the stories of Jewish women, which will challenge the stereotypes of Jewish women's lives and elevate their voices. It is a collaboration between the National Yiddish Theatre Folksbiene; the Museum of Jewish Heritage; 365 Women a Year; a Playwriting Project; and, Women in the Arts and Media Coalition.
Song of the Lodz Ghetto with Brave Old World
April 18 at 7:00 p.m.
A rare New York appearance by one of the world's leading klezmer groups starring four internationally renowned musicians who have expertly curated a collection of songs, at once moving and rousing, which sustained the spirits of the Jews in the notorious Lodz Ghetto. A multimedia musical program featuring Brave Old World's arrangements of rare Jewish music created between 1940 to 1945 in the Nazi ghetto of Lodz, Poland. The life-affirming songs, from satirical to celebratory, were collected in Israel among survivors of the Lodz Ghetto. The concert is presented in conjunction with the Museum of Jewish Heritage's exhibition Memories Unearthed: The Lodz Ghetto Photographs of Henryk Ross, and made possible in part through a partnership with the Battery Park City Authority.
Warsaw Ghetto Memorial
April 22 at 2:00 p.m.
In honor of the 75th anniversary of the uprising in the Warsaw Ghetto, which began on April 19th, 1943, we will present a special evening featuring alumni of a Yiddish summer camp, Camp Hemshekh, active from 1959 through the early 70s created by Holocaust survivors. Every summer the campers and counselors would commemorate the Warsaw Ghetto Uprising, with an event featuring poetry and songs and including the construction of a memorial work of art that was designed by a young Daniel Libeskind. We will be presenting this program with alumni, campers, counselors, and parents of same to commemorate this date.
The Tenth Man
May 16 at 7:00 p.m.
A world premiere staged reading of the newly commissioned Yiddish translation of Paddy Chayefsky's 1959 Tony Award nominated play, set among a minyan of older men in suburban Long Island and a young woman who may or may not be possessed by a Dybbuk, for the first time presented in a staged reading in Yiddish translation by Tony Award-nominated director Eleanor Reissa.
Additionally, this season, NYTF presents touring productions, teen drama labs and more:
Folksbiene Troupe, a group of young performers who have come to the Yiddish world in their 20's and 30's and are passionate about bringing Yiddish language performances to audiences everywhere, will be performing in Mama's Loshn Kugel, a touring production, on February 3, at the Congregation Mishkan Israel Hamden, Connecticut.

Teen Drama Lab at the Marks JCH of Bensonhurst Sundays starting February 24.

Tween Drama Lab at ZPlay School in Manhattan March 4 to May 13, Saturdays, from 1-3 p.m.

Kibbutznik Kids Drama Lab Park Slope, Brooklyn Sundays March 4 - May 13.

RU Tots, offering Jewish culture for young children from the Russian-speaking community, 10-week program beginning on Friday, February 16.

Summerstage Concert, an annual celebration at the Central Park Summer Stage, on June 14.
For membership call 212-213-2120 Ext. 204. For tickets call 866-811-4111 or visit NYTF.org.
Now celebrating its 103rd season, Tony Award-nominated and Drama Desk Award-winning National Yiddish Theatre Folksbiene (NYTF) is the longest consecutively producing theatre in the US and the world's oldest continuously operating Yiddish theatre company. Dedicated to creating a living legacy through the arts, connecting generations and bridging communities, NYTF brings history to life by reviving the lost and forgotten gems of the Yiddish stage through its global restoration project, commissioning new work, and adapting pre-existing work for the 21st Century. Serving a versatile audience comprised of performing arts patrons, cultural enthusiasts, Yiddish-language aficionados and the general public, the company presents plays, musicals, concerts, lectures, interactive educational workshops and community-building activities in English and Yiddish, with English and Russian supertitles accompanying performances. NYTF provides access to the hundreds of years of cultural expression, aiming to inspire the imaginations of the next generation to contribute their own stories to this valuable work. More information can be found at www.NYT