NY Philharmonic Announces The 2018–19 Season Of Free "Insights At The Atrium"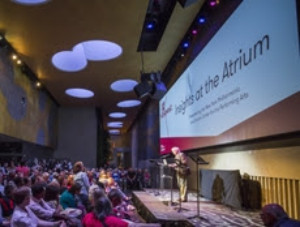 The New York Philharmonic announces the 2018-19 season of Insights at the Atrium, free events exploring themes of the Philharmonic's concert season through conversations and panel discussions. All events are held at the David Rubenstein Atrium at Lincoln Center and begin at 7:30 p.m.
The 2018-19 Insights at the Atrium events include:
"Mastering Sound and Story in The Red Violin" October 15, 2018
Three of the creative forces behind François Girard's 1998 film The Red Violin reunite: composer John Corigliano, creator of the Academy Award-winning score; violinist Joshua Bell, the soundtrack's original soloist; and producer Niv Fichman, who executed the film's ambitious international scope. New York Philharmonic Vice President, External Affairs, Adam Crane moderates.
"New York's New-Music Landscape" November 5, 2018
How is new music adapting to and challenging contemporary culture? The Marie-Josée Kravis Creative Partner Nadia Sirota; bassoonist / International Contemporary Ensemble co-artistic director Rebekah Heller; and Philharmonic Vice President, Artistic Planning, Isaac Thompson survey the state of new music in New York City and consider its future.
"An Evening with Matthias Goerne" December 5, 2018
On the eve of his first performance as The Mary and James G. Wallach Artist-in-Residence at the New York Philharmonic, baritone Matthias Goerne discusses his role as a leading interpreter of German art songs, his inspirations, and his reflections on the music he will perform with the Philharmonic this season. Philharmonic Vice President, Artistic Planning, Isaac Thompsonmoderates.
"New York Stories: Threads of Our City" January 15, 2019
As part of the New York Philharmonic's exploration of New York's roots as a city of immigrants, Musicians from the New YorkPhilharmonic who immigrated to the United States share their stories and consider how the Orchestra can reflect the diversity of New York City.
"A Conversation with Herbert Blomstedt" February 26, 2019
New York Philharmonic President and CEO Deborah Borda engages conductor Herbert Blomstedt in conversation about the highlights of his career of more than 60 years and his artistic convictions, ahead of his concerts featuring masterworks by Grieg and Dvo?ák.
"An Evening with Music Director Jaap van Zweden" March 20, 2019
As he approaches the end of his inaugural season as Music Director of the New York Philharmonic, Jaap van Zweden discusses his path to the Philharmonic, the core values he brings to his musicianship and the Orchestra, and his views on the role of the symphony orchestra in the 21st century.
"The Very Young Composers of New York" May 21, 2019
For 25 years, the New York Philharmonic's Very Young Composers (VYC) program has nurtured children's inherent creativity, resulting in hundreds of original compositions. Philharmonic musicians perform three of the newest works by 10- to 14-year-old composers, and Very Young Composers, Philharmonic musicians, Philharmonic Teaching Artists, and VYC Artistic Director and Founder Jon Deak reflect on the program and its impact on the composers and audiences alike. VYC Program Manager Jessica Mays moderates.
"Music of Conscience: How Music Responds" June 2019
A panel of composers and musicians considers the question of musical activism: how music can respond to social and political events, and how composers can engage in advocacy and dialogue about topical issues close to their hearts.
For more information, visit nyphil.org/insights. Insights at the Atrium events are free and open to the public. Seating is available on a first-come, first-served basis. Subscribers, Friends at the Affiliate level and above, and Patrons may secure guaranteed admission by emailing AdultEd@nyphil.org. Space is limited.
Featured This Week on Stage Door
Shoutouts, Classes, and More from Your Favorite Broadway Stars
Related Articles
More Hot Stories For You
VIDEO: Broadway Celebrates Biden with A Moving Mashup of RENT and HAIR!
Tonight, many of Broadway's brightest stars united to celebrate the inauguration of President Joe Biden and Vice President Kamala Harris with a medley...

Javier Munoz, Leslie Uggams and More Stars Set to Perform 'Seasons of Love' as Part of Tonight's Inauguration Festivities
Javier Munoz and Leslie Uggams have shared via social media that they will be joining a group of Broadway talent to perform 'Seasons of Love' as part ...

VIDEO: Amanda Gorman References HAMILTON in Inaugural Poem 'The Hill We Climb'
Today at President Joe Biden's inauguration, 22 year old Amanda Gorman took to the stage to deliver the inaugural poem, entitled 'The Hill We Climb'. ...

Social Roundup: Theatre Fans Turn Bernie Sanders' Inauguration Look Into Hilarious Memes
Theater fans have turned Senator Bernie Sanders' appearance at President Joe Biden's inauguration into a meme today, juxtaposing him into iconic pictu...

VIDEO: Lin-Manuel Miranda Recites An Irish Poem for Joe Biden's Inauguration
The poem titled, 'The Cure of Troy,' is a particular favorite of the newly sworn in President Biden, who often quotes its verses. ...

VIDEO: John Legend Performs 'Feeling Good' at Inauguration Celebration
Tonight, Tony-winner John Legend joined the inauguration festivities with a soulful performance of the classic tune, 'Feeling Good.' ...