Click Here for More Articles on NEW YORK CITY
Musical Comedy ALIENS COMING to Beam Back to the PIT After Sold-Out Run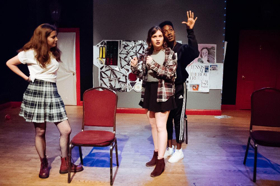 Musical comedy Aliens Coming returns to New York City's The People's Improv Theater following a previously sold out run in March, and is better than ever.
Under the directorship of Griffin Osborne, the talents of writer Joe Kelly and musical director Jonathan Evans, Aliens Coming brings to life the journey of two best friends as they encounter the expected pressures of graduating high school and the not-so-expected pressures of alien abduction. Aliens Coming beautifully merges contemporary music, classic show tunes and campy humor.
The upcoming run has ten performances, opens on August 17th and closes September 18th. Tickets can be purchased here for only $10.
Aliens Coming chronicles the friendship of Brandi Boudoir and Clementine Tweedy. An already complicated relationship is further strained by Brandi's abduction by the nefarious Zooby Doober, a Flimp from the planet of Flimpton, and Clementine's tryst with Zooby's hapless assistant, Smib. Pitted against the Flimps and their plot to harvest the genitals of the entire human race, Clementine and Brandi battle to save both the planet and their friendship from certain destruction. The 90 minute musical comedy is filled with outrageous moments, foot-stomping jokes and show-stopping numbers.
The cast features Alice Kors, Maia Scalia, Andrew L. Ricci, Trevor McGhie, Ariana Raygoza, Rebecca Lampiasi, Ashley Hutchinson and Tessa Stokes. Aliens Coming is Produced by Jonathan Evans, Joe Kelly and James Young of Ashcat Productions.
Show dates are as follows:
Thursday, 8/17 at 8pm
Friday, 8/18 at 9:30pm
Saturday, 8/19 at 9:30pm
Thursday, 8/24 at 9:30pm
Saturday, 8/26 at 9:30pm
Thursday, 8/31 at 9:30pm
Tuesday, 9/5 at 8pm
Saturday, 9/9 at 9:30pm
Tuesday, 9/12 at 8pm
Monday, 9/18 at 8pm
For tickets: available here for only $10
Venue: all performances at The People's Improv Theater's Striker Mainstage - 123 E. 24th St. NY, NY
For more information on Aliens Coming: Facebook, Instagram, YouTube, Ashcat Productions.
Related Articles
More Hot Stories For You