Michael Arden to Helm Reading of Kerrigan & Lowdermilk's REPUBLIC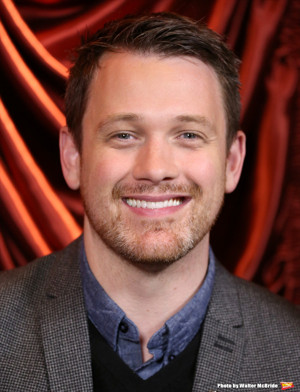 Michael Arden (Tony-nominated for Spring Awakening and the upcoming Once on This Island) will direct a private reading of Kait Kerrigan and Brian Lowdermilk's newest musical, REPUBLIC on Friday, July 28th at 1pm.
REPUBLIC is a musical adaptation of Shakespeare's Henry IV, Parts 1 and 2 set against the backdrop of Northern Ireland at the height of the Troubles. In a place where bombs explode every day and a neighbor is as likely to be a British spy as member of the IRA, REPUBLIC tells a story of unlikely alliances, political ambition, and love of country.
The reading will feature Paul Alexander Nolan (Bright Star, Doctor Zhivago), Nikki Renee Daniels (The Gershwins' Porgy and Bess), Andrew Samonsky (South Pacific), Bonnie Milligan (Kinky Boots, Gigantic), William Youmans (Bright Star, Finian's Rainbow), Eric Petersen (School of Rock, Peter and the Starcatcher), F. Michael Haynie (Charlie and the Chocolate Factory, Wicked), William Parry (Groundhog Day, Sunday in the Park with George), opera baritone Mark Delavan (Tosca, Aida), Danny Kornfeld (Wringer, Rent), Katherine Anne Weber, Nathan Salstone, Bernard Holcomb, Mikki Sodergren (The Bad Years), Mikaela Bennett (The Golden Apple), Brian Michael Henry (Million Dollar Quartet), Alexander Sage Oyen and opera baritone Zachary Altman (Lulu). The event is stage managed by Matt DiCarlo, general managed by Bandits Roost Entertainment, and cast by Michael Cassara.
For more information, email Republic@Kerrigan-Lowdermilk.com.
Kait Kerrigan (words) and Brian Lowdermilk (music) made their off-Broadway debut in 2006 with their adaptation of Henry and Mudge, still touring nationally. In 2011, they released their first album, Our First Mistake, which charted at #1 on the iTunes Singer/Songwriter chart. Their second album, Kerrigan-Lowdermilk Live, documents a concert tour that resulted from their breakout $35K kickstarter campaign and released in spring 2013.
Their other musicals include The Unauthorized Autobiography of Samantha Brown, Tales from the Bad Years, The Woman Upstairs, Wrong Number, The Freshman Experiment, Republic, Unbound, and Flash of Time. Their songs have been recorded and performed internationally and their musicals have been produced and developed at the Aurora Theatre, the Kimmel Center, Goodspeed's Norma Terris Theatre, Theatreworks Silicon Valley, La Jolla Playhouse, Perry-Mansfield New Works Festival, ASCAP/Disney Workshop, Manhattan Theatre Club, York Theatre, the Lark, CAP21, and Primary Stages. Together, they received the 2006 Larson Award and 2004-2005 Dramatists Guild Fellowship, and they have held residencies at the Orchard Project, Running Deer Lab, the Johnny Mercer Writers Colony at Goodspeed Musicals, and the MacDowell Arts Colony.
Kerrigan received the 2009 Kleban Award for libretto-writing. As a playwright, she has written Disaster Relief (developed by Page 73), Imaginary Love (Midtown Direct Rep workshop), and Transit (Chautaqua Theater Company workshop, Lark Playwrights Week 2010) and she was a 2013 member of Interstate 73. She teaches libretto writing at Primary Stages.
Lowdermilk composed music for The Amazing Adventures of Dr. Wonderful and Her Dog (with playwright Lauren Gunderson at the Kennedy Center 2011) and Red (with librettist Marcus Stevens), which received the Alan Menken Award and 2005 Richard Rodgers Award. He was the writer-in-residence at Temple Shalom, during which he scored a full Shabbat service.
Both are alumni of the BMI Musical Theatre Writing Workshop, co-founders of the digital sheet music company NewMusicalTheatre.com, and proud members of the Dramatists Guild and ASCAP.
Their albums are available on iTunes, and their sheet music is available in print from Hal Leonard and digitally on NewMusicalTheatre.com. For more information, visit kerrigan-lowdermilk.com.
Photo Credit: Walter McBride