MARVIN'S ROOM, INDECENT Among August's Qualifying Parity Productions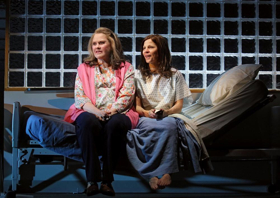 Theatre Production Company Parity Productions has released its monthly list of Qualifying Productions for August - their popular directory of New York City shows in which the individual creative teams include 50% women and transgender artists (directors, designers, and playwrights).
Parity Productions is New York's theatre company that is dedicated to developing and producing new work and committed to hiring a minimum of 50% women and transgender playwrights, directors, and designers on each show they produce. In addition, part of their mission is to provide substantial promotional support to other shows that meet the 50% hiring standard in the form of social media, email blasts, PR support, and placement in their Qualifying Productions Directory.
"We've become a unique and unprecedented resource for free promotional support for shows that meet the 50% hiring standard in the New York theatre community and we are so very glad to help spread the word at this time of diminishing theatre coverage," says Artistic Director and Founder Ludovica Villar-Hauser.
Parity is also proud to include its own co-production this month with Yonder Window Theatre Company and Civil Disobedience - Romy Nordlinger's Places. Places will play 6 performances in July at 59E59's East to Edinburgh Festival before traveling to Edinburgh, Scotland for the 2017 Fringe Festival where it will have 25 performances over the month of August.
To submit your production, go to www.parityproductions.org/submit-your-qualifying-production.html. To purchase tickets to Qualifying Productions, click here or visit the individual show website.
---
August's Qualifying Productions are:
15 Villainous Fools
07/07/17 - 08/19/17
The PIT Loft
https://www.15villainousfools.com
Amerike: The Golden Land
07/10/17 - 08/06/17
National Yiddish Tehatre
Museum of Jewish Heritage
http://nytf.org/?event=amerike-the-golden-land-2
Arcadia
07/11/17 - 08/06/17
The 16th Street Theatre
http://www.potomactheatreproject.org/2017-season
Bullet Catchers
07/20/17 - 08/05/17
Clutch Productions, Inc.
Judson Memorial Church
http://bulletcatcherstheplay.com
Dear Jane
07/26/17 - 08/26/17
Perry Street Theatricals
Clurman Theatre at Theatre Row
False Stars
08/18/17 - 08/27/17
The pack
Paradise Factory
https://corkscrewfestival.org/false-stars
Indecent
04/04/17 - 08/06/17 (extended)
Cort Theatre
Marvin's Room
07/03/17 - 08/27/17
American Airlines Theatre
Puffs, or: Seven Increasingly Eventful Years at a Certain School of Magic & Magic
10/13/16 - 07/02/17 (extended)
The Elektra Theatre
07/08/17 - 01/14/18 (extended & moved)
New World Stages
http://www.puffstheplay.com/#tickets
A Raisin in the Sun
06/17/17 - 10/14/17
Harlem Repertory Theatre
Tato Laviera Theatre
http://www.harlemrepertorytheatre.com/current_season.html
RED
07/06/16 - 10/29/17
First Person Xperience
http://www.firstpersonxperience.com/red
Singing Beach
07/22/17 - 08/12/17
HERE
Theatre 167
http://here.org/shows/detail/1920
The Suitcase Under the Bed
07/21/17 - 09/26/17
The Beckett Theatre at Theatre Row
http://minttheater.org/production/the-suitcase-under-the-bed
Then She Fell
12/2016 - 12/31/17 (extended again)
Third Rail Projects
The Kingsland Ward at St. Johns
Unpacking: A Ghost Story Told in the Dark
07/26/17 - 08/13/17
Marina & Nicco
http://here.org/shows/detail/1912
The Untold Yippie Project
08/03/17 - 08/19/17
Sunglasses After Dark
Access Theatre
https://www.facebook.com/SunglassesAfterDarkNYC
Waitress
04/24/16 - TBA
Brooks Atkinson Theatre
http://waitressthemusical.com/index.php
---
To be listed in the Parity Productions Qualifying Productions Directory, each show must meet three criteria: 50% of the playwrights, directors, and designers working on the production must be women or transgender artists; shows must be full productions (design elements included) that run for at least two calendar weeks in a New York City venue; and there must be a minimum of six performances over the course of the two week period.
Parity's Qualifying Productions Program is one of their slate of advocacy programs that includes The Annual Parity Commission for Women and Transgender Playwrights, The Women and Transgender Artists Database and The Parity Store - a digital storefront that offers works of art, exclusive products, and professional services - many at a discount - to the industry and audiences. One out of every $10 the company makes from The Parity Store funds The Annual Parity Commission for Women and Transgender Playwrights.
Photo Credit: Joan Marcus