MARVELOUS MANHATTAN by Reggie Nadelson
MARVELOUS MANHATTAN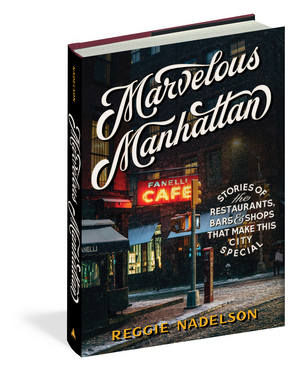 Lifelong Manhattanite and New York Times columnist Reggie Nadelson introduces Marvelous Manhattan: Stories of the Restaurants, Bars & Shops That Make This City Special (Artisan Books; April 13, 2021; Hardcover / $24.95). Known for her popular column the 212, where she revisits the New York institutions and unsung dives that make up the city's diverse landscape, this new book showcases the resilience and history behind 40+ of the most culturally-defining restaurants, shops, theaters, museums and venues we all know and cherish.
From Di Palo's in Little Italy, where you might stop in to pick up a little cheese only to find yourself in a long conversation-part friendly chat, part profound tutorial-with fourth generation owner Lou Di Palo, sampling cheeses all the while. Or Raoul's in Soho, to enjoy a classic steak-frites in the company of downtown artists, celebrities and dyed-in-the-wool locals. Or Minton's Playhouse in Harlem, to be in the room where some young guys named Thelonious, Dizzy, and Charlie invented bebop. Or maybe Russ & Daughters, to pick up the city's best lox and bagels, which they've been selling since 1914.
Part guide book, part cultural history, part walk down memory lane, alive with the spirit and grit of small, often family-owned businesses that have survived the Great Depression, World War II, 9/11, and the coronavirus lockdown, Marvelous Manhattan is a seductive and timely book for anyone who lives in New York, loves the city, lived there, or wishes they had. Because that's the one thing about Manhattan: all you need to do is walk into the right place-say, Fanelli's on Prince Street-sit down at the bar, order a drink, open this book, and suddenly you're a New Yorker.
ABOUT THE AUTHOR:
Reggie Nadelson lives in New York and currently writes the 212 column for the New York Times. She has also written ten columns for the Guardian, the Independent, the Financial Times, and Departures. She is the author of At Balthazar: The New York Brasserie at the Center of the World, Comrade Rockstar (which Tom Hanks bought the film rights for), and a celebrated mystery series featuring detective Artie Cohen. She recently wrote and produced a documentary about Ella Fitzgerald called "Ella: Just One of Those Things." Find out more at http://www.reggienadelson.com/.
Marvelous Manhattan: Stories of the Restaurants, Bars & Shops That Make This City Special is available for purchase on Amazon and wherever books are sold. You can also pick up a copy at several of the featured businesses, including Danté, ABC Carpet + Home, Di Palo's, Russ & Daughters, Fanelli's Cafe Il Buco, Schaller & Weber, Raoul's, Thompson Chemists, Flamekeepers Hat Club, Keens, the Hungarian Pastry Shop, and many more.
Photo Credit: Courtesy of Artisan Books