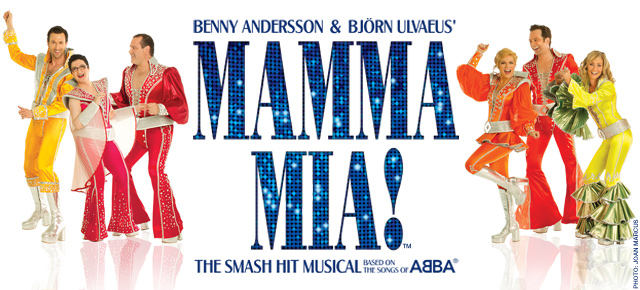 Click Here for More Articles on MAMMA MIA!
MAMMA MIA! Extends in Las Vegas Thru January 2009
Due to popular demand MAMMA MIA!, which was previously scheduled to end in August after more than 2,300 performances, will now play through January 4, 2009.
Benny Andersson and Björn Ulvaeus' MAMMA MIA! is the world's Number One Musical. The production is the longest running and most successful full-length Broadway musical to ever play Las Vegas.
"2008 will be a remarkable year for MAMMA MIA!," said global producer Judy Craymer. "This February marks the 5th anniversary of the show in Las Vegas, and this July sees the nationwide release of the movie adaptation of MAMMA MIA! I feel very proud that the show remains an anchor entertainment on The Strip at Mandalay Bay and it has paved the way for other blockbuster shows from London and Broadway to be able to play in Las Vegas. We have been very fortunate in partnering with Mandalay Bay, who continues to support and promote MAMMA MIA! in every possible way with us."
MAMMA MIA! opened in Las Vegas on February 13, 2003, and will celebrate five years at the Mandalay Bay Theatre next month. Combining the timeless music of ABBA with a universal tale of love, laughter and friendship, The Washington Post declares, "The consensus choice for best musical! Fabulous, funny and endlessly clever, it brilliantly weaves those familiar ABBA songs into the plot. If you can get a ticket, you'll love it!"
Bill Hornbuckle, president of Mandalay Bay, said "MAMMA MIA! epitomizes everything that the Las Vegas experience is about – energy, excitement and above all else, fun. We are thrilled to work with such wonderful partners and together will ensure that the next year with MAMMA MIA! is as fun and successful as the last four years have been."
Seen by over 30 million people worldwide, and with three companies currently playing in North America, MAMMA MIA! currently has 10 productions playing around the world in five different languages – more than any other current Broadway musical. The phenomenon that Liz Smith calls "The most popular musical in the world!," has surpassed a gross of $2 billion in worldwide box office sales.
Inspired by the story-telling magic of Benny Andersson and Björn Ulvaeus' songs, writer Catherine Johnson's sunny, funny tale of family and friendship unfolds on a Greek island. On the eve of her wedding, a daughter's quest to discover the identity of her father brings three men from her mother's past back to the island they last visited 20 years ago. Songs including "Dancing Queen;" "The Winner Takes It All;" "Money, Money, Money" and "Take A Chance on Me" are all featured in this feel-good night of fun and laughter.
The feature film adaptation of MAMMA MIA!, produced by Judy Craymer and Gary Goetzman, will be released in the summer of 2008. Meryl Streep leads an all-star cast featuring Pierce Brosnan, Colin Firth, Stellan Skarsgård, Christine Baranski, Julie Walters, Amanda Seyfried and Dominic Cooper.
With music and lyrics by Benny Andersson and Björn Ulvaeus, MAMMA MIA! is written by Catherine Johnson and directed by Phyllida Lloyd. MAMMA MIA! has choreography by Anthony Van Laast, production design by Mark Thompson, lighting design by Howard Harrison, sound design by Andrew Bruce and Bobby Aitken, and musical supervision, additional material and arrangements by Martin Koch.
MAMMA MIA! is produced by Judy Craymer, Richard East and Björn Ulvaeus for Littlestar in association with Universal.
Mandalay Bay Resort & Casino, a AAA Four Diamond Award-winning destination resort, is set on 60 lush acres and offers 3,644 rooms and suites including 424 accommodations managed by Four Seasons Hotels and Resorts. Mandalay Beach, an 11-acre tropical pool environment, features real California sand, a wave pool and lazy river. The property also features the 12,000-seat Mandalay Bay Events Center, award-winning restaurants, Shark Reef and the 1.5-million-square-foot Mandalay Bay Convention Center – the largest convention center on the Las Vegas Strip. Mandalay Bay's brands include THEhotel, an all-suite hotel which features 1,117 luxurious one-bedroom suites and the BATHHOUSE Spa, and Mandalay Place, a collection of 41 unique boutiques and restaurants. Mandalay Bay is a wholly owned subsidiary of MGM MIRAGE™.
The performance schedule for MAMMA MIA! at the Mandalay Bay Theatre is Sunday - Thursday at 7:30 p.m. and Saturday at 6 p.m. & 10 p.m. There is no performance on Friday.
Tickets for MAMMA MIA! are $110, $82.50 and $49.50, tax inclusive. Tickets are available by calling the Mandalay Bay Box Office at 800-632-7400, Ticketmaster at 702-474-4000 and online at www.mandalaybay.com or www.mamma-mia.com.