Liam Craig, Barbara Garrick, Laurence Lau, And Jodie Markell Star In Keen's LATER LIFE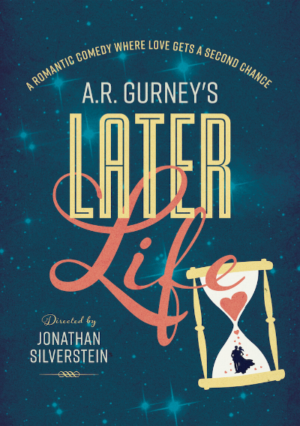 Today Keen Artistic Director Jonathan Silverstein announced that A.R. Gurney's play Later Life would star Liam Craig, Barbara Garrick, Laurence Lau, and Jodie Markell, directed by Mr. Silverstein.
Later Life will begin performances on Tuesday February 27th, and continue through Saturday April 14th, only, with opening night set for Wednesday March 14th. Renowned playwright
A.R. Gurney
graces the Keen stage for a third time, having already been represented by acclaimed revivals of The Dining Room (2007-'08 season) and The Old Boy (2012-'13 season). In Later Life, a middle-aged man and woman meet at a cocktail party and ponder beginning the relationship that eluded them 30 years ago. While the pair rediscover each other and themselves, a bevy of delightful guests rally behind them. With poignancy and laughs, this classic Gurney play reminds us of the infinite possibilities in life just waiting to be pursued. A romantic tale of missed connections and hope for new beginnings. The design team will include
Steven Kemp
(scenic),
Jennifer Paar
(costumes),
David Lander
(lighting) and
Obadiah Eaves
(sound). Performances for this limited Off-Broadway engagement at The Clurman Theatre at Theatre Row will begin Tuesday February 27th, and continue through April 14th only, with opening night set for Thursday March 15th. The performance will run 90 minutes (including intermission). "While we still mourn the passing of our friend and collaborator Pete Gurney, it will be a joy to be back again in his world. After directing The Dining Room in 2008 and The Old Boy in 2013 (both at Keen), it is my absolute pleasure to be working on a third play of Pete's. With his astute human observations, unique comic sensibility and singular theatrical flair, Pete's plays have continually stretched me as an artist and human. I look forward to re-introducing one of his best plays to the New York stage," said Mr. Silverstein. Mr. Gurney's play is another testament to the value of connection and the ties that bind, the theme of this season at Keen.
Keen Company
creates theater that provokes identification, reflection, and emotional connection. In intimate productions of plays and musicals, we tell wholehearted stories about people striving to do their best. Keen has been honored with eleven Drama Desk Nominations, two Drama Desk Awards, two Drama League Nominations, and two Obie Awards. Later Life is the story of Austin, who has spent his entire life convinced that something terrible is bound to happen to him. One night at a part overlooking Boston harbor, he has the pleasure of rekindling a romance begun almost thirty years ago with Ruth. Now a multiple divorcee, Ruth's personal life is in such turmoil that mutual friends look to Austin as Ruth's last shot at normalcy. At the same time, these friends are hoping the wildly unpredictable Ruth will help loosen Austin from the grip of years of depression and lifelessness. Comically, and sometimes painfully, these two people rediscover each other and themselves while a bevy of free-spirited other guests rally behind them and remind them of the infinite possibilities that life holds, should one only choose to pursue them. Gurney's beloved play examines whether change is possible in mid-life. 25th anniversary production!
Liam Craig
. Broadway: Boeing Boeing (u/s; performed). Off-Broadway: Servant of Two Masters, The Killer (TFANA), The Internationalist (Vineyard), Aunt Dan and Lemon (
The
New Group
), Two Noble Kinsmen (The Public), Juno and the Paycock (Roundabout). Regional: Seder (World Premiere), The Scene (Hartford Stage), Long Day's Journey Into Night, Uncle Vanya (Weston Playhouse), The Book of Will (World Premiere, Denver Center), School For Lies, The Tempest, The Government Inspector, Servant of Two Masters (
Shakespeare Theatre Company
), Accidental Death of An Anarchist, A Doctor in Spite of Himself (Yale Rep), The Lady From the Sea (Intiman). Television: "Law and Order: SVU," "Mozart in the Jungle," "Law and Order." Film: The Royal Tenenbaums.
Barbara Garrick
's Broadway credits include A Thousand Clowns, Stanley, A Small Family Business, Eastern Standard; Off-Broadway: The City of Conversation (LCT/Newhouse), Beauty on the Vine, Eight Days Backwards (
Vineyard Theatre
), The Winter's Tale (CSC), Baby Anger (Playwright's Horizons), Elliot Loves (directed by
Mike Nichols
), Eastern Standard (MTC), Rosencrantz and Guildenstern Are Dead (Roundabout); Regional: Mary, Ridiculous Fraud, Safe As Houses, My Good Name, Way of the World; TV: "One Life to Live," "Law & Order: SVU," "Law & Order: Criminal Intent," "Law & Order," "Amy & Isabelle," "Tales of the City," "More Tales of the City," "Further Tales of the City" (Gemini nomination), "Sex & the City," "Mary and Rhoda," "As the World Turns," "Guiding Light," "Ellen Foster," "Dottie Gets Spanked;" Film: That Awkward Moment, You're Killing Me Susanna, Blue Jasmine, Loss of a Teardrop Diamond, Jumper, Far from Heaven, Pollack, The Ice Storm, A Couch in New York, Miami Rhapsody, The Firm, Sleepless in Seattle, Postcards from the Edge, Working Girl, Eight Men Out.
Laurence Lau
's credits include: Off-Broadway: Dada Woof Papa Hot (Lincoln Center), Psycho Therapy (Cherry Lane), The Exonerated (Bleecker Street Theatre and National Tour). Other work includes the First National Broadway tour of August: Osage County, starring
Estelle Parsons
as well as the European premiere of The Goat or Who is Sylvia? at the Vienna English Theatre. He has played numerous roles at regional theaters throughout the US. TV: "Blue Bloods," "Elementary," "Law & Order," HBO's "Too Big to Fail," "JAG," "Frasier," "Upstate" (pilot, lead), and many others throughout his long career. He first became known as Greg Nelson on "All My Children" and was also a contract player on "Another World" and "One Life to Live," where he first met
Barbara Garrick
.
Jodie Markell
received an OBIE award for her performance in Machinal directed by
Michael Greif
at
Joseph Papp
's Public Theater. Other NY theater credits include Snakebit; Kimberly Akimbo - Manhattan Theatre Club; Balm in Gilead directed by
John Malkovich
- Circle Rep; Italian American Reconciliation directed by
John Patrick Shanley
- Manhattan Theatre Club. Road and Ubu at Lincoln Center. She played Karla Faye Tucker in
Steve Earle
's Karla, Easter and Odets's Clash by Night at
Naked Angels
(company member). Regional includes:
Tom Waits
' Frank's Wild Years - Steppenwolf; Street Scene - Williamstown; Scenes from an Execution -
Mark Taper Forum
; Spike Heels - NY Stage & Film/Vassar. Films include
Woody Allen
's Hollywood Ending;
Todd Haynes
's Safe;
Jim Jarmusch
's Mystery Train;
Barry Levinson
's
Jimmy Hollywood
; Trapped; Queen's Logic; Twelve and Holding; Sweet Land; Joshua and Ira Sach's Keep The Lights On. For her leading role in the film Easter, she won Best Actress at the Empire State Film Festival. Television includes: "Law and Order" and Wendy Hunt in the HBO series "Big Love." A.R. ("Pete") Gurney was born in 1930 in Buffalo, New York. He graduated from Williams College in 1952, served as an officer in the Navy, and afterwards attended the Yale School of Drama. For many years, he taught literature at M.I.T., but moved to New York in 1982 to devote more time to writing for the theatre. In addition to Later Life, his many acclaimed plays include Ancestral Voices, Another Antigone, A Cheever Evening, The Cocktail Hour, The Dining Room, Far East, The Fourth Wall, The Golden Age, Love Letters, The Middle Ages, Mrs. Farnsworth, O Jerusalem, The Old Boy, Scenes from American Life, The Snow Ball, Sweet Sue, and Sylvia, among others. He has won a number of awards during his career, and is now a member of the Theatre Hall of Fame and of the American Academy of Arts and Letters. Gurney was married to his wife Molly for over sixty years. They have four children, and eight grandchildren. On Tuesday June 13th 2017, he died in his New York apartment, with his family by his side. This is the way he wanted it. Performances for this limited Off-Broadway engagement of Later Life, directed by Keen Artistic Director
Jonathan Silverstein
, will begin Tuesday, February 27th, and continue through April 14th only, with opening night set for Wednesday, March 14th. There will be an additional matinee on Wednesday March 11th at 2pm. Performances will be at The Clurman Theatre at Theatre Row (
410
West 42nd Street
,
between 9th and 10th Avenues) and will be Tuesday through Thursday evenings at 7pm; Fridays at 8pm; Saturdays at 2pm & 8pm; and Sunday matinees at 3pm. Tickets will be $65 with premium tickets $80, for all performances except Tuesday evenings which will be just $20 online or at the box office. (All ticket prices include theater restoration fees). Tickets are on sale NOW! To purchase tickets visit the Theatre Row Box Office (
410 West 42nd Street
, between 9th and 10th Avenues), online at Telecharge.com, or by calling 212/239-6200. For more information about Later Life and all of
Keen Company
's programs, visit
www.keencompany.or
g.