Click Here for More Articles on BroadwayWorld Book Club
Join the BroadwayWorld Book Club with THE UNTOLD STORIES OF BROADWAY Vol. 1 and Discuss with Jennifer Ashley Tepper
Today we discuss the Lyceum Theatre!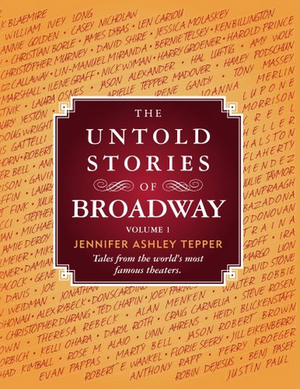 Book lovers, theater nerds and anyone looking for a way to (digitally) connect with people outside the walls of your own of your apartment while social distancing need look no further! BroadwayWorld is introducing... BroadwayWorld Book Club!
We are all looking for ways remain engaged and connected to one another, and what better way to do that than reading about, and coming together to discuss, the topic that we all love most: theater. Here's how it works...
Everyone is welcome, and all are encouraged to participate. We will be selecting theater-related books for the BroadwayWorld Book Club to read and discuss via the BroadwayWorld Message Board.
The first BroadwayWorld Book Club selection is Jennifer Ashley Tepper's The Untold Stories of Broadway Volume 1. Tepper has just released the first volume of the book for free on Kindle!
Prompts and questions related to each chapter of the book will be posted to the BroadwayWorld Message Board weekly to encourage conversation between one another and to get the discussion going! Opinions, questions, stories, and comments relating to the chapter at hand, and the book as a whole are all welcome!
Today's next round of discussion prompts will focus on the next chapter of The Untold Stories of Broadway, 'The LyceumTheatre'. Be sure to tune in right here at 12pm as Jennifer Tepper herself takes part in BroadwayWorld Book Club, answering your questions live! You can include any questions you would like to ask Tepper in the weekly post in the Message Board.
Related Articles
More Hot Stories For You
Patti LuPone Wants to Narrate Mary Trump's New Book For Randy Rainbow to Lip-Sync
Could we be getting a new Randy Rainbow/Patti LuPone collaboration? We sure hope so!...

QUIZ: Attend the Winter's Ball to Find Out Which Hamilton Star Will Be Your Date!
We're going back to 1780 for A Winter's Ball (you know, where the Schuyler Sisters are the envy of all?) for our latest Hamilton quiz!...

VIDEO: On This Day, July 9- Lin-Manuel Miranda, Phillipa Soo, Ariana DeBose, and Leslie Odom, Jr. Say Goodbye to HAMILTON
On this day in 2016, original Hamilton cast members, Leslie Odom Jr., Phillipa Soo, and Ariana DeBose along with the musical's star and composer, Lin-...

VIDEO: Listen to Act 1 of HAMILTON, Acted Out by The Muppets
Voice actor and comedian Ricky Downes III has recorded all of Act I of Hamilton... in the voices of all The Muppets!...

Broadway League Approves 15-Second COVID-19 Test For Actors and Crew; League President 'Cautiously Optimistic' About Early 2021 Return
Broadway League President Charlotte St. Martin told the New York Post that for the first time, she feels 'cautiously optimistic' about Broadway being ...

BROADWAY AT HOME on PBS Continues With GREAT PERFORMANCES: SHE LOVES ME & More
Beginning July 24, GREAT PERFORMANCES will continue to keep the performing arts alive with Broadway at Home, broadcasting a theatrical favorite every ...