Click Here for More Articles on BroadwayWorld Book Club
Join the BroadwayWorld Book Club with THE UNTOLD STORIES OF BROADWAY Vol. 1 and Discuss with Jennifer Ashley Tepper
Today we discuss the Lyceum Theatre!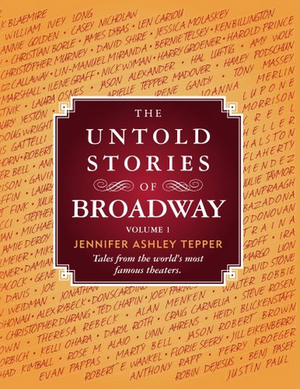 Book lovers, theater nerds and anyone looking for a way to (digitally) connect with people outside the walls of your own of your apartment while social distancing need look no further! BroadwayWorld is introducing... BroadwayWorld Book Club!
We are all looking for ways remain engaged and connected to one another, and what better way to do that than reading about, and coming together to discuss, the topic that we all love most: theater. Here's how it works...
Everyone is welcome, and all are encouraged to participate. We will be selecting theater-related books for the BroadwayWorld Book Club to read and discuss via the BroadwayWorld Message Board.
The first BroadwayWorld Book Club selection is Jennifer Ashley Tepper's The Untold Stories of Broadway Volume 1. Tepper has just released the first volume of the book for free on Kindle!
Prompts and questions related to each chapter of the book will be posted to the BroadwayWorld Message Board weekly to encourage conversation between one another and to get the discussion going! Opinions, questions, stories, and comments relating to the chapter at hand, and the book as a whole are all welcome!
Today's next round of discussion prompts will focus on the next chapter of The Untold Stories of Broadway, 'The LyceumTheatre'. Be sure to tune in right here at 12pm as Jennifer Tepper herself takes part in BroadwayWorld Book Club, answering your questions live! You can include any questions you would like to ask Tepper in the weekly post in the Message Board.
Related Articles
More Hot Stories For You
Tony-Nominated Broadway Actor Nick Cordero Dies at 41
BroadwayWorld is very sad to report that actor Nick Cordero died this morning at 41 years of age at Cedars Sinai in Los Angeles after 91 days in the h...

VIDEO: Watch A CAPITOL FOURTH with Kelli O'Hara, Brian Stokes Mitchell, Renee Fleming and More!
A Capitol Fourth will present a virtual version of its annual concert, in honor of its 40th anniversary. This year's show is co-hosted by John Stamos ...

VIDEO: HAMILTON Musicians Perform 'Stars and Stripes Forever'
In a special 4th of July edition of Saturday Night on Broadway, Kurt Crowley, Alex Lacamoire, and more created a special performance of 'Stars and Str...

THE MOUSETRAP To Reopen in the West End on Friday 23 October
Agatha Christie's The Mousetrap - the longest running show in the world, which had to be suspended when the Coronavirus Pandemic resulted in the closu...

Broadway Jukebox: 50 Songs for a Very Red, White and Broadway Fourth of July!
Kick off the holiday weekend with fifty of our favorite patriotic showtunes. From musicals about American history like Ragtime and Hamilton, to Americ...

Virtual Theatre Today: Friday, July 3- It's HAMILTON Day!
Today (July 3) in live streaming: Hamilton arrives on Disney+, the cast reunites on Sirius XM and so much more!...