Click Here for More Articles on BroadwayWorld Book Club
Join the BroadwayWorld Book Club with THE UNTOLD STORIES OF BROADWAY Vol. 1 and Discuss with Jennifer Ashley Tepper
Today we discuss the Lyceum Theatre!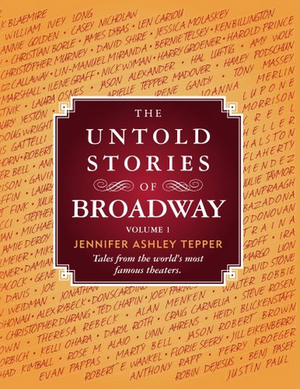 Book lovers, theater nerds and anyone looking for a way to (digitally) connect with people outside the walls of your own of your apartment while social distancing need look no further! BroadwayWorld is introducing... BroadwayWorld Book Club!
We are all looking for ways remain engaged and connected to one another, and what better way to do that than reading about, and coming together to discuss, the topic that we all love most: theater. Here's how it works...
Everyone is welcome, and all are encouraged to participate. We will be selecting theater-related books for the BroadwayWorld Book Club to read and discuss via the BroadwayWorld Message Board.
The first BroadwayWorld Book Club selection is Jennifer Ashley Tepper's The Untold Stories of Broadway Volume 1. Tepper has just released the first volume of the book for free on Kindle!
Prompts and questions related to each chapter of the book will be posted to the BroadwayWorld Message Board weekly to encourage conversation between one another and to get the discussion going! Opinions, questions, stories, and comments relating to the chapter at hand, and the book as a whole are all welcome!
Today's next round of discussion prompts will focus on the next chapter of The Untold Stories of Broadway, 'The LyceumTheatre'. Be sure to tune in right here at 12pm as Jennifer Tepper herself takes part in BroadwayWorld Book Club, answering your questions live! You can include any questions you would like to ask Tepper in the weekly post in the Message Board.
Related Articles
More Hot Stories For You
Actors' Equity Has Rejected Walt Disney World's Virus Safety Plan For Performers
Deadline has reported that Actors' Equity has rejected Walt Disney World's reopening safety plan for workers due to the fact that the proposal does no...

Ramin Karimloo, Rachel Tucker, Rachel John, and Cedric Neal Will Lead Virtual Production of SONGS FOR A NEW WORLD
A virtual production will be streamed of Jason Robert Brown's Songs For A New World, filmed entirely in isolation. Séimí Campbell directs Rachel John ...

QUIZ: Can You Guess the Hamilton Character from These Blurry Images?
These Hamilton pictures are a bit blurry... can you figure out which characters they are?...

Spotlight on HAMILTON: Catching Up with Christopher Jackson
History may have its eyes on Hamilton, but today, we have our eyes on the history of its stars. Below take a deep dive into the career of the general ...

Oliver Dowden Meets With Andrew Lloyd Webber at the London Palladium to Test Safety Measures
Oliver Dowden, Secretary of State for Digital, Culture, Media and Sport, has shared photos on Twitter of a meeting that recently took place between hi...

HAMILTON Cast Album Returns to #1 Spot on the iTunes Chart
The Hamilton Original Broadway Cast Recording has returned to the #1 spot on iTunes' Top Albums chart, ahead of the musical's premiere on Disney+ tomo...