Jeremy Irons to Discuss His New Film and More at 92Y
Munich: The Edge of War will premiere on Netflix on January 21.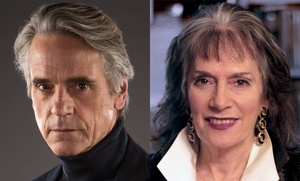 Critically-acclaimed actor Jeremy Irons will discuss his new film, Munich: The Edge of War, as well as his career, in a Monday, January 17 interview with 92Y Reel Pieces moderator Annette Insdorf. The interview, which is free with registration, will be broadcast live on 92Y's website at 5 pm ET. (The first 250 people who register will receive a private link to watch the film during a 48-hour windrow prior to the conversation.)
Based on the international best-seller by Robert Harris, Munich: The Edge of War is an engrossing drama set during the Munich Agreement of 1938, with Europe on the brink of World War II. It stars Irons as British Prime Minister Neville Chamberlain. As Adolf Hitler prepares to invade Czechoslovakia, Chamberlain's government desperately seeks a peaceful solution. Amid mounting pressure, British civil servant Hugh Legat (
George McKay
, from 1917 ) accompanies Chamberlain to Munich. There, he encounters a buddy from Oxford, German diplomat Paul von Hartmann (Jannis Niewöhner), who has a stolen document signaling Hitler's true intent - a war of conquest across Europe. Amid frantic negotiations at the Munich Conference, Hugh and Paul conspire to prevent a terrifying conflict. The film will premiere on Netflix on January 21; it is directed by German filmmaker Christian Schwochow; the screenplay - based on Robert Harris' book - is by
Ben Power
(whose adaptations include The Lehman Trilogy).
Jeremy Irons
is the recipient of the Academy Award for Best Actor (
Claus Von Bulow
in "Reversal of Fortune"), as well as Golden Globe, Emmy, Tony, and SAG awards. While he is perhaps best known for his recent work in "House of Gucci," HBO's "Watchmen," and "Justice League," he has starred in such films as The French Lieutenant's Woman, Moonlighting, The Mission, Dead Ringers, M.Butterfly, Die Hard with a Vengeance Lolita , The Man in the Iron Mask, and The Man Who Knew Infinity and the voice of Scar in The Lion King. On television, his credits include Brideshead Revisited, Elizabeth I with
Helen Mirren
, and The Borgias. Annette Insdorf is the longtime moderator of 92Y's Reel Pieces film series, as well as a Columbia University Film professor. As Reel Pieces moderator, she has been bringing New York audiences the best in film for over 30 years, including previews of Oscar Best Picture winners Spotlight and Birdman, and conversations with
Francis Ford Coppola
,
Meryl Streep
,
Al Pacino
,
Steve Carell
,
Natalie Portman
,
Hugh Jackman
and
Angelina Jolie
. Her latest book is Cinematic Overtures: How to Read Opening Scenes. She was awarded the 2021 Telluride Film Festival's Special Medallion, given to "unsung heroes of cinema."