ITALIAN PLAYWRIGHTS PROJECT Comes to La MaMa Experimental Theatre Club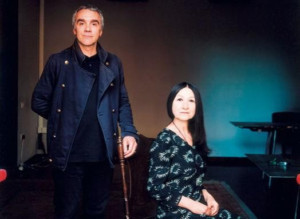 La MaMa Presents Teatro delle Albe: ? Artist Talk with the author Marco Martinelli conversation moderated by Frank Hentschker and Valeria Orani, reading from Martinelli's "Rumore di acque" (Noise in the Waters) by Rocco Sisto (in English) and a short mise en espace from Teatro delle Albe's latest production "fedeli d'Amore" performed by Ermanna Montanari (in Italian -English supertitles).
Thursday, 13 December 2018 at 6:30PM La Mama Experimental Theatre Club The Downstairs 66 E 4th Street, NY, NY 10003 FREE EVENT RSVP: http://lamama.org/marco_martinelli/
Italy's Teatro delle Albe will share one of their most significant contemporary theatrical stories with the American audience. Martin Segal Theatre Center's director Frank Hentscher - who curated the Italian Playwrights Project with Valeria Orani (Umanism NYC and 369gradi) - will lead the conversation with Marco Martinelli at La Mama on December 13. The evening will be supported by a short reading from Martinelli's play Rumore di acque (Noise in the Waters) translated in English by Thomas Simpson, with the interpretation of actor Rocco Sisto. ? The conversation will focus on the writing of Marco Martinelli and on his latest work: fedeli d'Amore, un polittico in sette quadri per Dante Alighieri, (a Polyptych in Seven Panels for Dante Alighieri). The unusual participatory work is Marco Martinelli's reflection on Dante Alighieri and the contemporary world. Dante, himself a refugee, fled from Florence when he was sentenced to death by burning at the stake. We meet Dante on his deathbed in 1321, exiled in Ravenna, the home of the Teatro delle Albe. Ermanna Montanari will close the evening with a short excerpt of the play in Italian with English captions.
Following the Artist Talk, La MaMa invites you upstairs to the Ellen Stewart Theatre to attend the US Premier Opening of TERRAMIA by Ondadurto, an exciting new Italian Company making their American debut. For a deeply discounted ticket for this opening night performance use code: MARCO at lamama.org/terra_mia
NYU Casa Italiana Zerilli Marimò Presents "Cantiere Dante" ? Teatro delle Albe and Dante Alighieri: a conversational retrospective amongst Ermanna Montanari, Marco Martinelli, Dante scholar Alison Cornish (NYU) and Federico Rampini (La Repubblica)
Friday, 14 December 2018 at 6:30PM NYU Casa Italiana Zerilli Marimò 22 W 12th Street, New York, NY 10011 FREE EVENT RSVP
The conversation will continue with US chief correspondent for La Repubblica Federico Rampini, at New York based Italian cultural hub Casa Italiana Zerilli Marimò on December 14.
In 2017 Teatro delle Albe started to follow an artistic path whose objective was to transfer the Italian masterpiece which triggered the start of the Italian language and literature - Divina Commedia - on stage. "Some had already tried to do that: we believe that the process does not have to do with the idea of matching Dante's cantos with scenery, but rather to dig out its intimate theatrical nature. The word "teatron", which means vision, embraces what the author defines as an "enchanting vision" (mirabile visione), hence "enchanting theatre", able to include its focus on the whole spectrum of humanity in its multiple experience, from the obscene annoyance of Inferno (Hell) to the melancholic colour change of Purgatorio, to its rise to a level where vision and words turn themselves into an ineffable Paradise". During "Cantiere Dante" Marco Martinelli and Ermanna Montanari will share with the audience the experience of "Inferno", performed in Ravenna with the participatory support of its citizens, and "Divina Commedia", the experimental piece directed by Marco Montanari performed by 140 children and teenagers in Kibera, in one of Africa's largest slums on the outskirts of Nairobi. Ermanna Montanari will read canto XXXIII from Dante's Divina Commedia and the poem Ahi serva Italia, from "fedeli d'Amore". Allison Cornish will introduce the canto XXXIII from Dante's Divina Commedia. Federico Rampini will stress the 'unfortunate' effectiveness of Dante's work in our times.
These two day events have been supported by La MaMa under the direction of Mia Yoo (Regional Theater Tony Award 2018), NYU Casa Italiana Zerilli Marimò under the direction of Stefano Albertini, and the Italian Cultural Institute of New York under the direction of Giorgio Van Straten. It is part of the second yearly edition of the Italian Playwrights Project, following its 2016 debut with the work by Stefano Massini in collaboration with the Martin Segal Theatre Center (Graduate Center CUNY).
The Project was first launched in 2015 with the aim of promoting Italian contemporary drama in the US. It is curated by Valeria Orani, the director of New York-based Umanism and Italian production 369gradi, and by Frank Hentschker, the director of the Martin E.Segal Theatre Center - Graduate Center CUNY.
For more information about this event, please click on the Facebook event