Hudson Theatre Works to Present Nuclear Drama SOUNDVIEW SUMMER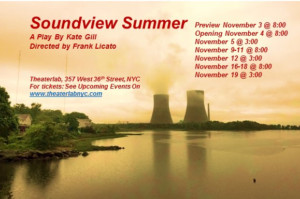 Hudson Theatre Works will present a limited run of Kate Gill's powerful stage play about two young men's altered lives due to the unsafe surroundings of their summer job at a nuclear power plant.
Billy and Jack thought they had found the ideal summer job. Decent hours ... good money ... and it was a no-brainer ... just clean up the Soundview Nuclear Power Plant.
Years later, the effects of that summer are shortening their lives. Both young men - each deathly ill - must deal with the outcome ... each in his own way. The play serves as a multi-faceted parable of world understanding and the courage to make a change ... if not for yourself then for others.
Performance Dates & Times:
Preview November 3 @ 8:00 pm
Opening November 4 @ 8:00 pm
November 5 @ 3:00 pm
November 9, 10, 11 @ 8:00 pm
November 12 @ 3:00 pm
November 16, 17, 18 @ 8:00 pm
November 19 @ 3:00 pm
At Theaterlab, 357 West 36th Street, NYC
For tickets, go online at www.theaterlabnyc.com.
Frank Licato directs a cast, which features Vincent Sagona and BrIan Richardson as the two ill-fated young men with Annie McGovern, Sharon Hope, Stuart Rudin, and Susan Barrett. The entire company appears courtesy of Actors Equity.
A longtime communications strategist at a New York City ad agency, Kate Gill utilizes the thousands of interviews over thousands of hours, as fodder for the creation of her deep, engrossing, and very real characters. The core inspiration, however, for her writing is usually one small thing that inexplicably stops her and allows her to see things in a new light. It might be a newspaper item, a personal story, a scientific fact, or an odd comment, and the tale begins to unfold.
Soundview Summer is just such a timely piece. After being nominated for three MITF Awards after its initial workshop presentation, it is now being prepared for a professional run at Theatrelab.