Click Here for More Articles on MODERN
Guest Blog: Eryc Taylor Dance In Mexico – A Look Back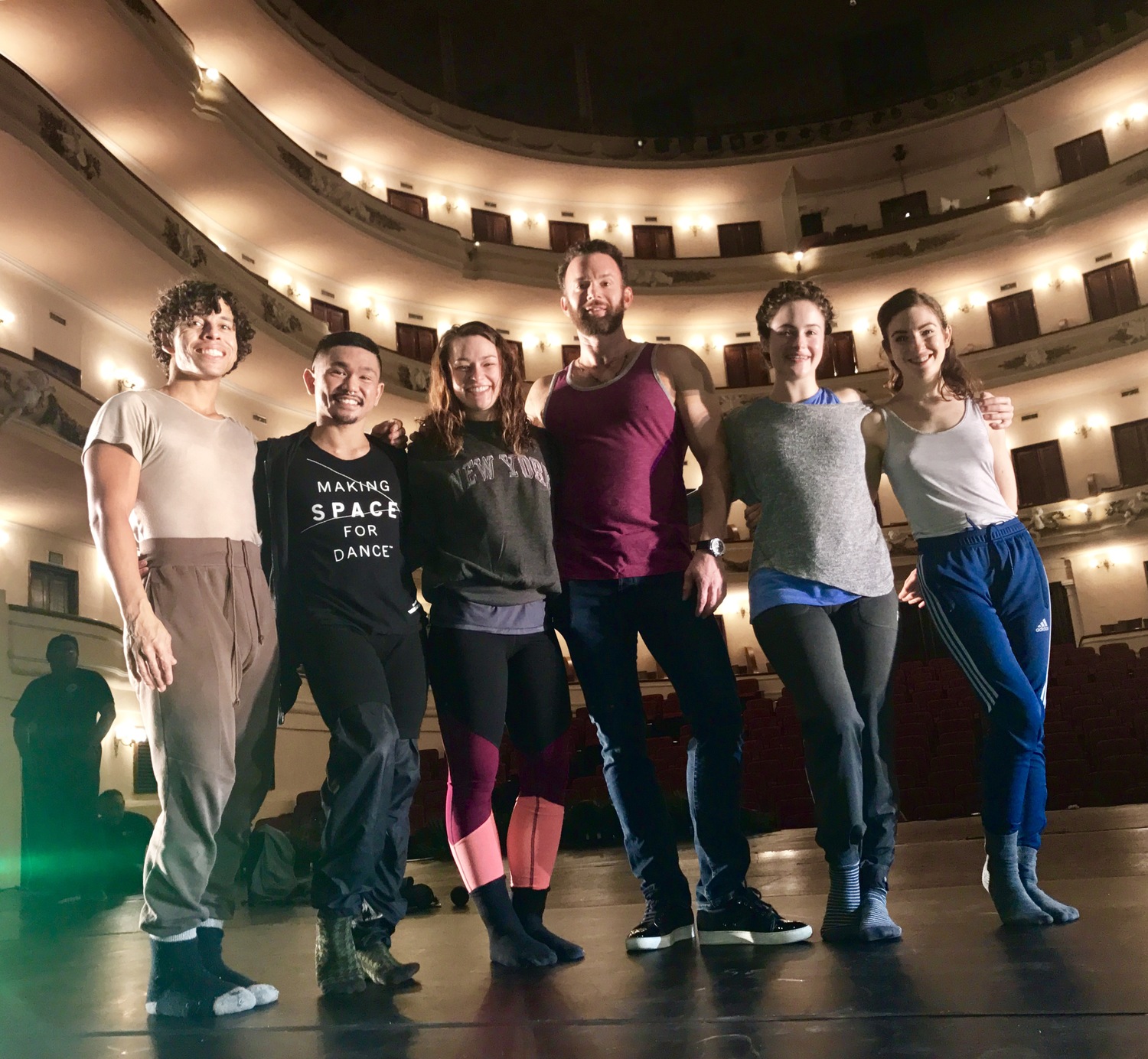 We've just wrapped our incredible weeklong tour of the state of Yucatán, Mexico, with meetings, workshops, rehearsals, performances and a press conference. This was Eryc Taylor Dance's third tour of the Yucatán, and second year performing at the grand Teatro José Peon Contreras in Mérida in the International Dance Festival Avant Garde.
We just love Teatro José Peon Contreras! The theater has five balconies with a massive crystal chandelier hanging from a rotunda, painted with murals of angels. A white marble staircase, with enormous bouquets of flowers on both sides, leads up from the entrance into the main hall. The theater was built in the late 19th century, when the city was transformed into a glamorous epicenter of style, so its construction has the same flair and elegance as the classic European theaters.
Each time the massive red curtains opened, with the lights coming up and the music about to begin, I was overwhelmed with emotion. Each time, I knew at that moment that the months and months of rehearsals had paid off. My dancers Nicole Baker, Chris Bell, AJ Guevara, Alex Tennreiro Theis and Taylor Ennen performed each work on the program with strength and beauty, filling a stage that could easily accommodate 100 dancers. We presented four repertory works over the weekend, plus a new commission by The Sills Foundation titled, "Cycles." I'm eager to read the reviews from La Prensa and El Universal, Latin America's version of The New York Times.
On the plane ride home I reflected with pride on this very successful end to our 2017 season. Working with the children and adults at The Casa de la Cultura in Chocholá, and the students from four of the local dance schools in Mérida, was an amazing experience. It was an honor to receive an award of achievement from President Obet Alcocer of Chocholá for the second consecutive year, and an honorarium award presented by Juan Hernandez, Chief Critic of El Universal, from Cristobal Ocana, producer of the International Dance Festival Avant Garde.
On the last night, after we had packed up all of our costumes and headed out the backstage door, we found crowds of our new adoring fans anxiously waiting for us to appear. It was so wonderful to see my dancers signing autographs!
We all made it back to New York safe and sound, after a really fantastic tour. We've already been booked for a 2018 return to the Yucatán. I'd like to thank all of the producers, my publicist Adria Rolnik, Cristobal Ocaña of Umbral Danza Contemporanea, and our Mexican government sponsors for hosting us at The International Dance Festival Avant Garde. I also would like to thank my incredible ETD team of artists, patrons and collaborators for making my vision come to life.
Thank you, Broadway World, for letting me share our adventures with all of you!