Gene & The Vocalists Presents a Concert of The Vocal Music Of Gene Pritsker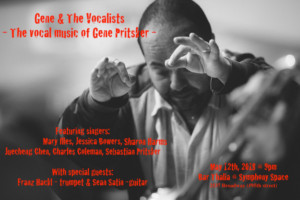 Composer Gene Pritsker presents a concert of his vocal music. "I have written many chamber operas, various chamber music with voice, jazz songs, r&b songs, choral music and songs inspired by various genres and cultures. I thought it would be great to have a concert that features my eclectic vocal compositions. I assembled a group of great singers and picked repertoire that will feature each of their voices as well as combine them to perform some of my choral music."
Sopranos Mary Illes and Sharon Harms, mezzo soprano Jessica Bowers, counter tenor Juecheng Chen, baritone Charles Coleman, my son Sebastian Pritsker who will sing a Russian song I wrote and special guests Franz Hackl on trumpet and guitarist Sean Satin, will perform many of my compositions, including the premieres of: 'Whitman's Strangers Electronic' for mezzo soprano and Samplestra (pre recorded electronics), Nun Tuv Hey' from 'Four Choral Pieces On Hebrew Letters' for chorus and 'Turn Back?' for counter tenor and guitar, as well as older music such as the duo 'Renascence', the jazzy 'Funeral Blues' and my choral piece 'Wish + Faith = Kisses'. The concert will also include music of Mark Kostabi, Franz Hackl, Charles Coleman, Shanan Estreicher, Dan Cooper, and Joseph Pehrson.
Composer/guitarist/rapper/Di.J./producer Gene Pritsker has written over six hundred compositions, including chamber operas, orchestral and chamber works, electro-acoustic music and songs for hip-hop and rock ensembles. All of his compositions employ an eclectic spectrum of styles and are influenced by his studies of various musical cultures.
He is the founder and leader of Sound Liberation; an eclectic hip hop-chamber-jazz-rock-etc. ensemble and co-director of Composers' Concordance. Gene's music has been performed all over the world at various festivals and by many ensembles and performers. He has worked closely with Joe Zawinul and has orchestrated major Hollywood movies.
The New York Times described him as "...audacious...multitalented." Joseph Pehrson, writing in The Music Connoisseur, described Pritsker as "dissolving the artificial boundaries between high brow, low brow, classical, popular musics and elevates the idea that if it's done well it is great music, regardless of the style or genre". Classical Music Sentinel writes: "His expressive reach is so wide as to encompass everything from ethno/techno, rock/jazz fusion, classical opera and more, and it all seems to be effortlessly integrated within his anima and comes out through different facets of his persona. You could almost see him as a modern day renaissance man.
He is the co-director of Composers Concordance (CC Records), co-founder/guitarist of Absolute Ensemble and artist-in residence at the Austrian Outreach Festival. http://www.genepritsker.com/
Jessica Bowers has performed with Utah Opera, Anchorage Opera, Opera Boston, Central City Opera, and Ohio Light Opera. She plays regularly with guitarist Oren Fader as the Bowers Fader Duo and recently they have performed with Taconic Music, The Sonora Trio, Soft Series, and Composers Concordance. This winter she sang the world premiere of "Emily Brontë - Through life and death, a chainless soul," a monodrama written for her by Akemi Naito.. She also sang with Satori Ensemble in Bethlehem, PA. This spring she will sing with the Bowers Fader Duo as guests of Cygnus Ensemble and Taconic Music, perform with L'Artiste Ordinaire, and sing the role of Dorinda in operamission's production of "Il pastor fido." For more information, please visit www.Jessica Bowers.net
Born and raised in New York City, composer-vocalist-producer Charles Coleman has written for many orchestras and ensembles both here and abroad, including the the Cincinnati Symphony, New Jersey Symphony, MDR Leipzig Radio Symphony Orchestra and the Baltic Sea Philharmonic. Coleman has been a regular composer and vocalist with Absolute Ensemble, Dogs of Desire and Composers Concordance. He is a 2007 recipient of the "Music Alive" grant, created by Meet-The-Composer and the American Symphony Orchestra League.
Coleman's work as a composer, orchestrator and producer has appeared on many CDs, notably "Absolute Mix" (CCn'C 00702) which won the German Record Critics Award in the year 2000. He has served as the recording producer of four CDs. In early 2017, Coleman's orchestration of Philip Glass' Aquas da Amazonia was released on the Orange Mountain Music record label, performed by the MDR Leipzig Radio Symphony Orchestra under the baton of Kristjan Järvi.
For more info, please visit: https://ccolemancomposer.wixsite.com/cccc
Mary Illes has performed leading roles on Broadway in The Phantom of the Opera, The Music Man, The Scarlet Pimpernel, Steel Pier and She Loves Me. Off Broadway she played the leading role of Mrs. Erylnne in Noel Coward's After the Ball at Irish Repertory Theater, and at Goodspeed Opera House, she was Dona Lucia in Where's Charley?. She has performed in three shows at City Center Encores: Music in the Air, Finian's Rainbow, and Lost in the Stars. She played the Gumbie Cat in Cats/Paris and in Cats/Vienna. As a concert soloist she sang with The New Haven Symphony, Disney's All American College Orchestra. At Innsbruck's Summer Music Festival she sang with Baritone Thomas Hampson in Bernstein's Broadway, with the Theater an der Wien orchestra, and again at Vienna's Ronacher Theater. Her cabaret Wanderlust was performed at Kaplan Penthouse. Film and TV credits include Orange is the New Black, and Freeheld. She teaches voice privately and at the Joffrey Summer Musical Theater workshop. www.maryilles.net
Ju-eh (Juecheng Chen) is a conceptual virtuosic countertenor. With 10 years of classical singing training, he specializes in presenting what classical music can be today. Ju-eh's most recent artistic appearances include: premiering Improvised Opera at Mirror In The Woods, Feb 2017; curating and featuring in Helmet Mindsets in Art During The Occupation Gallery, Jan 2018; premiering Operatic Electric with Gene Pritsker, Oct 2017; featuring in exhibition piece Sonora, Taxispalais, Innsbruck, Austria, Nov 2017 - Jan 2018; durational performance art with Sylva Dean and Me, Biennale, Venice, Italy, July 2017; premiering Beatboxing Countertenor at National Sawdust, NYC, April 2017.
Praised as "superb", "luscious-toned", "extraordinarily precise and expressive", and "dramatically committed and not averse to risk" by the New York Times, young American soprano Sharon Harms is known for fearless performances and passionate interpretations of works new and old for the recital, concert, and operatic stage. Sharon has premiered the music of some of today's leading composers and her repertoire spans a versatile spectrum of periods and styles. A wide array of collaborations have put Ms. Harms in venues around the world. She is a member of the Argento Ensemble and the Curiosity Cabinet and has sung with Alter Ego Ensemble, Baroque Band of Chicago, Center for Contemporary Opera, counter)induction, Da Capo Chamber Players, East Coast Contemporary Ensemble, Eighth Blackbird, Ensemble Mise-en, among many others. https://www.sharonharms.com/
Sean Satin began formal training under Jorge Morel. Shortly after, he was accepted into the Manhattan School of Music where he earned a B.M. in Classical Guitar Performance. While there, he studied with Oren Fader and Mark Delpriora. He also played in master classes for Eliot Fisk, Eduardo Fernandez, David Starobin, and James Smith. Sean later went on to earn an M.A. from Teachers College, Columbia University, where he is pursuing post-graduate studies. He has performed throughout New York including a concert at Lincoln Center's Alice Tully Hall. Sean performs extensively in a wide variety of musical styles from classical to rock.
Franz Hackl was born in Tyrol, Austria and at the age of eleven he followed in his father's footsteps by becoming a trumpet soloist; he began to tour internationally. Growing up with traditional Austrian brass music as a soloist with the "Original Tiroler Kaiserjägermusik", he soon became interested in playing Jazz. He is an alumnus of the Conservatory of the City of Vienna and received a M.S. degree from the Manhattan School of Music, where he studied with Lew Soloff. He was commissioned to write original music for the "Year of the Mountains" launch event at the United Nations, Trialog @ Hangar 7 (Red Bull), the opening of the Austrian Cultural Forum in New York, as well as composing for numerous other festivals and ensembles such as Tiroler Festspiele, Europ, Forum Alpbach, Klangspuren, Festival der Regionen and the Absolute Ensemble. He leads his own group: Franz Hackl's IDO, A Quartet with Mino Cinelu on percussion, Matt Garrison on bass and Adam Holzman on keyboards. Franz is a Col Legno Artist, a leading record label in the contemporary music field. He is also co-leading the brass trio B3+ (with Dave Taylor on bass trombone and John Clark on French horn), which just released their debut CD on Col Legno. http://hacklmusic.com/
Related Stories
More Hot Stories For You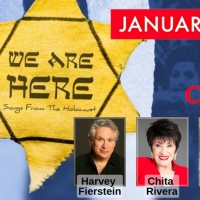 Harvey Fierstein, Chita Rivera, and More Announced for WE ARE HERE Concert at Carnegie Hall

December 4, 2022

"We Are Here", a remarkable concert of music written inside the Nazi camps and ghettos, will come to Stern Auditorium / Perelman Stage at Carnegie Hall to commemorate International Holocaust Remembrance Day on January 26th at 7:30pm.
---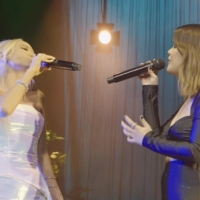 VIDEO: Watch Kristin Chenoweth and Country Star Maren Morris Sing 'For Good' from WICKED

December 4, 2022

Maren Morris surprised audiences by bringing out Kristin Chenoweth to join her for a performance of 'For Good' from WICKED during the final show of Morris's Humble Quest concert tour at Nashville's Bridgestone Arena. Watch the video here.
---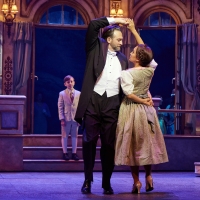 Photos: First Look at Ashley Blanchet, Graham Rowat, Gavin Lee, and More in Paper Mill's THE SOUND OF MUSIC

December 3, 2022

Paper Mill Playhouse (Mark S. Hoebee-Producing Artistic Director; Michael Stotts- Managing Director), recipient of the 2016 Regional Theatre Tony Award, has released production photos for The Sound of Music. The show began performances at Paper Mill Playhouse on Friday, December 2 and will play through Sunday, January 1, 2023.
---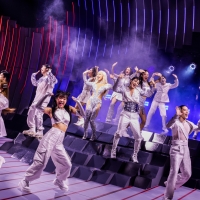 KPOP Producers Issue Letter in Response to New York Times Review

December 3, 2022

In response to Jesse Green's review of KPOP from the New York Times, the producers of KPOP have issued a response letter, requesting that Green 'issue an apology to the cast and creators of [KPOP] for the insensitive and, frankly, offensive review.'
---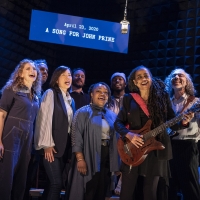 Suzan-Lori Parks' PLAYS FOR THE PLAGUE YEAR to Return to The Public in April 2023

December 2, 2022

After a truncated run as a result of several COVID-19 cases in the company, Suzan-Lori Parks' theatrical concert PLAYS FOR THE PLAGUE YEAR will be returning for an engagement in The Public Theater's Joe's Pub in April 2023.
---