Frog & Peach Returns to The Sheen Center with Shakespeare's Beloved Comedy A MIDSUMMER NIGHT'S DREAM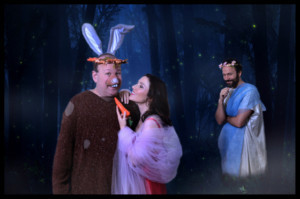 The renowned Frog & Peach Theatre Company follows up their record breaking Sheen Center debut of 2017's Macbeth with A Midsummer Night's Dream. William Shakespeare's rollicking romp of romance, wizardry, and show biz runs February 1 - 25, with Opening Night slated for Saturday, February 3 at The Sheen Center Black Box Theatre.
The production is directed by Frog & Peach founder Lynnea Benson and features an original score by Honey West's Ted Zurkowski and Ian McDonald (founding members of music's legendary King Crimson & Foreigner).
A Midsummer Night's Dream transports audiences to the palaces of Athens, and the dark, bewitching forests surrounding the kingdom, where the fairy King Oberon and his Queen Titania are waging a deliciously romantic war. With help from the devilish Puck, Oberon casts a spell over his estranged wife, as well as the lovers Hermia, Helena, Lysander and Demetrius. Meanwhile, as the Mechanicals rehearse their tragically hilarious Pyramus & Thisby, Puck cannot resist transforming the hapless Bottom into a donkey. Will witchcraft spell disaster, or save the day?
With themes of sexual politics, climate change, and the supernatural, A Midsummer Night's Dream is a startlingly modern comedy sure to delight audiences of all ages. The production is recommended for ages 6 and up.
A Midsummer Night's Dream runs February 1 - 25, Thursday - Saturday at 7:30 pm, and Sunday at 3:00 pm. Tickets are $24.95 and are available at www.sheencenter.org/shows/midsummer or by calling 212 925 2812. Running time: 2:15.
Performances take place at the Sheen Center Black Box Theatre, 18 Bleecker Street (between Mott & Elizabeth Street), New York, NY, 10012. Subways: 4/5/6 to Bleecker Street, B/D/F/M to Broadway/Lafayette, N/Q/R/W to Prince Street.
The production features many of Frog & Peach's favorite actors as well as some new faces. The eclectic cast includes Benny Acevedo (All is Fine in Sunny Florida/Frigid Festival), Nicholas Corda (The Girl from Bare Cove/440 Studio), Alyssa Diamond (Macbeth/Frog & Peach), David Elyha (Much Ado About Nothing/Frog & Peach), Erick Gonzalez (Macbeth/Frog & Peach), Taylor Harvey (Twelfth Knight/Door Shakespeare), Kevin Hauver (Macbeth/Frog & Peach), Edan Jacob Levy (Cutthroat/The Flea), Bess Miller (Henry IV/ Hudson Shakespeare), Daina Njuguna (Bullets for My Memorie/Rackua Productions), Karoline Patrick (Blue Stockings/NYU Stageworks), John L. Payne (Macbeth/Frog & Peach), Richard James Porter (The Knick/Cinemax), Kyle Primack (A Midsummer Night's Dream/Alpha NYC), Stephanay Slade (Three Sisters/The New School), Chad Sheveland (Muse of Fire/Manhattan Rep), Josh Silverman (Difficult People/Hulu), Eric Swanson (Cymbeline/Theatre 80), Amy Frances Quint (Radio Deluxembourg/Edinburgh Fringe), Steven Ungar (The Taming of the Shrew/Inwood Shakespeare Festival), and Marcus A. Watson (Macbeth/Frog & Peach).
The creative team features lighting design by Dennis Parichy (Drama Desk Award-Winner), costume and scenic design by Asa Benally (Yale University), choreography by Skylar Fox, stage management by Dylan Marie Parent, and production photography by Paul Greco.
More information is available at www.FrogAndPeachTheatre.org
Lynnea Benson (Director) is a co-founder of Frog & Peach Theatre Company and a Lifetime Member of The Actors Studio. Frog & Peach directing credits: Macbeth, Much Ado About Nothing, Titus Andronicus (starring Greg Mullavey), King John, Hamlet, Measure For Measure, Two Gentlemen of Verona, Twelfth Night, Cymbeline, Macbeth, As You Like It, Richard III (starring Anatol Yusef & Karen Lynn Gorney); Merchant of Venice, Hamlet, Richard II (all starring Austin Pendleton & Ted Zurkowski). Barnard College, BA, English.
About Frog & Peach
Frog & Peach Theatre Company was founded in 1997 by Lynnea Benson & Ted Zurkowski, Lifetime Members of The Actors Studio and passionate advocates of Shakespeare in performance. Frog & Peach makes Shakespeare's plays fun and exciting for everyone, regardless of age, income or diploma. Over the years, Frog & Peach has grown from a small raucous troupe into one of New York's most respected Shakespearean ensembles, with one of the most diverse audiences found anywhere.