Click Here for More Articles on FARINELLI AND THE KING
FARINELLI AND THE KING Recoups On Broadway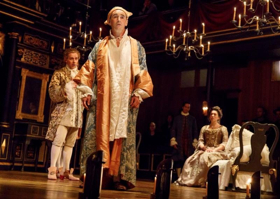 Producers Sonia Friedman, Shakespeare's Globe and Paula Marie Black have announced that the Shakespeare's Globe production of FARINELLI AND THE KING, starring three-time Tony Award-winner and Academy Award winner Mark Rylance, recouped its capitalization costs on Broadway, officially entering the hit column.
FARINELLI AND THE KING, a new play by Claire van Kampen, directed by John Dove, designed by Jonathan Fensom, with musical arrangements also by Claire van Kampen, played a limited engagement from December 5, 2017 through March 25, 2018 at the Belasco Theatre, where it opened on December 17.
"We've packed up our candles, but we are so pleased that Broadway was so welcoming to the rarefied world of FARINELLI AND THE KING," the producers commented. "We're grateful to the wonderful crew at the Belasco Theatre, and to this company, led by the extraordinary Mark Rylance, for bringing Claire van Kampen's beautiful play about the healing power of music to such extraordinary life. Close to 120,000 patrons attended FARINELLI AND THE KING on Broadway. We're especially gratified that over 25,000 of them did so through our $32 ticket access program, providing an affordable price point for more audiences, and ensuring future generations of theatregoers."
The cast featured Sam Crane (Farinelli), Huss Garbiya (Doctor José Cervi), Melody Grove (Isabella Farnese), Lucas Hall (Jethro/Miguel, cover Farinelli), Simon Jones (John Rich), Edward Peel (De La Cuadra) and Mark Rylance (King Philippe V). Grammy Award-winning countertenor Iestyn Davies made his Broadway debut singing the role of Farinelli, alternating with James Hall and Eric Jurenas. The company also featured Peter Bradbury and Margot White.
FARINELLI AND THE KING was produced on Broadway by Sonia Friedman Productions, Shakespeare's Globe and Paula Marie Black, with Tom Smedes, Peter Stern, Jane Bergère, Jane Dubin/Rachel Weinstein, 1001 Night Productions, Elizabeth Cuthrell & Steven Tuttleman, Rupert Gavin, Robyn L. Paley, SGC USA, Tulchin Bartner Productions, Cindy & Jay Gutterman/Marc David Levine, Marguerite Hoffman/ Van Kaplan, and Shakespeare Road.