Click Here for More Articles on STUDENT CENTER - COLLEGE EDITION

Damn The Light Productions Presents THE WHO'S TOMMY Tribute Concert/MMC PopRock Showcase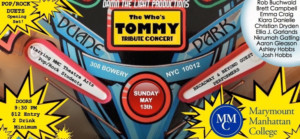 This Sunday, May 13th, Damn The Light Productions presents a one night only tribute concert to The Who's Tommy at Duane Park. The evening will open with a "Decades" tribute highlighting some of radio's biggest hits from the 1960's through the 1990s. The 10:00pm set will star students from Marymount Manhattan College Theatre Arts Department "Pop/ Rock Performance Lab" created and taught by MaryAnne Piccolo and Mike Greko. Student performers include Sarah Bialkin, Julia Bustos-Gusse, Hobie Henson, Troy Lingelback, Nick Lynch, Jacki Manno, Eilis Quinn, Courtney Silber, Bryce Valle, Victor Vazquez, Maddy Waters, Olivia Whitehouse, Rikki Zielgelman.
The 11:00pm tribute to Tommy will feature outstanding guest performers from Broadway and beyond, accompanied by MMC Pop/Rock students. This years special guest's include recent recipient of the Marc Blitzen Award at the 2018 Lotte Lenya Competition Nkrumah Gatling (Broadway's Miss Saigon, HAIR, Chess; Kennedy Center), Kiara Danielle (Broadway's Mary Poppins, Dreamgirls), Rob Buchwald, Brett Campell, Emma Craig, Christian Dryden, Ellia J. Garlands, Aaron Gleason, Ashley Hobbs and Josh Hobbs. The band will include Mike Greko (music director, piano), Ismael Baiz (drums), Andy Blacksugar (guitar), Jimmy Caputo (bass), and Kent Thompson (guitar).
Originally released in 1969, The Who's rock-opera concept album "Tommy" tells the story of a "deaf, dumb and blind" boy. The cult hit was then brought to life on the big screen in 1975. It was further adapted by Pete Townshend and Des McAnuff into a fully staged musical which opened on Broadway in 1993.
Doors at are 9:30pm with a $12.00 entry and a $25 drink minimum.
Advance tickets are available at: https://tommytributeconcert.brownpapertickets.com
Duane Park is located at 308 Bowery, New York, New York 10012. (212) 732-5555 Duane Park website: http://duaneparknyc.com
Damn The Light Productions website: https://www.damnthelightproductions.com???????