Cornelia Street Café Partners With Quintessential New York Artist Robert Cenedella To Host Art Exhibition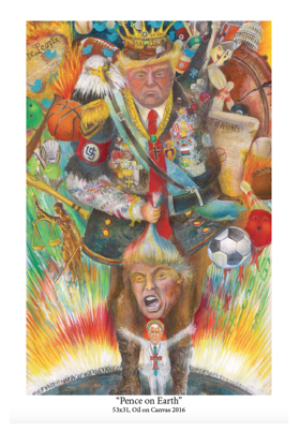 A new art exhibition, installed at the legendary Cornelia Street Café, 29 Cornelia Street in Greenwich Village, featuring the paintings of world-renowned New York City-based artist Robert Cenedella, will officially open to the public on January 24, 2018, with a reception from 5:30 - 7:00 pm. The exhibition will be up through the end of February.
This exhibition marks the start of a series of special events to announce the Cornelia Street Café's Underground performance space attaining its new 501 c3 status, a little more than a year after sheltering under the capacious wings of Fractured Atlas, an arts service organization with the goal of impacting a wider segment of the arts community in a manner that is both scalable and sustainable.
On February 21, there will be a by invitation only, special dinner and screening of the award-winning documentary Art Bastard, which chronicles the often-controversial artistic life of Robert Cenedella, who has been described as a "master of pictorial satire and fantasy, justly celebrated for his paintings revealing all aspects of big-city life," by The Art Students League of New York.
Over the years Cenedella has forged a strong connection with the Café and its founder, Robin Hirsch. A frequent visitor and friend to the storied establishment, Robert Cenedella was happy to be a part of ensuring the longevity of the 40-year-old bistro and performance hub, where so many artists from various disciplines have gotten their start.
Like the Café, Cenedella ignored all the modern art rules, instead choosing to follow his own, distinct path. As M. Kay Flavell said of Mr. Cenedella in George Grosz: A Biography, he "...chronicles the everyday life and the changing rituals and mythologies -- of sex, sport, art, politics, money making in contemporary America, with his combination of imaginative vitality, precision, and humor."
The Cornelia Street Café has been a uniquely different type of venue from the start, one that has given a platform to every conceivable genre of artist, the rebels, the social activists, and the irreverent. Creatives like Suzanne Vega and the Songwriters Exchange got their start there, so too did Eve Ensler and The Vagina Monologues. It was the place where Senator Eugene McCarthy read his poetry and Dr. Oliver Sacks read his prose, where Nobel Laureates and Pulitzer Prize winners, stilt walkers and ventriloquists, members of the Royal Shakespeare Company to members of Monty Python mingled. On its tenth anniversary in 1987 New York's Mayor Ed Koch proclaimed it "a cultural as well as a culinary landmark."
In today's frayed environment, it has become abundantly clear that the arts are under terminal threat. Nationally and locally this has signaled a call to cultural arms. The Café has responded by ensuring that the Underground remains a place where the arts are sheltered, and the creatives who produce it, are given the time and space to develop and showcase their works, and where good friends can continue to display their passion for the arts.
"I am very proud of the journey we have taken together, of the community we have built together, and the values we have espoused together," says Robin Hirsch, owner of the Café and Underground. "We need to do everything we can to keep this story, this spirit, this community, these values alive. We are now in a position to receive tax-deductible donations directly."
For more information on the upcoming events in support of the Cornelia Street Café and Underground, and to learn more about giving to the Underground's 501c3, visit www.corneliastreetcafe.com
ABOUT CORNELIA STREET UNDERGROUND
For almost 40 years, in addition to providing food for the body (not to mention drink), we have attempted to provide food for the soul. We have produced perhaps the widest variety of performance in New York, over 700 shows a year - from science to stilt walking, from Latin jazz to Russian poetry.
The Cornelia Street Underground is now officially a not-for-profit arts organization. Contributions for the charitable purposes of CORNELIA STREET UNDERGROUND are tax-deductible to the extent permitted by law.
ABOUT Robert Cenedella
Robert Cenedella was born in Milford, Massachusetts, in 1940. He received his formal education from The High School of Music & Art in New York, and from The Art Students League of New York. In 1988, he inherited the George Grosz Chair at The League where he was invited to teach his Life Drawing Class and a Painting Workshop. He presently teaches three classes at The League.
Following a definite tradition in art, like Brueghel, Daumier, Hogarth, and Grosz before him, Cenedella has devoted his art to chronicling the changing rituals and myths of contemporary American society.
In the last 30 years, Cenedella has amassed considerable international praise as well as inclusion in numerous public and private collections. His commissions include works for the famed Bacardi International and Absolut VODKA, a theater piece for actor Tony Randall, and two murals of historical significance for Le Cirque 2000 Restaurants in New York and Mexico City.
Cenedella's art and life was the subject of a book, "The American Artist as Satirist," by M. Kay Flavell.
"Art Bastard", a historical documentary film on his life and work was released in the spring of 2016 by Concannon Productions to critical acclaim. It was directed by the acclaimed writer and director Victor Kanefsky, produced by Chris T. Concannon, and edited by Jim MacDonald. www.rcenedellagallery.com