Cheyenne Jackson Will Play Hades in Disney's DESCENDANTS 3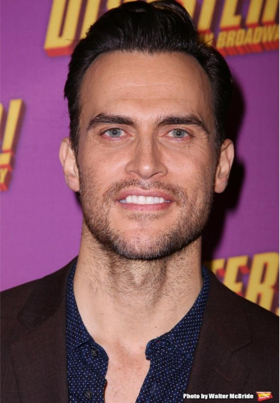 Cheyenne Jackson ("American Horror Story") has been cast in Disney's "Descendants 3," in the role of Hades, the nefarious underworld ruler from the 1997 Disney animated musical comedy film "Hercules." Jackson, who began his career as a theatrical actor including starring roles in Broadway productions "All Shook Up" and "Xanadu" among others, starred in multiple seasons of "American Horror Story" and has had roles in over 40 television series and films. The trequel is set to begin production shortly for a scheduled debut in 2019.
The returning cast of Villain Kids (a.k.a. VKs) includes Dove Cameron as Maleficent's daughter Mal, Cameron Boyce as Cruella de Vil's son Carlos, Sofia Carson as the Evil Queen's daughter Evie, Booboo Stewart as Jafar's son Jay, China Anne McClain as Ursula's daughter Uma, Thomas Doherty as Captain Hook's son Harry, Dylan Playfair as Gaston's son Gil and Anna Cathcart as Drizella's daughter Dizzy. Auradonians returning include Mitchell Hope as Beast and Belle's son King Ben, Sarah Jeffery as Prince Phillip and Sleeping Beauty's daughter Audrey, Jedidiah Goodacre as Prince Charming and Cinderella's son Chad, Zachary Gibson as Dopey's son Doug, Brenna D'Amico as Fairy Godmother's daughter Jane, Dan Payne as Beast, Keegan Connor Tracy as Belle and Melanie Paxson as Fairy Godmother.
In addition to Jackson, new to the cast are Jadah Marie as Dr. Facilier's daughter Celia, Jamal Sims as Dr. Facilier, and Christian Convery and Luke Roessler as Smee's sons Squeaky and Squirmy, respectively.
Emmy Award and DGA Award-winning director Kenny Ortega ("Descendants," "High School Musical" trilogy) is the director, executive producer and choreographer.
Writers Sara Parriott and Josann McGibbon ("The Starter Wife," "Runaway Bride," "Descendants," "Descendants 2") will also serve as executive producers alongside Ortega and executive producer Wendy Japhet. Kara Saun ("Descendants," "Descendants 2," "Project Runway") is the costume designer. Mark Hofeling ("Descendants," "Descendants 2," "High School Musical," "ZOMBIES") is the production designer. Shawn Williamson ("Descendants 2," "Adventures in Babysitting") is producer. Jamal Sims ("Step Up," "Hannah Montana Movie") joins Kenny Ortega as choreographer.
Photo Credit: Walter McBride