Click Here for More Articles on THE BAND'S VISIT
Cast and Creative of THE BAND'S VISIT React To Their Tony Award Nominations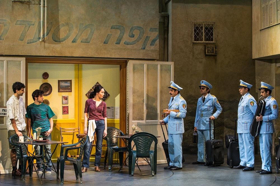 BroadwayWorld has been checking in with Tony Award nominees all morning! We caught up with the nominated cast of The Band's Visit on Broadway to get their first reactions at being up for Tony Awards this season.
The Band's Visit has 11 nominations including Best Musical, Best Leading Actor in a Musical - Tony Shalhoub, Best Leading Actress in a Musical - Katrina Lenk, Best Featured Actor in a Musical - Ari'el Stachel, Best Book of a Musical - Itamar Moses, Best Original Score - Music & Lyrics: David Yazbek, Best Scenic Design of a Musical - Scott Pask, Best, Lighting Design of a Musical - Tyler Micoleau, Best Sound Design of a Musical - Kai Harada, Best Direction of a Musical - David Cromer, and Best Orchestrations - Jamshied Sharifi.
See reactions below, and stay tuned for more! See reactions from all the shows here!
Tony Shalhoub, The Band's Visit, Best Performance by an Actor in a Leading Role in a Musical
I am shocked! Maybe shocked is not the word...I mean, I expected that the show and that Katrina [Lenk] would be recognized, and that everyone else would be nominated, but I'm not known as a musical theatre guy! I am so happy because it's such a great piece. This will take me at least a week to process! We were actually doing a segment on the Today Show this morning and we were being interviewed by the hosts and they actually told Katrina and I that we were nominated while we were on the air! So, that was slightly awkward. [Laughs]. My jaw was hitting the concrete. This is so great for the show because it's so beautiful and has such a great message. I'm so happy because this means that more people might get to see it now. I didn't have any plans for today but maybe I'll have a celebratory champagne lunch!
Katrina Lenk, The Band's Visit, Best Performance by an Actress in a Leading Role in a Musical
I'm thrilled, and very proud of our cast, creative team, and crew- I have such respect and admiration for the artists in this community and to have our work recognized in this way is quite an honor.
Ari'el Stachel, The Band's Visit, Best Performance by an Actor in a Featured Role in a Musical
I am really, really excited. We were on the Today Show this morning- we performed to coincide with the announcement. Part of the protocol was that we had to leave our phones downstairs while we were performing and it was total torture. As soon as it completed one of the producers came up to me and said congratulations. I just started crying. This is all so personal to me because this show celebrates Middle Eastern people and the fact that our show, that represents this often overlooked culture, got so much love, means the world to me. I'm going to celebrate by to eating! Then I'm off to my usual Tuesday therapy session. Then of course I'll get to celebrate with my friends and castmates after the show tonight.
David Cromer, The Band's Visit, Best Direction of a Musical
We got the news while at the Today Show, the hosts told Tony and Katrina on the air while they were being interviewed. We had gone out of our way not to think about it, the company decided we were going to turn off our phones and ignore it and focus on the performance and then in the end no one had to cheat! And, since we were already together, we've already done our celebrating. The Band's Visit has been one of the best collaborative experiences on new material I've ever had. We have a wonderfully productive relationship so I had such a special time working with David and Itamar and figuring out what the show was going to be and watch them craft something that iss so beautiful. There would be scenes that Itamar would keep rewriting and I would try to stop him, but he would keep going until it was perfect. Then it came together with David's songs and I really just got lucky because they were writing a masterpiece. I was just smart enough not to screw with it.
Orin Wolf, The Band's Visit, Producer
I was in the plaza watching The Band's Visit cast tape the Today show and then Hoda and the other hosts came and came over told the company about the nominations. Tony and Katrina had this jaw dropping moment and taking it all in - it was just a very honest moment. There I am trying not to trip over a cable in the background. Personally I am filled with all this pride getting to see all the actors recognized and I want to celebrate them. And this is my first time so I feel this responsibility to bring this show to a wider audience - it's my job to take every opportunity to shout about it. I am celebrating my talking to you, answering questions so that I can get our show out there!
David Yazbek, The Band's Visit, Best Original Score (Music and/or Lyrics) Written for the Theatre
I was watching the Today Show because our cast performed this morning. It was really exciting because I got to watch as Tony [Shalhoub] and Katrina [Lenk] got the news while they were on the air! By the time that was over I heard we got 11 nominations. The fact that people are engaging with the show is so satisfying, but that those nominators are a part of that is especially satisfying to me. What really thrills me is Ari [Stachel] getting a nomination. Itamar's book! I mean, he's had a lot of shows! Even [David] Cromer, who is a powerhouse and a genius! I mean, it's my fourth time at this rodeo, so it's very satisfying, but to watch them all go through this is incredible. I will probably put an extra teaspoon of peanut butter in my smoothie to celebrate!
Itamar Moses, The Band's Visit, Best Book of a Musical
I knew the nominations were coming out this morning and my plan was to sleep through them and have a peaceful morning. That didn't work out [Laughs]. My girlfriend was watching from the other room and so when I heard that I decided to wake up and watch. There is something very particular and very special about how this show came together. It all added up to more than the sum of its parts, you know? It all feels right. It feels like the only way to get acknowledged... that so many of us were. One person alone wasn't the reason it came out the way it did. It was a melding of visions. I'm gonna relax today and take it easy!
---
The critically acclaimed new Broadway musical THE BAND'S VISIT opened officially November 9, 2017, at the Ethel Barrymore Theatre (243 West 47th Street).
THE BAND'S VISIT features music and lyrics by three-time Tony Award nominee and Drama Desk Award winner David Yazbek, a book by NY Drama Critics Circle, Lortel and Outer Critics Circle awards winner Itamar Moses, based on the screenplay by Eran Kolirin, and is directed by Drama Desk, Lortel, Joe A. Callaway and Obie Award winner David Cromer.
The Broadway company of THE BAND'S VISIT includes Katrina Lenk, Tony Shalhoub, John Cariani, Ari'el Stachel, George Abud, Etai Benson, Adam Kantor, Andrew Polk, Bill Army, Rachel Prather, Jonathan Raviv, Sharone Sayegh, Kristen Sieh, Alok Tewari, Pomme Koch, Ahmad Maksoud, Madison Micucci and James Rana. Musicians include Andrea Grody, Alexandra Eckhardt, Ossama Farouk, Philip Mayer, Sam Sadigursky, Jeff Theiss, Harvey Valdes and David Garo Yellin.