Click Here for More Articles on Crazy Ex-Girlfriend
CRAZY EX-GIRLFRIEND LIVE Heads to Radio City Music Hall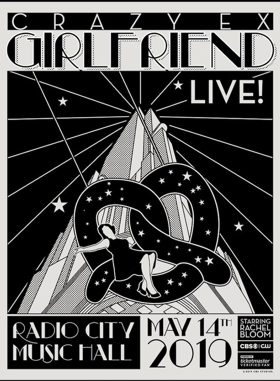 Rachel Bloom took to social media to announce one more CRAZY EX-GIRLFRIEND live show! In her tweet, Bloom said, "Come see one more #crazyexgirlfriend live show while everyone in the cast still likes each other! Radio City, 5/14!"
See the tweet below!
To get access to the pre-sale, sign up on the mailing list at http://racheldoesstuff.com.
The cast of the CW's award-winning musical comedy CRAZY EX-GIRLFRIEND took their show on the road in a live, eight-city music tour that began last March 31, 2018. Star Rachel Bloom was joined by select cast and CRAZY EX-GIRLFRIEND songwriters as they bring the show's songs to life. Vincent Rodriguez III, Scott Michael Foster, Pete Gardner, Aline Brosh McKenna, Adam Schlesinger and Jack Dolgen took place in the tour, in cities that included Portland, Seattle, Chicago, Boston, Washington, D.C., Philadelphia, New York and Los Angeles.
From CBS Television Studios and Warner Bros. Television, CRAZY EX-GIRLFRIEND is executive produced by Rachel Bloom, Aline Brosh McKenna ("The Devil Wears Prada"), Marc Webb ("500 Days of Summer"), Erin Ehrlich ("Awkward"), Michael Hitchcock ("Glee") and Sarah Caplan (RAY DONOVAN). The music is produced by Adam Schlesinger (executive music producer) and Steven Gold (music producer), and the songs are co-written by Rachel Bloom, Adam Schlesinger and Jack Dolgen (supervising producer). The music from the series is distributed by WaterTower Music and is sold on all digital retailers.