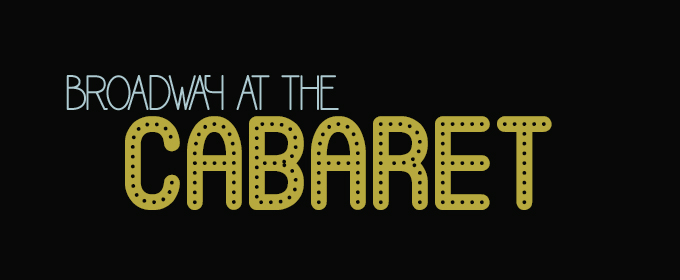 Click Here for More Articles on Broadway at the Cabaret
Broadway at the Cabaret: Amanda Jane Cooper, Nick Cordero & More!
What good is sitting alone in your room this week? If you don't already have plans to see a Broadway show, come out to see your favorite Broadway stars in a cabaret act instead. After Broadway orchestras begin their overtures, ensemble members take their dance breaks, and performers belt out their eleven o'clock numbers, the party continues at various cabaret venues throughout New York City.
Below, BroadwayWorld brings you our top Broadway acts that can't be missed this week, April 7 - 13, 2019. Come hear the music play!
---
Amanda Jane Cooper
April 7 at Feinstein's/54 Below - BUY TICKETS
Amanda Jane Cooper is tickled pink to make her Feinstein's/54 Below debut, having just starred as Glinda in Wicked on Broadway - and as the show's 15th Anniversary Glinda, joining Kristin Chenoweth on NBC's "A Very Wicked Halloween." Taking her final bow at the Gershwin on December 9th, 2018 exactly three years after making her re-debut on tour, she is now one of Wicked's longest running Glinda's. In a night of story and song, you'll get to know Cooper's heart and humor, and hear everything from musical theatre and pop to folk and R&B and maybe even an original or two. Special guest Jessica Vosk (Wicked, Fiddler on the Roof) will join Amanda for her April 7 performance.
---
Katie Ladner
April 8 at Feinstein's/54 Below - BUY TICKETS
Broadway funny lady, Katie Ladner, brings her unique brand of humor and distinct lack of elegance to Feinstein's/54 Below in her solo show debut. Currently in the Broadway Company of Wicked, she has also appeared in the recent revival of Sunset Boulevard, Heathers the Musical, and the original company of Be More Chill. With songs ranging from the irreverent to the poignant, Ms Ladner is not afraid to take a risk... and fall on her face. Literally. If you miss it you'll live, but if you make it, you'll die laughing! Katie will be joined by special guests Jeff Heimbrock (Wicked, Book of Mormon, Newsies) and Ryan McCartan (Wicked, Heathers).
---
At This Performance...
April 8 at Green Room 42 - BUY TICKETS
Hosted by series Producing Artistic Director and Casting Director Stephen DeAngelis, this popular series allows Broadway and Off-Broadway Standbys, Understudies and Alternates to showcase their versatility and share anecdotes about their experiences. Performers scheduled are Heather Botts (My Fair Lady), Kevin Csolak (Mean Girls), Marc De La Cruz (Hamilton), Michael Fatica (The Cher Show), Aisha Jackson (Frozen), Emily Koch (Wicked); Drew Seigla (Sweeney Todd), Tory Trowbridge (The Cher Show), Aurelia Williams (Once on This Island).and Daniel Yearwood (Once on This Island).
---
Nick Cordero
April 10 & 11 at Feinstein's/54 Below - BUY TICKETS
Best known for his starring roles in Broadway's A Bronx Tale, Waitress, and Bullets Over Broadway, Tony Award nominee Nick Cordero is debuting his solo show at Feinstein's/54 Below. Known to many as an Italian gangster from New York's outer boroughs, this Latin Canadian reveals his true self through the music that has inspired him throughout his life. Singing an eclectic mix of jazz, soul, latin, blues, and rock & roll, as well as selections from his Broadway career, this gifted performer will excite and surprise those who thought they knew him. Nick will be joined by special guests Kathryn Gallagher (Deaf West Spring Awakening), Drew Gehling (Waitress), Sara Chase (First Date, "The Unbreakable Kimmy Schmidt"), and Zach Braff (Bullets Over Broadway, "Scrubs").
---
54 Sings Broadway's Greatest Hits
April 13 at Feinstein's/54 Below - BUY TICKETS
If you skip through cast albums just to hear the very best songs in each show, this is the nightclub concert event for you. If you love the classics of the Great White Way, come and hear the songs that made Broadway great, that made your heart soar, that you used to sing (maybe still do) in the shower! But at Feinstein's/54 Below, you will hear the greatest Broadway songs of all time performed by today's greatest stars, singing them straight up, the way you want to hear them! Performers on April 13 include John Easterlin (4X Grammy Winner; The Phantom of the Opera), Douglas Ladnier (Jekyll & Hyde), Cooper Grodin (The Phantom in the National Tour of The Phantom of the Opera), and William Michals (The Lincoln Center Production of South Pacific).