Click Here for More Articles on Broadway Books
Broadway Books: 10 MORE Monologue Books to Help You Hone Your Acting Chops in Quarantine
Looking to hone your acting chops while stuck inside? Preparing for your next big audition, whenever that may be? We've rounded up 10 MORE monologue books that are sure to fit the bill!
Check out our list of favorites below and don't miss part one here!
---
Contemporary Monologues for Young Actors
by Douglas M. Parker
Contemporary Monologues for Young Actors features 54 original monologues created specifically for actors and acting students ages 7-14 and for the teachers, directors and acting coaches who work with them.
These refreshing monologues encompass a broad range of circumstances and emotions perfect for young actors seeking new material to explore - some of which will appeal to slightly younger actors and others of which will excite slightly older actors.
Purchase on Amazon here.
---
The Ultimate Audition Book for Teens Volume 1
by Janet Milstein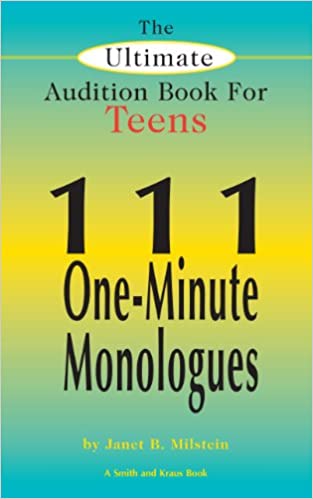 The monologue Book you have been waiting for! Award-winning material written specifically for today's teens. Challenging monologues in real language and real situations that are really fun to work on.
The monologues in this book are all original, self-contained pieces written specifically for auditions; they are not from plays.
Purchase on Amazon here.
---
The 100: New and Classic Monologues for Children & Young Adults
by Kirsty Budding
Written by award-winning playwright Kirsty Budding, the collection includes a helpful prologue with advice on performing monologues, followed by conveniently organised thematic sections with illustrations to indicate drama or comedy.
Perfect for auditions, school drama classes and performances, length and difficulty levels range to provide exciting options for children and teenagers ages 5-19. The book is ideal for families with children of different ages, as well as for use in schools with multiple year groups.
Purchase on Amazon here.
---
The Ultimate Scene and Monologue Sourcebook
by Ed Hooks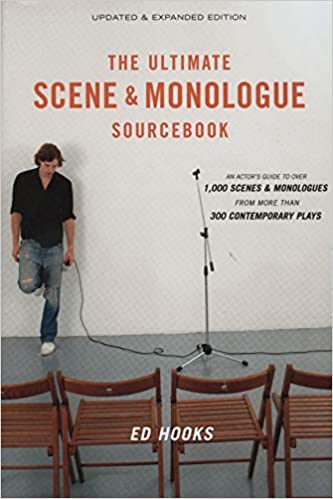 All actors and acting teachers need The Ultimate Scene and Monologue Sourcebook, the invaluable guide to finding just the right piece for every audition. This remarkable book describes the characters, action, and mood for more than 1,000 scenes in over 300 plays. This unique format is ideal for acting teachers who want their students to understand each monologue in context. Using these guidelines, the actor can quickly pinpoint the perfect monologue, then find the text in the Samuel French or Dramatist Play Service edition of the play. Newly revised and expanded, the book also includes the author's own assessment of each monologue.
Purchase on Amazon here.
---
The Oberon Book of Monologues for Black Actors
by Simeilia Hodge-Dallaway and Kwame Kwei-Armah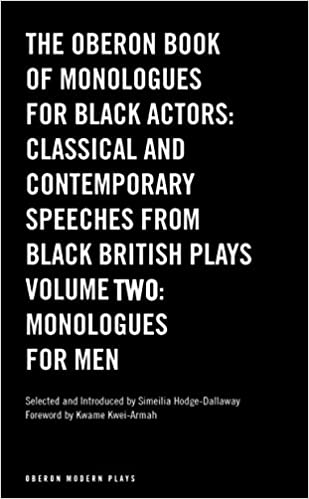 Inspired by both classical and contemporary plays, The Oberon Book of Monologues for Black Actors gives readers an insight into some of the best cutting-edge plays written by black British playwrights, over the last sixty years. This collection features over twenty speeches by Britain's most prominent black dramatists. The monologues represent a wide-range of themes, characters, dialects and styles. Suitable for young people and adults, each selection includes production information, a synopsis of the play, a biography of the playwright and a scene summary. The aim of this collection is that actors will enjoy working on these speeches, using them to help strengthen their craft, and by doing so, help to ensure these plays are always remembered.
Purchase on Amazon here.
---
The Ultimate Audition Book: 222 Comedy Monologues, 2 Minutes And Under
by Irene Ziegler Aston and John Capecci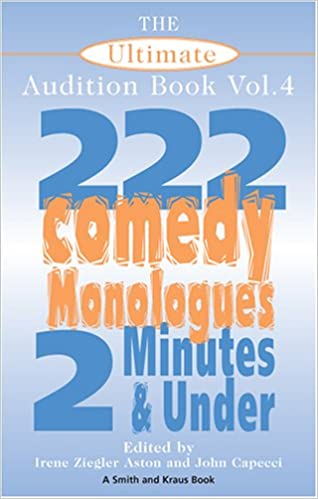 The Hottest Collection of Comedy Monologues Available! If you've ever searched for a good comic monologue-whether for a professional audition, a class, or a competition-you know how frustrating the hunt can be. The editors have combed over some of the world's best comic writing to bring you 222 Comic Monologues: Two Minutes and Under.
It's all funny stuff here: classic and contemporary works; roles for men and women ages 7 to 100; entertaining voices from writers as varied as Christopher Durang and Langston Hughes, Dorothy Parker and Steve Martin, Margaret Cho and Molière. You'll find shades of comedy from light to dark: situational humor, word play, absurdity, and surrealism. These monologues are alternately romantic, silly, militant, downright zany-first-rate character work by both new and established comic writers.
Purchase on Amazon here.
---
102 Monologues for Middle School Actors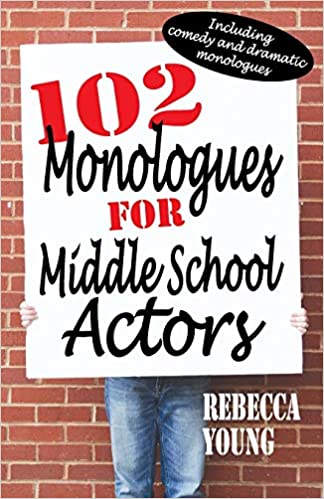 In her seventh drama book for teens, Rebecca Young demonstrates her wonderful ability to write in the voice of teenage characters and emphasize believable experiences that appeal to young actors. Boyfriend issues, girlfriend issues. Teacher issues, parent issues. Sports issues, band issues. Love, hate, jealousy, betrayal and so much more. Middle school years are some of the best and hardest times a student can go through, and Young captures both the drama and especially the humor of this unique age. The book is fairly evenly divided between monologues for girls, for guys or for either, and the wide variety of topics ensures a good fit with any student's personality. All monologues are between one and two minutes and are suitable for auditions, classroom performance, speech competitions or acting practice.
Purchase on Amazon here.
---
100 Short and Effective Monologues
by Dave Kilgore
In this book are 100 one-minute, original, contemporary monologues for adult men and women, with a mixture of dramatic, comedic, romantic, and reflective pieces, in no certain order.
There are no setups for any of these monologues--no genders, no age ranges, no locations, and no backstories. This leaves them wide open for the actor to develop and move each character and scene in most any direction the actor chooses. Most of these monologues are subtle, not requiring grandiose physical performances, because delivering natural, believable, conversational dialogue in front of a stationary camera is usually all that's required to showcase an actor's true ability. Often, less is more.
Purchase on Amazon here.
---
Play the Scene: The Ultimate Collection of Contemporary and Classic Scenes and Monologues
by Michael Schulman and Eva Mekler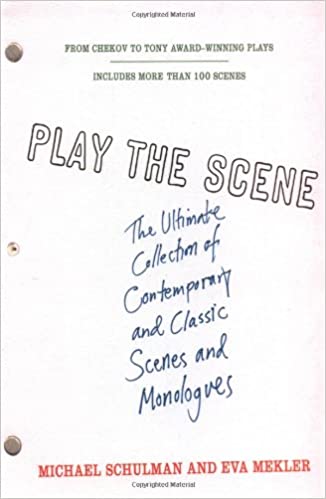 A collection of the greatest scenes and monologues ever written-ranging from Elizabethan to Tony Award-winning plays-this comprehensive anthology spans over five hundred years of theatre. Play the Scene: The Ultimate Collection of Contemporary and Classic Scenes and Monologues by coauthors Michael Schulman and Eva Mekler includes scenes and monologues from classic plays by such notable authors as Edith Wharton as well as the best in contemporary theatre, such as Margaret Edson's Wit.
Purchase on Amazon here.
---
90 Monologues from Classical Spanish Theater
by Barbara Fuchs, Jennifer L. Monti, and Laura Munoz
Spanish classical theater oi??ers one of the most popular and vibrant dramatic repertoires ever produced in the West, with rich roles for both male and female parts. This dual-language anthology provides fresh monologues in both a comic and a tragic vein, in the original Spanish and a variety of verse and prose translations into English.
This volume is part of the Diversifying the Classics project at UCLA, which seeks to foster awareness and appreciation of the Hispanic Golden Age and give theater professionals the materials and tools to explore its rich tradition.
Purchase on Amazon here.
Related Articles