Broadway AM Report, 12/22/2016 - GMA Celebrates Andrew Lloyd Webber and More!
Good morning, BroadwayWorld! Because we know all our readers eat, sleep and breathe Broadway, what could be better than waking up to it?
TODAY'S BIG NEWS: New Yiddish Rep's GOD OF VENGEANCE, the inspiration for Broadway's upcoming INDECENT, begins tonight at La MaMa, and GMA celebrates Andrew Lloyd Webber this morning!
---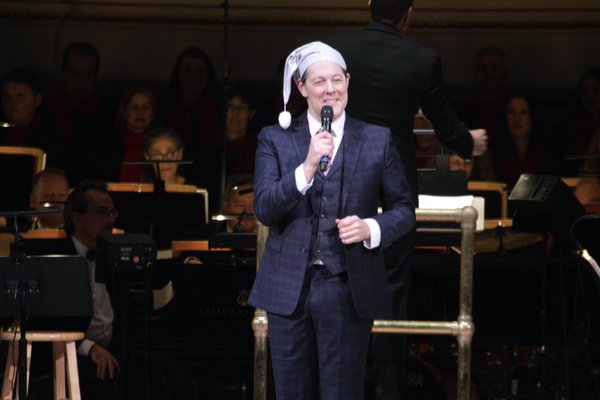 NEWS YOU MISSED YESTERDAY:
- Broadway's FALSETTOS will air next year as part of PBS's LIVE FROM LINCOLN CENTER!
- Lin-Manuel Miranda was named AP's Entertainer of the Year.
- Michael Urie is returning as host of the 2017 Drama Desk Awards...
- We got a look (right) at the New York Pops Family Holiday Concert, plus pictures from this year's Broadway Shines coat drive, and had a chat with upcoming CHICAGO star Mel B!
- MCC Theater is searching for transgender artists for its production of CHARM...
- Fran Drescher is hosting '75 YEARS OF Barbra Streisand' in D.C.
- Disney's FREAKY FRIDAY musical cast recording will drop in March!
- THE SANCTUARY PROJECT is creating spaces of inclusion across the U.S.
- And the NY Philharmonic will ring in 2017 with tunes from MY FAIR LADY and more!
---
Broadway Weather Forecast: Partly cloudy with a high of 46 degrees - enjoy the pleasant weather and head to the theatre tonight!
---
Set Your DVR... for GMA's Andrew Lloyd Webber salute, airing today during the 8 a.m. - 9 a.m. EST hour!
---
What we're geeking out over: The TKTS team's spin on the 'Pink Windmill Kids' viral video!
Related Articles
A Midwest native and Louisville-based journalist, Jessica is a long-time believer in the collaborative power of the performing arts. She has worked as a News (read more...)