Billy Stritch, Tommy Tune and More Featured in AN 80TH BIRTHDAY CELEBRATION OF SONGWRITER MIKE STOLLER
The concert premieres on New Year's Eve – December 31, 2020, 7 pm ET free.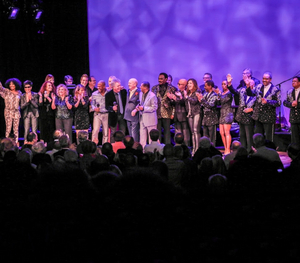 On December 31 at 7 pm ET, 92Y will ring in 2021 with the streaming premiere An 80th Birthday Celebration of Songwriter Mike Stoller, a Lyrics & Lyricists Special Event from 2013. This magical concert celebrating songwriting legend Mike Stoller, whose hits for Elvis Presley with songwriting partner Jerry Leiber included such rock 'n roll classics as "Hound Dog," and "Jailhouse Rock," will be released for the first time and available for free to audiences beyond the 900 people who packed the concert hall that night.

Hosted by Paul Shaffer and directed and written by Randy Johnson (director/writer of A Night with Janis Joplin), An 80th Birthday Celebration of Mike Stoller featured such artists as Karen Akers, Dee Dee Bridgewater, The Coasters, Mary Bridget Davies, Corky Hale, Maria Elena Infantino, Sally Kellerman, Ben E. King, Bettye Lavette, Melissa Manchester, Billy Stritch, Tommy Tune, Steve Tyrell and more performing expected and unexpected interpretations from Stoller's genre-spanning career in blues, R&B, rock 'n' roll and jazz. "Charlie Brown," "Is That All There Is," "On Broadway," "I Keep Forgettin'," "Hound Dog" and an all-star company closing rendition of "Stand By Me" were among the classic songs Stoller wrote with his longtime lyricist partner Jerry Leiber and others performed that night. The event also featured a special tribute note from Priscilla Presley.

Leiber was also the subject of a special tribute, with Mike Stoller in attendance for the celebration.

"About seven years ago I received one of the greatest honors of my life - an 80th birthday celebration at the 92nd Street Y," said Stoller in a video introducing the concert re-release. "It was a wonderful concert with wonderful performers, and I was deeply moved by it. And having looked recently at a video of it, I'm still moved by it. I would love to thank the 92nd Street Y and Paul Schaffer, who was the wonderful MC - as you will notice - and all the terrific musicians and singers who performed on that occasion. I hope you'll enjoy it as much as I do."
About Leiber and Stoller

Jerry Leiber and Mike Stoller's iconic songs like "Hound Dog," "Jailhouse Rock," "Poison Ivy," Yakety Yak," "Kansas City," "Ruby Baby," "Love Potion #9" and "Stand By Me" (with Ben E. King), bridged the gap between blues, R&B and mainstream rock 'n' roll in the 1950s and early 1960s, and their successes as writers and producers continued even as tastes and styles in the fast-changing musical landscape had "today's hits" becoming "where are they now" in a matter of months.

Peggy Lee's sultry 1968 recording of their song "Is That All There Is?" earned her a Grammy® award for Best Female Pop Vocal Performance, and their joint production of the Stealer's Wheel 1972 hit "Stuck in the Middle With You" achieved iconic status in the 1990s as the background music to a key scene in Quentin Tarantino's film Reservoir Dogs.

The 1995 Broadway show Smokey Joe's Café, a musical revue based on their work, received seven Tony Award® nominations and running for five years, became and remains the longest-running musical revue in Broadway history.

A life-long musical experimenter, Stoller even explored avant-garde music in the early-60s, studying with the twelve-tone composer Stefan Wolpe. Stoller's Quartet for flute, bass clarinet, harp and cello was performed for its first time at 92nd Street Y in 1962.

Stoller has another 92Y connection - Leiber and Stoller were the subjects of the February 29, 1976 Lyrics & Lyricists™ show An Evening with Jerry Leiber and Mike Stoller as part of the venerable series' sixth season. Performers that night included The Coasters, Adrienne Albert, Sandy Stewart and Tasha Thomas.

About the Creative Team

Host Paul Shaffer is a musician/actor/author/comedian/composer who has been David Letterman's musical director, band leader and sidekick for more than 30 years. Shaffer began his career as musical director of the Toronto production of Godspell and spent five years with the original "Saturday Night Live," where he played keyboards, composed special musical material and, in 1980, became a featured performer. He served as musical director for the Blues Brothers, recorded with such diverse artists as Diana Ross, Yoko Ono and Robert Plant's Honeydrippers, composed the Late Show theme, co-wrote the Number One '80s hit "It's Raining Men" and had a memorable role in This Is Spinal Tap as hapless local promo man Artie Fufkin. Shaffer has served as musical director/producer for the Rock and Roll Hall of Fame induction ceremony since its inception in 1986, playing many Leiber and Stoller songs over the years, including at their 1987 induction.

Director and writer Randy Johnson conceived, directed and wrote the critically acclaimed Broadway musical A Night with Janis Joplin. His theater credits also include the West Coast premiere of The Normal Heart, and deep roots in music-related productions, including Always, Patsy Cline, The Wildest - The Music of Louis Prima and Keely Smith, Conway Twitty - The Man, The Music and the Legend and the historic Elvis the Concert , which reunited Elvis' original band, singers and musical director in a virtual interactive concert featuring Elvis.

Associate director and co-writer Tyler Rhodes was the Associate Director of the critically acclaimed A Night with Janis Joplin on Broadway. He served as both Associate and Assistant director for Broadway 1st National tours & regional theater productions including Guys & Dolls, Happy Days: The Musical, Caroline, or Change, Urinetown, Hairspray, Idaho!, The Fabulous Lipitones, Empire, & Hair.
Watch here!