BWW Review: The York Brings Back Styne, Comden and Green's Enjoyable Oddball, SUBWAYS ARE FOR SLEEPING
"'One of the few great musical comedies of the last thirty years.' - Howard Taubman"
"'What a show! What a hit! What a solid hit!' - Walter Kerr"
"'The best musical of the century.' - John Chapman"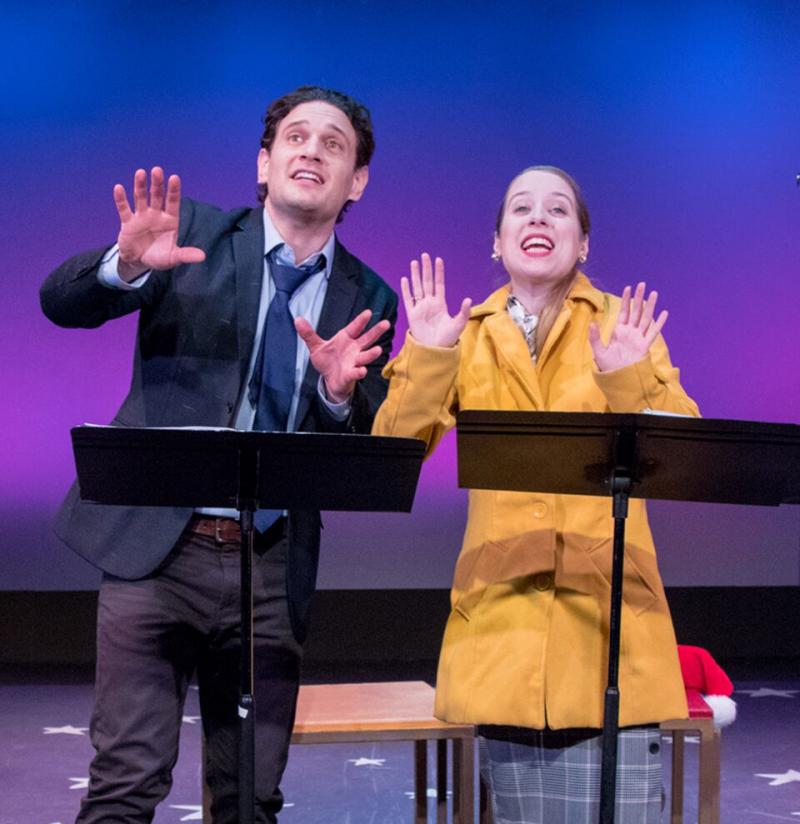 We may never know how many readers of the January 4th, 1962 early edition of the New York Herald Tribune read those quotes in an ad for the newest musical comedy in town and immediately nabbed a pair of what they thought were certain to soon be the hottest tickets in town.
And if producer David Merrick's ingeniously crafted ad, which proclaimed in bold letters that "7 Out Of 7 Are Estatatically Unanimous About SUBWAYS ARE FOR SLEEPING," wasn't exposed as a fake soon enough to prevent it being published in every daily, the St. James box office might have had a line stretching around the block.
But even though the ad boasted raves from what seemed to be the seven chief theatre critics from the city's seven daily newspapers, there were no affiliations to be found accompanying the photos of seven people who just happened to have the same names as the reviewers.
Merrick's legendary publicity stunt attempting to boost the box office for a show he knew would not exactly excite the first night journalists may mislead some into thinking SUBWAYS ARE FOR SLEEPING must have been a real stinker, but a listen to the cast album reveals a peppy, vibrant score filled with the showbiz style of composer Jule Styne perfectly matched to the smart and funny lyrics of Betty Comden and Adolph Green.
Comden and Green's book was based on the offbeat tales of street survival told by Edmund G. Love in his Harper's article and subsequent book, "Subways Are For Sleeping," revealing a society of people who reject social standards and prefer to go about their lives getting by on odd jobs and varying forms of nighttime shelter.
Angie, the musical's leading lady, played by Carol Lawrence on Broadway, is a magazine reporter passing herself off as a helpless, homeless woman in order to write an exposé on this hidden society. She meets, and eventually falls in love with, Tom, an enterprising homeless man (originated by Sydney Chaplin) who, from his usual spot at Grand Central Station, connects his fellow homeless people with short-term jobs (dog walking, street Santa) and temporary overnight lodgings (construction sites, museums) in exchange for a small tip or a favor.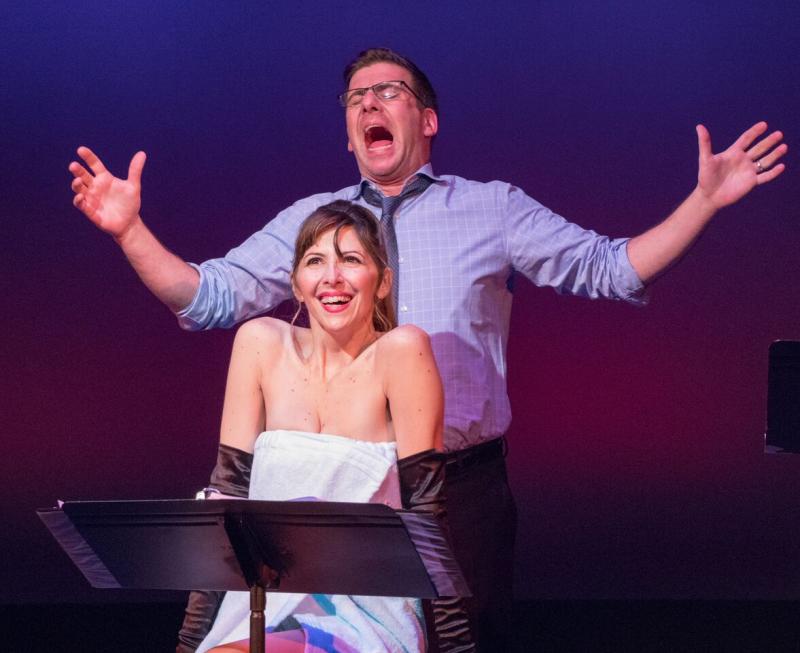 But it was the subplot that audiences loved, involving Green's wife Phyllis Newman (who won a Tony for her performance) as Martha, a former beauty queen who owes so much on her hotel bill that she stays in her room wearing nothing but a towel, so that she can claim attempted molestation if they try to physically remove her. She lives off take-out food provided by interested gentlemen, one of whom, Charlie, played by Orson Bean, vows to somehow raise the money to pay her debt.
Newman herself was involved with the script revision for the York Theatre Company's terrific Mufti concert production of SUBWAYS ARE FOR SLEEPING. Though this reviewer can't compare it with the original, the results reveal a fun, quirky show that exemplified the simple ambitions of many Golden Age musical comedies; to just provide a fun night out.
Married couple Alyse Alan Louis and Eric William Morris certainly show a lot of stage chemistry as Angie and Tom. As typical for its time, Angie is a spunky "career girl" looking for someone to set her free from her tedious life of, as a lyric describes, a "glamorous job, fabulous clothes, openings, parties and flowers," and Louis is a real charmer. Sadly, the character's big solo where she realizes she's falling in love, "I Said It And I'm Glad," is not included in this version.
Morris' Tom is slick and humorous, especially during one of the score's oddest selections, "Swing Your Projects," which includes a square-dance patter describing the intricacies by which he built a financial empire. When the two join together to belt out the catchy song about living life to the fullest, "Comes Once In A Lifetime," it's full of traditional musical comedy joyfulness.
Indeed clad in just a towel, Gina Milo is quite adorable as Martha, showing solid comic chops in another one of the score's odd (but brilliant) selections, "I Was A Shoo-In," where she plays out the one-woman Civil War drama that would have won her the Miss America title, except for the fact that she turned down propositions from the judges.
David Josefsberg is a blast as Charlie, a performance highlighted by his hilarious display of passionate urges as he sings to Martha the seductive tango, "I Just Can't Wait (Till I See You With Clothes On)."
With music director David Hancock Turner on piano and George Farmer on bass, director Stuart Ross' production, despite the heavy use of music stands, is fast and funny, featuring a talented supporting ensemble of six (David Engel, Kilty Reidy, Karl Josef Co, Gerry McIntyre, Beth Glover and Kathryn McCreary).
SUBWAYS ARE FOR SLEEPING may not be the best musical of the century, but the York's concert production is quite an enjoyable ride.
Related Articles
After 20-odd years singing, dancing and acting in dinner theatres, summer stocks and the ever-popular audience participation murder mysteries (try improvising with audiences after they?ve (read more about this author...)