BWW Review: The Mobile Unit Brings Free Performances of Shakespeare's HENRY V To The Public
"Raise your hand if you've ever been underestimated," instructs Program Director Stephanie Ybarra before every performance of Shakespeare's HENRY V, as performed by The Public Theater's Mobile Unit.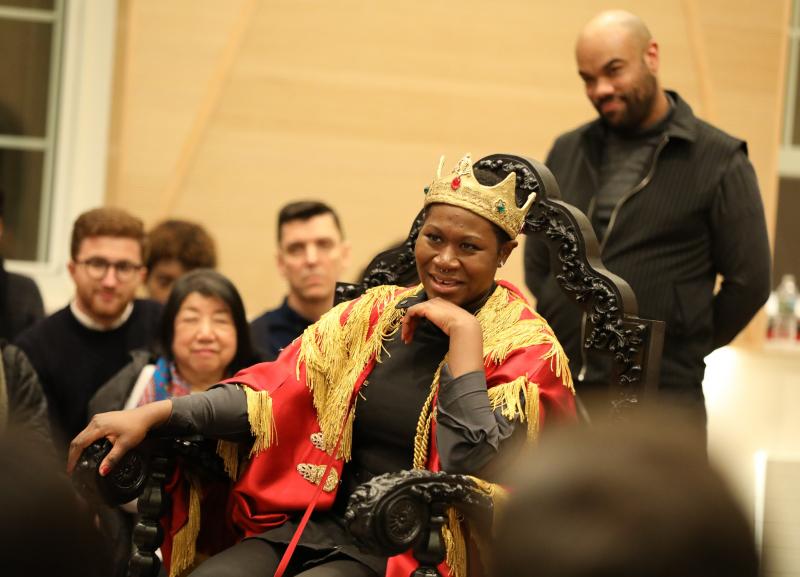 Show of hand surveys like this are traditional for Mobile Unit performances; a way of helping to introduce audience members to some of the themes of the play and guiding them through ways they might relate to the characters. That's because this small troupe of players is accustomed to performing for audience members who may be experiencing the work of William Shakespeare for the first time.
Not as famous as The Public's Shakespeare In The Park, but still vitally important in fulfilling Joseph Papp's mission of making Shakespeare available for free to everyone, the Mobile Unit presents compact productions, always featuring a small company of actors performing texts trimmed to about 100 minutes, bringing the bard's classics to populations who cannot attend at Central Park's Delacorte Theater. They tour prisons, nursing homes, community centers and shelters throughout the five boroughs before settling into The Public for a limited run, which is also free to the public.
Thus, the main set pieces designer Clint Ramos offers for director Robert O'Hara's swiftly played production are a carpet separating the playing space into England and France, and a throne-on-wheels to transport the underestimated monarch who appeared as a carousing party boy in Shakespeare's HENRY IV and now intends to prove his legitimacy as a ruler.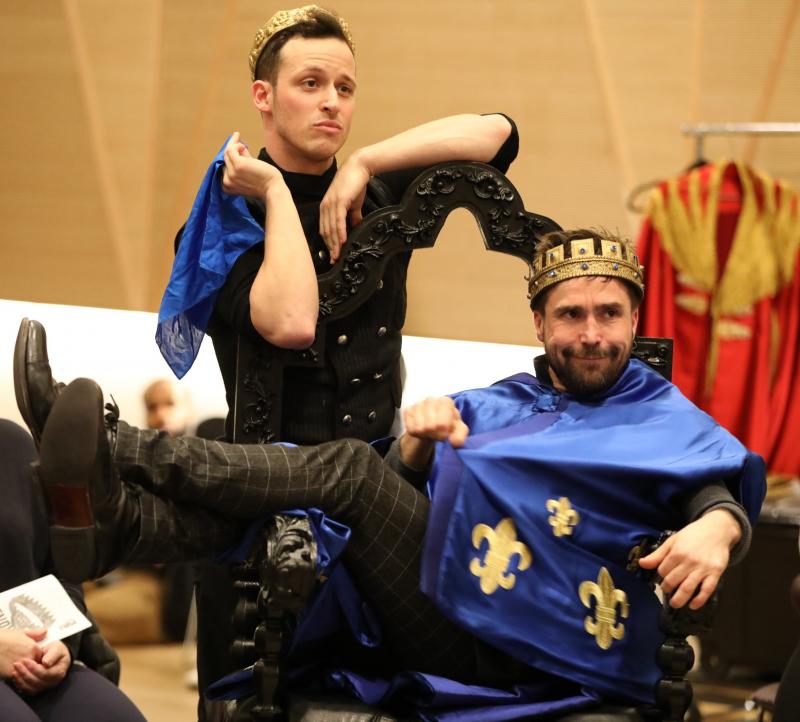 Zenzi Williams charges into the title role with brio, basking in the glory of the crown while plotting military victory against his French cousins with marriage to Princess Katharine (Carolyn Kettig) as his reward. While Kettig is very funny as she awkwardly attempts to learn English, O'Hara insures that her encounter with the victorious Henry plays less like wooing and more like her treatment as a piece of property.
The French King (Joe Tapper) and his countrymen are portrayed with exaggerated snooty attitudes bringing some cartoonish humor into the proceedings, but the versatile ensemble, which also includes Michael Bradley Cohen, Leland Fowler, Patrice Johnson, Ariel Shafir, David Ryan Smith and Kim Wong, is better showcased sharing the role of the commenting chorus.
Designed for those for whom theatergoing is not a regular part of life, Mobile Unit productions are best seen as a celebration of our culture and imagined through the eyes of someone who may not be able to afford, or be able to physically attend, live theatre.