Review: THE NEUROLOGY OF THE SOUL at A.R.T./New York's Jeffrey And Paula Gural Theatre 502 W. 53rd Street (at 10th Ave)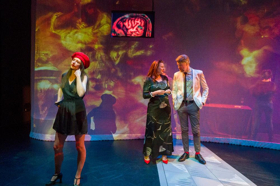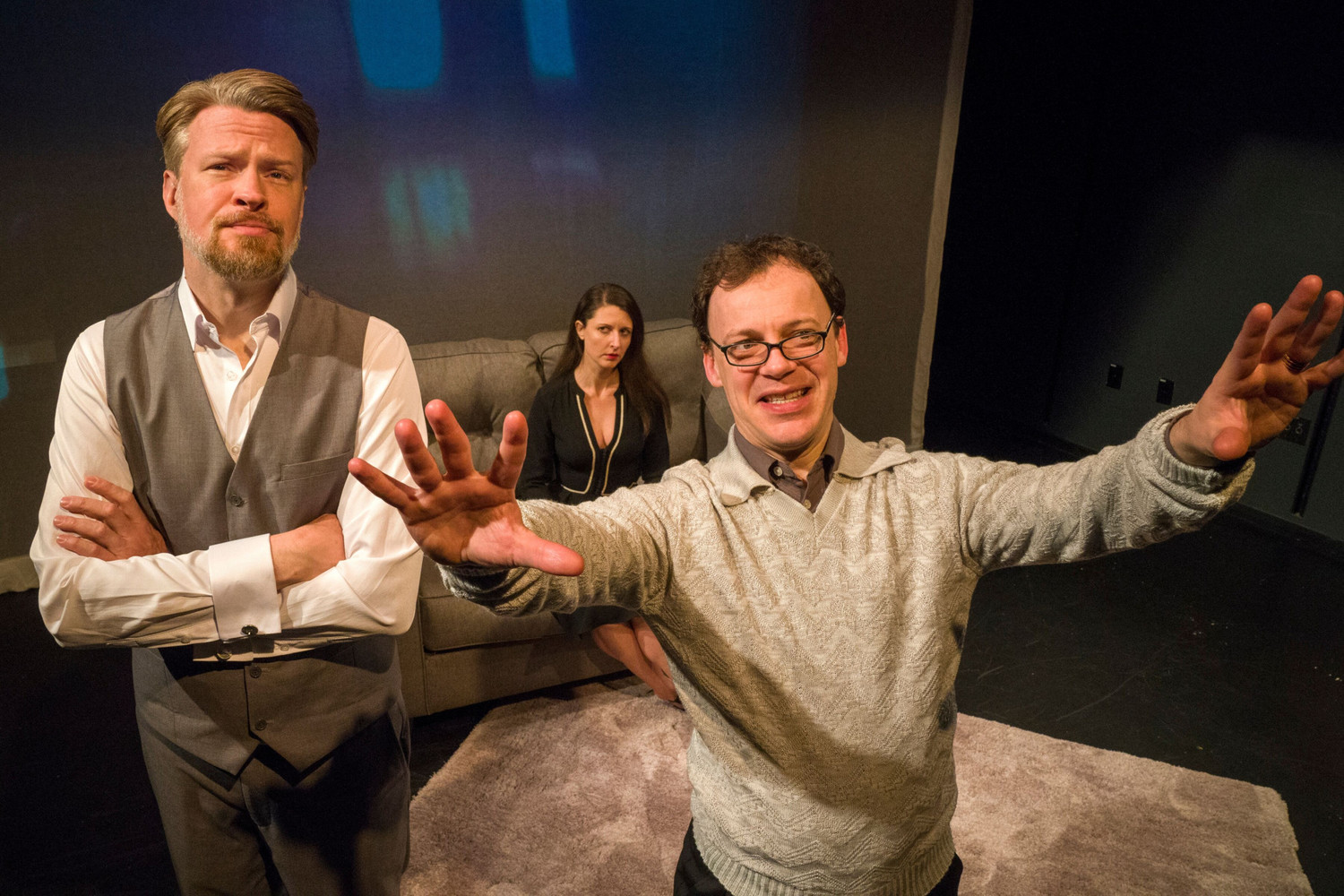 What hidden gems can be discovered in the merging of science, art, marketing and love? Too many to name in the world premiere of Edward Einhorn's latest play. In the book, Neurology and the Soul, Oliver Sacks writes "There has always, seemingly, been a split between science and life, between the apparent poverty of scientific formulation and the manifest richness of phenomenal experience." He explains that every sensation we experience is recorded in the brain. But what can records of these sensations reveal about those in our lives we may think we already deeply know? Edward Einhorn's newest play delves into these "records" and presents them in a fascinating, engaging, and ingenious evening of theatre. Both writer and director, (The Marriage of Alice B. Toklas and Gertrude Stein) Einhorn has a knack for delving wholeheartedly into deeply profound subjects that manage to strike a chord in mind and hearts of audiences. His text is rich with intellectual insights, spiritual musings, fast-paced dialogue, which could easily overwhelm an audience in concept. Yet, Einhorn has once again mastered an exhilarating balance of infusing a story with awe-inspiring ideas, characters we grow to deeply care about, and plenty of humor along the way. Neurology of the Soul makes for a brilliant night of theatre sparked with powerfully surprising questions that are hard to stop thinking about.
The Neurology of the Soul is a seamless work, presented at the A.R.T./New York Theatres with a stellar cast. Ashley Griffin was a highlight of the night, playing the savvy artist Amy, married to Stephen, a cognitive neuroscientist played by Matthew Trumbull, who nuanced his performance with a delicate mix of quirky humor, awkwardness, and bold, fervent passion for his work. Trumbull was captivating as the understated scholar and devoted husband, giving us a glimpse the emotional life of a man dedicated to his work, yet torn between allegiances when his work encapsulates his intellectual, business and romantic pursuits. Griffin captured the quick-witted sarcasm, and authentic desire of an artist trying capture her "soul" in art - literally - and as we soon learn, many times. After all, the couple met because Stephen bought one of her paintings, "Capturing the Soul. Failed Attempt Number 29."
Each scene seamlessly transitions blends into the next, taking us further into the complicated nature of love and relationships. Amy and Stephen both pound away at their laptops trying to capture the essence of the soul in different respects - one through science, and one through art. Yet the two overlap in their work, which particularly counters their introduction to Mark, the head of a neuromarketing firm, who is interested in both art and science for their usefulness in marketing. When Mark, played by the suave, composed, charismatic Mick O 'Brien, offers Stephen a job at his neuromarketing firm, the conflict becomes clear. What happens when we try to define "love" for ourselves? Can - and should we? And, what is the nature of artistic fulfillment? O' Brien, sporting his bright red socks, matching handkerchief tucked neatly into his breast pocket, and smooth-talking charm, raises the tension slowly building between the couple when he challenges Amy with her desire for "artistic fulfillment" and becoming a "brand." For Amy, money is used to "make more art. And maybe eat." Amy challenges the businessman, believing her work is "art, not a commodity." The exchange quickly becomes a question of what we choose to put value on. As the sexual tension between the two begins to mount. Mark challenges, "How much is artistic fulfillment worth, in terms of dollars and cents?" And when Amy scoffs at the premise of artistic evaluation, Mark responds, "something can't be evaluated" because you "haven't found the right formula, yet."
As Stephen tries to scientifically define love at the company's laboratory, Mark tries to apply this science to evaluate "love" for his products and brands. Like a magician, he shows us spellbinding clips of jolly, colorful commercials where we see the real art of advertising ad play. While Amy uses her brain scans as the basis of video self-portraits, Claire, played by the sassy, sincer Yvonne Roen, a gallery owner deals with art as a commodity, yet is later revealed to be a strong, complex woman who becomes the emotional heart of the piece, grounding Amy with much needed comfort and reassurance going forward in the murky territory of love, art, and business. Mark, the marketer, asks us, "What do we all want? Love, of course." And why? "We want someone to notice our virtues and overlook our flaws." This is also seems to be what guides Mark's business philosophy. Claire, the owner of the art gallery which hosts Amy's first New York show, the artist soon learns, is Mark's ex-wife. What truly proved to be the strongest connection by the play's end, was the bond formed between Claire and Amy, who share two compelling scenes as they find themselves fighting with similar battles as two strong willed women finding their way through love, art, and making a livelihood. The complexity of Claire's character was a welcome surprise. There are so few plays which take the time to paint the relationship between two women, and you could see the beginnings of a real friendship, or at least a bridge of understanding start to emerge. This greatly contrasted with the irony of MRI machines failing to answer the question that has driven Stephen through the course if the play: What is the nature of love? What are the impulses that drive it? In some respect, isn't that we we all seek to understand?
The audience welcomed the fast-paced dialogue, the comic extremes of each character, and the open-ended questions. Einhorn himself was brought up with a passion for curiosity, in a family that combined science and art in their careers and hobbies, leaving him with an interest in neurology and its theatrical possibilities. With a well-designed multimedia set, complete with vivid projections of brain scans, modern art, and commercial "breaks, Einhorn has directed his own work with skill and passion. This production continues UTC61's ongoing interest in combining theater with the fields of economics and neuroscience. Einhorn has created a number of theatrical works that use neurology as their basis, from traditional theatre to opera. As these fields expand, Einhorn writes that "something needs to fill the gap between pure scientific analysis and what it means to us all as humans. What better medium than theatre to do so?" Einhorn has made this possible, crafting the neuroscience of love into a remarkable night of theatre. The play leaves us with the question: can science allow us to "truly" know what goes inside the mind of another? And can that knowledge endanger the relationships we've worked so hard to build?
The Neurology of the Soul plays until March 2nd, and in the spirit of Valentine's Day, this classic love triangle, with some science and surprise mixed in, couldn't come at a better time. Be sure to arrive early to see the fascinating artwork inspired by neuroscience in on exhibit in the theater starting an hour before each performance.
Playing at the A.R.T./New York Theatres,
in the Jeffrey and Paula Gural Theatre
502 West 53rd Street, New York, NY 10019
February 8 - March 2
Thu - Sat at 8pm,
Sun Feb 10 & 24 at 5pm, Tue Feb 12 & 26 at 7pm
Tickets: $20 - $30, call 212-352-3101 or visit untitledtheater.com