Click Here for More Articles on Be More Chill
BWW Review: Super-Charged Musical Comedy BE MORE CHILL Hits Broadway On A Frenzied Wave of Social Media Fandom
When composer/lyricist Joe Iconis and bookwriter Joe Tracz's hard-rocking, super-charged and very well written science fiction musical comedy Be More Chill ended its month-long premiere engagement at Two River Theater in Red Bank, New Jersey less than four years ago, the thought of a Broadway production may have seemed as far-fetched and phantasmagoric as the plot of its source material, Ned Vizzini's same-named 2004 novel.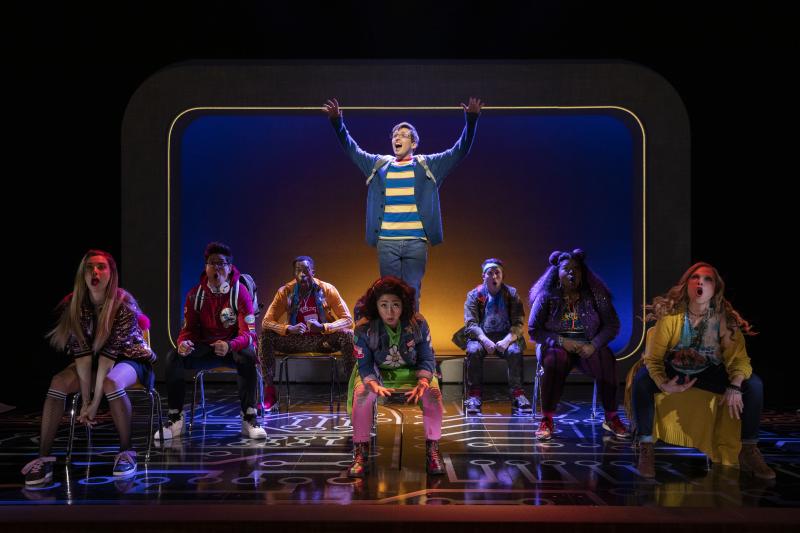 But Broadway has never been affected by the power of social media fandom like this before. A cast album recorded with members of that original company has been streamed over 250 million times. The Internet is loaded with videos, not only of the numerous cabaret and concert appearances from cast members singing from the score, but of homemade creations by fans singing their favorite selections.
This past summer's Off-Broadway production - revised, redesigned and partially recast - sold out its limited run long before opening night and after an extension sold out within hours, a transfer to Broadway seemed inevitable.
Perhaps Be More Chill's story of a nerdy introvert who finds a way to reinvent himself is what makes the musical especially appealing to social media users, many of whom (this reviewer included) create versions of themselves through Facebook, Twitter, Instagram and other popular apps.
For musical theatre lovers, the best part is that all of this obsessive fandom is being directed at a musical comedy with realistic, relatable characters singing well-placed songs that are specific to their emotions and the situations they're in. Be More Chill is good musical theatre disguised as a pop phenomenon.
The plot is a contemporary variation of a familiar coming-of-age situation. Perpetually nervous and nerdy high school sophomore Jeremy (Will Roland, who manages to be dynamic in his performance while playing a timid and awkward fellow) has a crush on drama club enthusiast Christine (bright, bubbly and funny Stephanie Hsu), but just as he's getting up the nerve to talk with her, slick and confident Jake (Britton Smith) grabs her attention.
Punk-bully Rich (Gerard Canonico) confides to Jeremy that he was once an unnoticed nerd, too, until he took an illegal pill that implanted a Squip (Super Quantum Unit Intel Processor) into his mind, which uses computerized technology to instantly size up every situation and tells him exactly what to say and do to achieve his programmed goals.
When Jeremy acquires his own Squip, it's visible to him (and only him) as a Keanu Reeves-like icon played with cool, intelligent sex appeal by Jason Tam. But when becoming popular enough to get Christine to like him will mean breaking off his friendship with his best friend Michael (lovably caring and confident George Salazar), a fellow who proudly embraces his own nerdiness, Jeremy has to consider the wounds he leaves behind on his quest for happiness.
Tracz's book solidly moves the story along, with Stephen Brackett's staging nailing comic moments without sacrificing sincerity. Chase Brock's fun choreography appropriately works within the capabilities of typical suburban high school sophomores.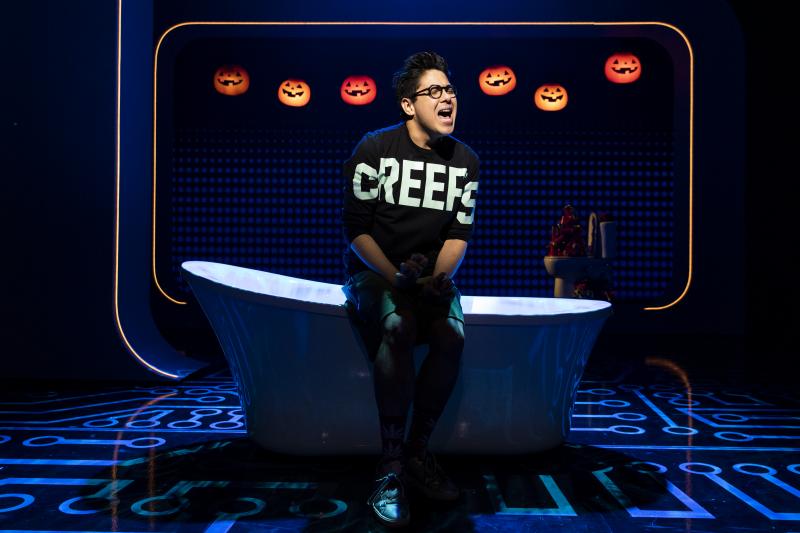 But it's Iconis' score that really lights up the evening; mature in craft while conveying the musical and verbal vernacular of the show's young characters. Christine's "I Love Play Rehearsal" is a lovely expression of the security felt when you can, at least temporarily, be someone else living a scripted life. "Loser Geek Whatever" is an astoundingly effective and unexpected moment, somewhat resembling GYPSY's "Rose's Turn," where Jeremy, alone on stage, defiantly declares that he will do whatever it takes to rid himself of the depressing life he's lived up until now.
And then there's the unlikely-titled, "Michael In The Bathroom," a finely-crafted emotional shut-down that thus far is the best new theatre song of the season.
It comes after a moment where, while attending a Halloween party, Michael's loyal friendship is rejected by Jeremy and he reacts with a sudden need to just be alone, so he locks himself in the bathroom.
Sitting on the edge of the tub, dreading the thought of having to nonchalantly hang out among the crowd and pretend nothing is wrong, Michael's growing anxiety is matched by that of the frustrated guests lined up on the other side of the door, desperate to use the facility. Salazar's touching, heartbreaking performance of the song brings a different kind of chill to Be More Chill.
Then there's smoky-voiced Jason SweetTooth Williams, a beloved regular of Joe Iconis projects, playing the adult characters, including the slightly creepy drama teacher who revises A MIDSUMMER NIGHT'S DREAM as a zombie thriller. Williams also brings a great deal of heart to the show as Jeremy's dad, a widower who, thanks to a stay at home job, has become a recluse who spends the day in his bathrobe. The realization that his son is going through an emotional crisis snaps him back into being a strong, caring father because, as he sings, "When you love somebody you put your big boy pants right on."
BE MORE CHILL may be about kids, but it wears serious big boy pants.