BWW Review: Shakespeare Goes Hip-Hop In The Q Brothers' OTHELLO: THE REMIX
To say that The Q Brothers put a new spin on OTHELLO might be too obvious a pun, but their fun and lively hip-hop retelling of Shakespeare's tragedy of racism and revenge, Othello: The Remix not only sets the Elizabethan characters to rap rhythms, but switches the whole story around to the present-day music industry.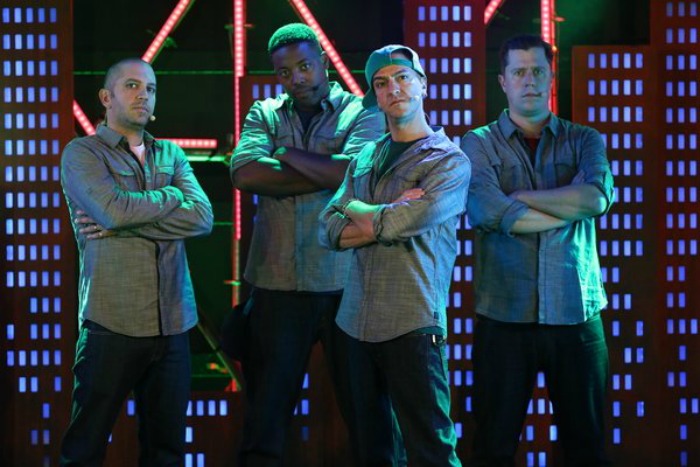 GQ and JQ, who had a previous Bard-inspired Off-Broadway hit in 1999 with THE BOMB-ITTY OF ERRORS, are the authors, co-directors and make up half of the four-man acting ensemble, backed by DJ Supernova.
Postell Pringle's Othello is a rap star entrepreneur who went from humble beginnings to become a hip hop mogul. His streetwise protégé, Iago (GQ, with hard-driving charisma), is peeved because his boss is giving major promotion to a new discovery, Cassio (Jackson Doran), of whom the hip-hop purist raps, "Every time he make noise, I get annoyed, man. / I heard his latest song and he belong in a boy band. / He make music for little teenage white chicks, / Dancin' round smilin', while we make hype shit!"
As with the original, Iago seeks his revenge through Othello's wife Desdemona, a ravishing soul-singing goddess who helped her husband break into the mainstream. She's never seen, but her alluring vocal presence is surely heard.
JQ's Roderigo, secretly in love with Desdemona, is a sci-fi nerd who serves as the crew's lighting technician. Another of his multiple characters is Cassio's girlfriend, Bianca, a bit of a stereotypical Latina fangirl. While Othello: The Remix is certainly all in good fun, the two instances when the guys play female characters (Doran appears as Iago's sex-starved wife, Emilia) come off more as easy gags compared with the more fleshed out males.
But aside from that, the 80-minute romp is a high-energy kick, making a strong case for the elevated language rap to be a modern equivalent of Shakespeare's poetic verse.