Click Here for More Articles on THE NEW GROUP
BWW Review: Norbert Leo Butz Stars in Hamish Linklater's Ambitious Drama THE WHIRLIGIG
"In a whirligig of grief" is how one character describes the emotional state of another in Hamish Linklater's ambitious new play, The Whirligig, receiving a fine premiere mounting by The New Group's artistic director, Scott Elliott.
The somber drama, laced with moments of dark humor, is set in a small Berkshires town and leaps back and forth over a span of fifteen years to tell the story of how 23-year-old Julie (Grace Van Patten) wound up in the hospital bed she occupies in the opening scene.
About to be released because the doctors say there's nothing more they can do to prevent her death, Julie and her father Michael (Norbert Leo Butz), who is a recovering alcoholic at this point, are bantering about the hospital food while her mother Kristina (Dolly Wells), who is no longer with Michael, seems already in mourning.
A junior college drama teacher, the gregarious Michael appears to have a tight bond with his adventurous daughter, while Kristina, a European History professor who has struggled with depression, is more reserved.
This is a play where numerous relationships spin about separately, with the audience being fed drips of information until how connections led to Julie's current state are apparent.
For example, Julie's doctor Patrick (Noah Bean) has a drug-dealing brother Derrick (Jonny Orsini), who she met when she was healthy through her high school best friend, Trish (Zosia Mamet). Trish's husband Greg (Alex Hurt) tends bar at the watering hole where Michael gets demonstratively wasted in a showcase scene for Butz, where inner range is expressed through attempts to appear carefree.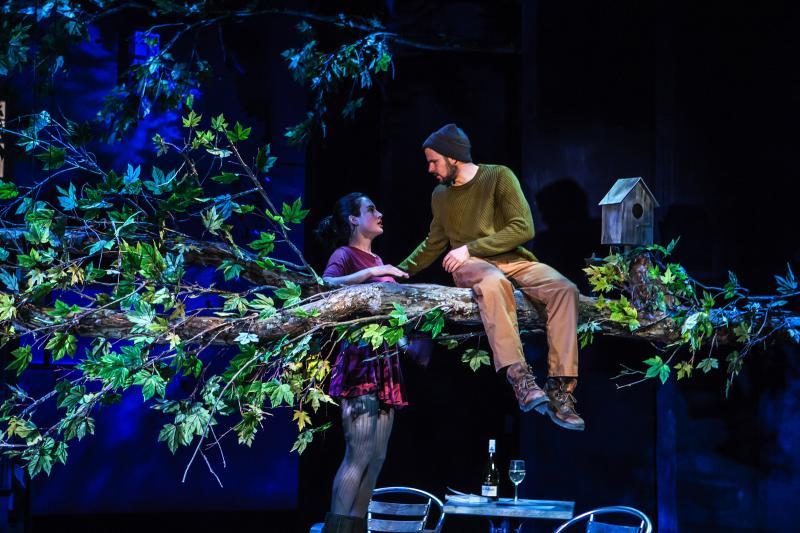 Derek McLane's set includes a large tree branch, thick enough for sitting, which adds beauty to softer moments such as when Derrick becomes smitten with Julie at their first meeting, and when, years later, he and Trish peek through Julie's bedroom window to get a look at their unconscious friend.
While there's never too long to wait for an interesting character moment or some especially sensitive dialogue, the storytelling process of the two-act play tends to crawl a bit, with many scenes being overwritten. A drunken high school social studies teacher played by Jon DeVries adds some humor, but stalls the plot.
But with a solid company and production, The Whirligig looks like a promising piece that requires a bit of trimming in order to spin faster.