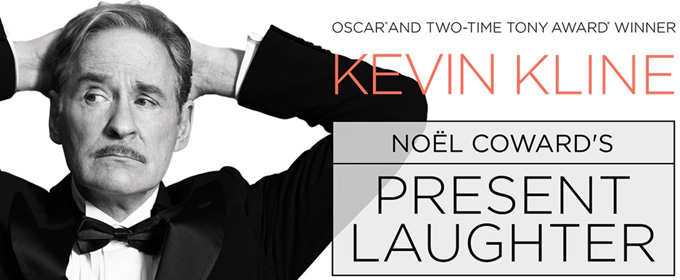 Click Here for More Articles on PRESENT LAUGHTER
BWW Review: Kevin Kline Leads A Terrific Cast In Noel Coward's Classic Comedy PRESENT LAUGHTER
Noel Coward was 39 years old when he played the lead role of Garry Essendine, a famous actor fearing for the future of his career as he enters middle age, in the premiere production of his rollickingly good comedy, Present Laughter. In order for that scenario to be believable today, you'd have to cast a woman in the role.
The dashing Clifton Webb introduced Broadway audiences to the fading matinee idol in 1946, with Coward himself following up with a revival a dozen years later. George C. Scott, Frank Langella and Victor Garber have taken on the juicy task in more recent Manhattan mountings, and now Kevin Kline, with his crisp classical delivery and expertise in physical comedy, cuts a fine figure as the world-weary man about town.
Described by the author as "a series of semi-autobiographical pyrotechnics," Present Laughter is set in motion by the people whose lives and livelihoods revolve around Essendine, whose celebrity provides the gravitational pull of his privileged universe.
Tedra Millan helps get director Moritz von Stuelpnagel's sharply played and energetic production off to a strong start with her very funny turn as the obtuse 24-year-old who, after finagling herself into an overnight stay at Essendine's London town house (deliciously designed by David Zinn), is under the illusion that their one-night fling is going to lead to a grand romance.
Other headaches are provided by his manager and producer's (Reg Rogers and Peter Francis James) plans to book him in a theatre he detests, the canny advances of a predatory seductress (Cobie Smulders) and the ramblings of an oddball playwright with an unusually strong handshake (Bhavesh Patel) who is determined to see him do more serious work.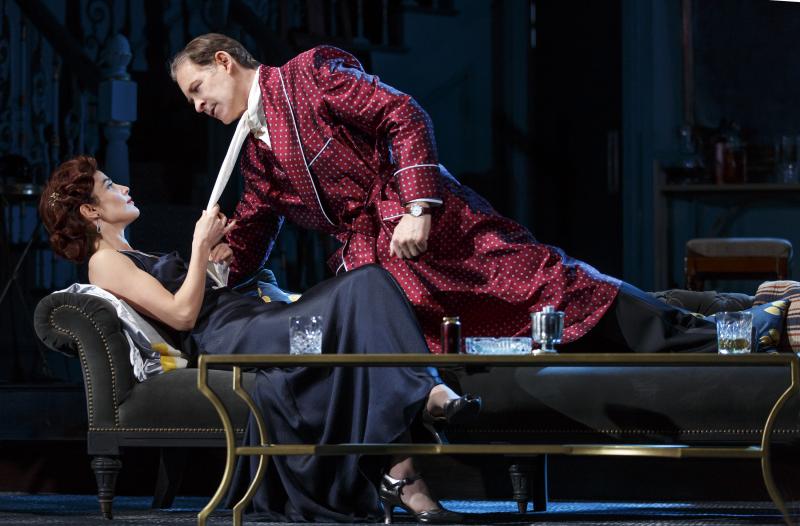 Protecting and grounding our hero are the two women who know him better than he knows himself. Kristine Nielsen, who has become a stage favorite with her comical portrayals of adorably befuddled women, scores nicely as the one in control this time, playing the gate-keeping secretary who can't help being amused by the phoniness and naïveté she deals with every day.
Kate Burton shines with cultured intelligence as his not quite ex-wife who still cares after him. The moments of Kline and Burton together represent the production's peak of civilized high comedy. In smaller roles, Matt Bittner and Ellen Harvey contribute greatly as the overly-familiar manservant and his domineering counterpart.
While this is an ensemble play with plenty of richly drawn characters, Kline is the colorful centerpiece, with the star delivering droll John Barrymore-like hamminess to cover his desperate fear of becoming obsolete.
Related Articles
After 20-odd years singing, dancing and acting in dinner theatres, summer stocks and the ever-popular audience participation murder mysteries (try improvising with audiences after they?ve (read more about this author...)