Review: Brian d'Arcy James, Shuler Hensley Lead New Arrivals To Jez Butterworth's THE FERRYMAN
When director Sam Mendes' beautifully realized production of Jez Butterworth's Olivier-winning drama The Ferryman opened on Broadway last October, leading man Paddy Considine and several other members of the excellent ensemble cast had been with the play since its April 2017 Royal Court premiere, with additional members having joined the company during its transfer stint at the Gielgud.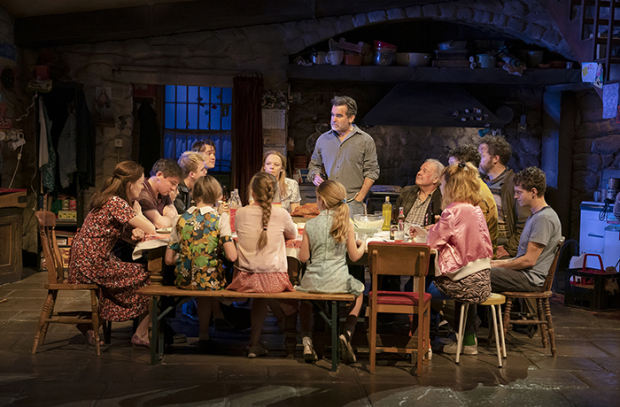 But since mid-February, a baker's dozen of American actors have been brought in take on roles originated by their visiting colleagues, most notably to Broadway fans, Brian d'Arcy James and Shuler Hensley.
D'Arcy James takes over for Considine as former IRA member Quinn Carney, a kind, responsible family man trying to rid himself of his past.
The year is 1981, and at Quinn's farmhouse it's time for the annual Harvest Day celebration with feasting and dancing to celebrate the annual bounty. The large gathering includes his wife Mary (Emily Bergl) and their seven children (scene stealing youngsters Matilda Lawler, Willow McCarthy and Brooklyn Schuck have remained from the Broadway opening.)
Ten years earlier, Quinn's brother Seamus, suspected to be an informant, mysteriously disappeared. His widow Caitlin (Holly Fain) and emotionally distant son Oisin (Ethan Dubin) have lived in the farmhouse ever since. With Mary taken to spending her days in bed, claiming to suffer from various viruses, Caitlin has become the mother figure of the home and she and Quinn have developed unspoken romantic feelings for each other.
What the audience knows that the Carney's don't is that Seamus' body has been found and identified and that IRA strongman Muldoon (Ralph Brown) has threatened Father Horrigan (Charles Dale) to use the information he knows about Quinn from taking his confessions to ensure that the circumstances surrounding his brother's death are kept secret.
Though better known for starring in musical comedies like SHREK and SOMETHING ROTTEN, d'Arcy James' resume also includes fine work in straight drama and he offers a compelling turn as a man fighting the emotional scars of his past and the romantic issues of his present to be a good father and provider.
Butterworth takes his time unfolding details of his plot, focusing more on how a continuing political issue affects family dynamics spanning three generations, leading up to a tense and violent conclusion, so much of the play involves the everyday interactions between an assortment of well-drawn characters.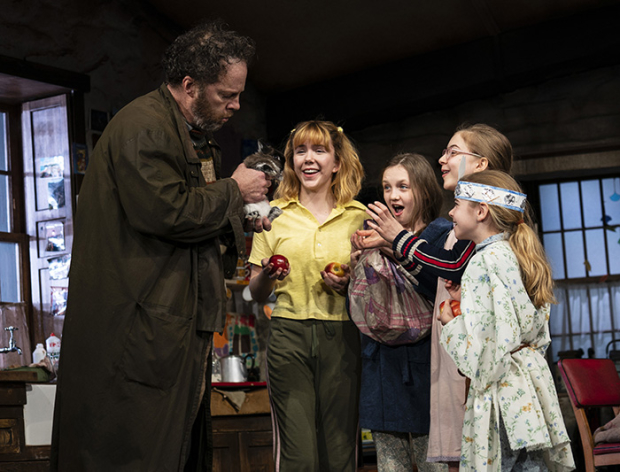 Hensley, a man of imposing stature who has warmed many audience hearts playing gentle characters (He won a Tony Award for playing the most sympathetic Jud Fry imaginable.) is simply heartbreaking as mentally slow farm worker Tom Kettle, who delights the children when he brings farm animals into the home but is also central to most tragic element of the play's conclusion.
Another Broadway favorite enhancing the company is Fred Applegate, charming as family philosopher Uncle Patrick. This reviewer caught one of the final Broadway performances of Fionnula Flanagan, completely captivating as clairvoyant, but dementia-stricken Aunt Maggie Far Away, who fascinates the children with her stories between long periods of contemplative silence. Blair Brown takes over her duties beginning tonight.
Despite the three and a quarter hour length (one intermission and a brief pause) the play flies by with totally engaging combination of warmth, romance, humor and intrigue. The Ferryman remains one of the grandest highlights of this soon-to-conclude Broadway season.