Click Here for More Articles on JITNEY
BWW Review: August Wilson's Compelling JITNEY Finally Arrives On Broadway
When August Wilson's Jitney had its 1982 world premiere at Pittsburgh's Allegheny Repertory Theatre, there were no plans for it to serve as 1/10th of the greatest achievement in American drama. But by the time a revised version of the script opened Off-Broadway in 2000, six of the plays that would each represent a decade in his American Century Cycle had made it to Broadway and Wilson was firmly established as one the country's leading playwrights.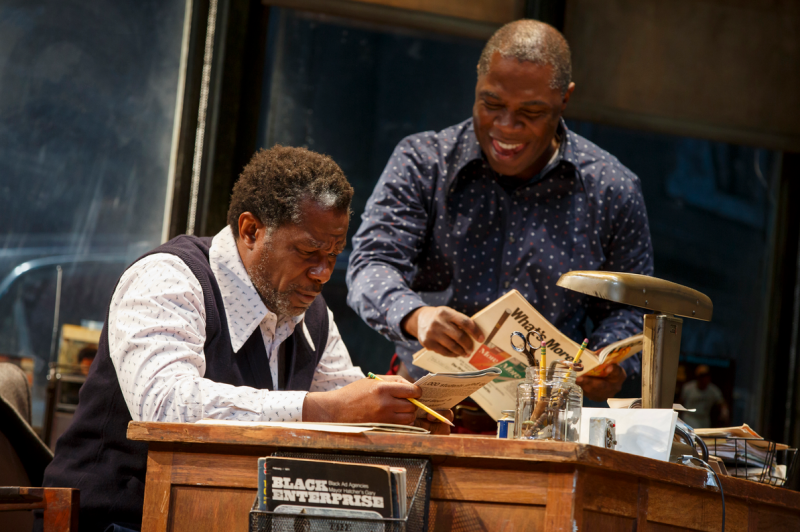 As with eight of its fellow creations, Jitney is set in Pittsburgh's Hill District. The complete cycle chronicles the neighborhood's evolution from a thriving and historic African-American community to a victim of urban decay to a center of renewal. Taking place in 1977, Jitney is set in a time just before the Hill District sinks to rock bottom.
Ruben Santiago-Hudson, a veteran of the Wilson oeuvre as both a Broadway actor and an Off-Broadway director (He even playEd Wilson in a recreation of his autobiographical solo piece, HOW I LEARNED WHAT I LEARNED.), is a natural choice to helm the play's Broadway debut. He delivers a superb production filled with funk, grit, humor and some positively thrilling acting.
Though the play is an ensemble piece, at its center is a fellow namEd Becker, played by one of the Contemporary Stage's finest actors, John Douglas Thompson. Becker owns a storefront jitney station, necessitated by the fact that licensed cab drivers will no longer service the area. David Gallo's terrifically detailed set features a pay phone that the gypsy drivers take turns answering to pick up fares.
The gruff, but fatherly Becker knows that gentrification has its eye on the neighborhood and that it won't be long before the building is torn down and his crew of drivers will be stuck trying to make a buck elsewhere.
While the play mingles stories and personalities, it's the final moments of the first act that display the thrilling dramatic fireworks. Becker's son Booster (a commanding Brandon J. Dirden) has just been released from twenty years in prison for killing a white woman who falsely accused him of rape. His sentencing came at the time when his mother was dying and Becker denied any contact with him during his incarceration. When Booster tries to reconcile with his father, Becker will have none of it, and Thompson and Dirden play out the anguished confrontation with heartbreaking intensity.
A lighter scenario involves Youngblood (Andre Holland), who is trying to get his life together after serving in Vietnam. His girlfriend Rena (Carra Patterson), who has a child by him, suspects he's once again cheating on her, but there's another secret he's keeping.
The colorful characters who also inhabit the workplace would come off as stereotypical comic types if penned by a lesser playwright, but Anthony Chisholm (as the habitual drunk, Fielding) and Michael Potts (as gossipy Turnbo) keep the audience aware of the personal tragedies that their funny moments cover. Also excellent is the imposing Keith Randolph Smith as Korean War veteran Doub, who still feels the effects of his treatment by white soldiers.
As with all of his plays, Wilson's dialogue displays a keen ear for the evolving musicality of language in the district. The 70s funk and soul of composer Bill Sims, Jr.'s music blends beautifully into the rhythms and tones of the spoken words.
While Jitney's impact may not reach the magnitude of Wilson's zenith, FENCES, or outstanding works like Ma Rainey'S BLACK BOTTOM and GEM OF THE OCEAN, this compelling production is continually engaging and thick with humor and emotion.

Related Articles
After 20-odd years singing, dancing and acting in dinner theatres, summer stocks and the ever-popular audience participation murder mysteries (try improvising with audiences after they?ve (read more...)