Click Here for More Articles on OH, HELLO
BWW Review: Alternative Comedy Hits The Main Stem In OH, HELLO ON BROADWAY
Weird old people saying and doing outrageously inappropriate things have been a beloved comedy staple ever since the time Aristophanes handed a few zingers to the dirty old men and elderly activist women of LYSISTRATA.
No doubt this is a great deal of the appeal of the comedy team of George St. Geegland and Gil Faizon, the legendary septuagenarian Upper West Side bachelors written and played by John Mulaney and Nick Kroll in their new entertainment, Oh, Hello on Broadway.
Their arrival on, as the boys pronounce it, "Br'd-WAY," has been over ten years in the making, as the characters were developed in New York's alternate performance spots like the sadly-gone Rafifi before increasing their cult following on Comedy Central's "Kroll Show."
After packing them in last winter at Off-Broadway's Cherry Lane Theatre, uber-hip director Alex Timbers helms their move to the Lyceum.
The first twenty minutes or so, played out in front of the curtain, is rather traditional stand-up character comedy, helping the uninitiated catch up with who the heck these guys are. After their traditional unison greeting of "Ohhhhhh, hellllooo," we get a stream of observational humor from Gil, the "Tony Award viewing actor," and unlicensed doula, and George, the thrice-married novelist who has been compared to both Philip Roth and to several sketches of the Riverside Park flasher. ("All three of my wives died the same way on the same staircase, each death improving upon the previous death almost as if it had learned from that death.")
Together, they are the recipients of a 1997 restraining order keeping them "100 feet at all times away from America's greatest actor, Mr. Alan Alda, baby."
After the obligatory HAMILTON jokes, a plug for Gil's acting seminars and remembrances about their time starring in a Sam Shepard adaptation called "True Upper West," the curtain rises on designer Scott Pask's UWS apartment set, pieced together from The Remains of Broadway productions of STEEL MAGNOLIAS, THE PILLOWMAN, THE DIARY OF Anne Frank, I AM MY OWN WIFE and... well, best not to give away too many of the jokes.
It seems the crux of the evening is that we're about to see a play George has written for the two of them to star in, but first there's some clever bantering about theatre conventions and the appearance of their special celebrity guest who, after a ten-minute interview, receives a sandwich overstuffed with "too much tuna."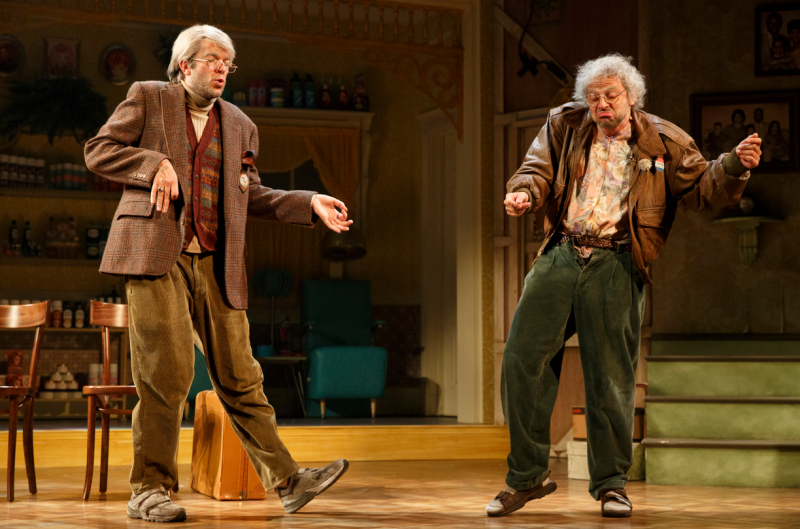 Seth Meyers was the guest when this reviewer attended, and the trio seemed to be having lots of giddy fun with their off-the-cuff banter. The ninety-minute evening allows for bits of improvisational riffing and Kroll and Mulaney have perfected a loose chemistry that plays on a low-key level, so jokes about dark subjects like 9/11, O.J. Simpson and JonBenet Ramsey pop out unexpectedly.
While fans of Kroll and Mulaney will no doubt eat it up, Oh, Hello on Broadway tends to lose some steam during the last half-hour. The gags keep coming, but the lack of an interesting narrative causes the show to coast into an anticlimactic finish.
But hey, it takes a lot more than a subway swipe to get from the back room of a Lower East Side bar to a Broadway stage, and the fact that something as non-traditional and New York-centric as an evening with George St. Geegland and Gil Faizon can play the Lyceum is a welcome sign for the creative health of Gotham's theatre scene.