Interview: Linda Lavin Is Living for Her Cafe Carlyle Debut!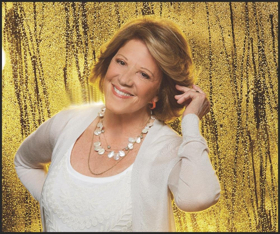 For over five plus decades Linda Lavin has enraptured audiences on stage, screen and television. She won the triple crown- Tony, Drama Desk and Outer Critics Circle Awards for her heart -breaking performance in Neil Simon's 'Broadway Bound'. She is known to million of fans as 'Alice' on her 9 -year ground breaking TV Series for which she won two Golden Globes. Celebrated playwrights Nicky Silver, Donald Margulies, Richard Greenberg and Charles Busch have written memorable and award winning roles for her. This renaissance woman does everything.
She and her husband, celebrated drummer and artist Steve Bakunas have just opened a gorgeous bed and breakfast in Spencertown, N.Y. called 'The Country Suites' and now she is about to make her Café Carlyle debut with her brand new show, 'Linda Lavin with Billy Stritch'. BroadwayWorld's Richard Ridge caught up with this legendary performer a few days before the kick-off, with a chat that was like catching up with a great friend.
---
I cannot tell you how excited I am that you are making your Cafe Carlyle debut. What does this engagement mean to you?
I am so excited. It's something I've wanted to do for a very long time, and it's a very special place, as we all know, especially because of Bobby Short, who was such a strong influence on me as a young singer. I first started listening to him when I was a freshman in college, and just to be able to be in that room, which was his palace, is very moving for me. So we're gonna do a little homage to him- a medley. Billy Stritch is my musical director and my husband Steve Bakunas, is my drummer. We are excited beyond belief. We have a new show, and I have Aaron Weinstein, the jazz violinist, as my special guest, and an extraordinary 5 piece band.
We are ready to go. It's a wonderful collection of songs that I love and stories that I like to tell. And we hope that people will come and enjoy themselves.
See, I never knew your history with Bobby Short. That's amazing!
I was a very lonely college girl and I went to college kicking and screaming because my mother wanted me to go. I really wanted to get to New York quicker, you know, and start my life in the theater. But I went to a wonderful school, the College of William and Mary, and you had to share with a roommate in your freshman year. So the times that I was alone in my room, and I don't know who turned me onto him, or how I came upon Bobby Short albums, but I listened to him everyday. And I expanded the collection as time went on. I remember the first one as if I were looking at it right now. It was, "Sing Me a Swing Song," and then there was "Speaking of Love." There was something about the way he sang: his explicit, articulate, passion for the stories, the lyrics, the music. There was such a sophistication about him, and I so longed for that in my own life, and for a life in New York. He just spoke of it when he sang, you know? He just made me feel I was there. He actually, without knowing me, was mentoring me.
There was something so extraordinary about him that he gave me the confidence to believe that I could make it. I could make it in the theater. I could make it in show business. Because I heard and felt something in what he did that connected me with my own desire to tell stories, and be a singer, and be sophisticated, you know? So, when I finally met him, it was in a club in Boston, and I'll never forget it, I waited at the door for him after the show just to say hello and introduce myself and tell him how much he meant to me. He was so kind and so sweet, and over the years I would just go to see him whenever possible.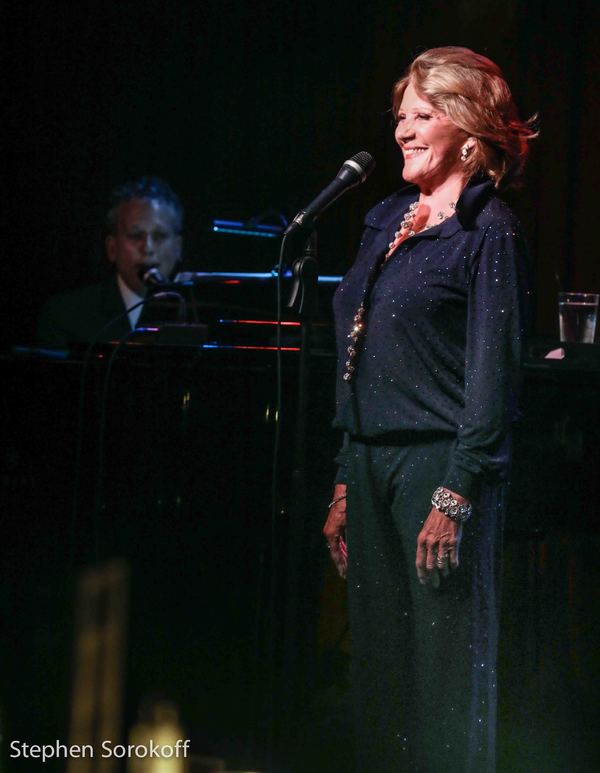 What is it like sharing the stage with your two beloved men: Billy Stritch and your husband, Steve Bakunas?
It's romantic; it's exciting; it's supportive. It's like being at home and making music with people I love, and that there are a few hundred people sitting in front of us, which changes the dynamic for sure. My desire is to connect with the players, and to connect with the audience. I have, the most wonderful accompanist in Billy, who is, in his own right, a great musician. He connects and listens, and stays with me, and holds me up. And then to my left is my darling husband who is connecting and holding me up with his drumming, which is at once sensitive and powerful, rhythmic and electric, and always connecting, always listening. And we listen to each other, and so we can play with each other.
What I love about the show is that I've always wanted it to feel like a party, and you're all invited. And we're going to give you the gift that we know how to do and hope you like it. We're there to entertain you and take pleasure in each other because we feel comfortable.
You released your first album, Possibilities: A Collection of Jazz Standards and Showtunes, which by the way, is absolutely sensational.
Oh, thanks, I love the album.
How did that album come about for you, and what did you enjoy the most with making it?
It came about because my bass player at that time was John Brown, whom I met on the road 10 or 15 years ago. John was gifted to me by my manager then, who said this was a great bass player, and he's also the head of the jazz department at Duke. So we were there in North Carolina living and working and touring, John came on board, and we worked with him for the better part of, well 2, 3 years and John said to me, "You gotta make an album," and I said, "Well, what's stopping me?" (Laughs) "I wanna!" And he said, "Let's do it."
So, he produced it and Billy Stritch was the musical director. We all went to John's studio, with his engineer John Plymale, a brilliant guy. We laid down the tracks in a day and a half, which is amazing, 12 songs on that album I think, and then Billy had to go to another gig so he had to leave. I did the second day with Ray Codrington, an amazing trumpeter, oh my god, this tone he gets, and this is a man who had worked with all the big bands, so I was there in the studio working on tracks, and we really worked hard. I mean John was a task master, he did not let me get away with anything. He wanted it to sound the best it could be on every level, and after a day and a half we walked away and within a week or two the mix was made. I listen to that album and I sometimes I think "Wow, is that me?" You know, it's really hard to listen to yourself. I love this album, and I want to do another one. It's just a matter of getting the band together and sitting still long enough to get into a studio and do it.
You work effortlessly between stage, screen, and television, but you always return to the stage, creating roles in such shows as The Tale of the Allergist's Wife, Collected Stories, The New Century, Other Desert Cities, The Lyons, the list goes on. Why do you always return home to the theater?
Well, the last few shows have been plays written by living writers. Nicky Silver, Richard Greenberg, Charles Busch and Donald Margulies. I want to work with living writers. I want the writer in the room when we're rehearsing. I love that. I love the collaboration of the development of a new piece of material. And so, I'm always drawn, and only drawn by the way, now, to great material. When I read a script, I want to be moved enough to start reading it aloud, so it jumps off the page for me. I don't want to do a lot of repeats, because, I find that stifling in a way that your memory comes up, and you think "Oh, this is the way I did it." The challenge is to do it with a new approach of who I am as an artist, an actor and performer now.
I've done a few things a couple of times. I've done Collected Stories a few times, and I love doing it. And, sometimes the material really supports the changes in me, so I can do certain things a few times. Steve and I had our own theater in Wilmington, North Carolina, and we did Collected Stories there. I had done it already at the Geffen in LA, I'd done it on PBS as a film with Samantha Mathis, and then did it on Broadway with, Sarah Paulson. So, I've done that play four times, and that's always exciting to do.
What I really like is a short run. I'm not one of your long run performers. I'm not somebody who wants to be in a play for a year. I like a few weeks, a few months, and then I like to take a nap, and, go out for a meal, and, I like to move on. I'm kind of a wanderer in that way. I love to do new plays, and I'm hoping there's something new in my very near future because I do love the challenge. I love working. And it's always about the material. Always gotta be about something that makes me laugh and cry at the same time.
You have worked with so many iconic directors, but one that stands out the most is Harold Prince. What does he mean to your career and to you personally?
Well, he pulled me out of the chorus in 1960, in a show called "A Family Affair." He came on to take over for the director, when we were out of town in Philadelphia. I was in the chorus of singers. I was on a payphone backstage one evening. The show was in trouble and Hal Prince walked in. I'd never met him before, dynamo of a man, pointed at me and said, "You're terrific, I'll see you later," and the next day he was introduced as our new director, and I got three speaking parts. He pulled me out of the chorus and at that time, you got 5 dollars a piece for each speaking part. So, I was now an actor, which is how I had trained, and but because I couldn't get an agent without a part on or off Broadway, I couldn't get a part without an agent. It was a catch 22.
I got little solos. I'm on the cast album, singing with Larry Kert. I just saw John Kander the other day. John wrote the music for that show, and every time he sees me, he remembers the one line that I had as a seamstress in one of the vignettes that I was in. That's how I started with Hal Prince. And then 4 years later, I heard that Hal Prince was going to be doing the musical "It's A Bird, It's a Plane, It's Superman". So, I went into a photobooth... remember photobooths?. For a buck you took 5 pictures of yourself. I found myself a green fedora, and a Superman comic book. And I copied pictures of Lois Lane looking up into the sky and looking adoringly at Superman, with no disrespect for Clark Kent. And I took a whole bunch of pictures of myself and slapped them on the photos of Lois Lane and sent him the comic book. And he wrote me, called me back and he said, "Well that was a brilliant audition, but you can't be Lois Lane." I said, "Why not?" He said, "Cause you're not midwestern enough," and I thought, "I'm not midwestern at all, I'm a Jewish girl from Portland, Maine, but so what?" He said, "However, there is another part, will you come in and sing for us?," and I said, "Of course."
---
So I went in and sang. My song was "Almost Like Being in Love," from college. It was my audition song. And they brought me back and gave me the song, "You've Got Possibilities" to learn. Well, if you've seen that show and listened to that song, you know it's an impossible song to learn. It's got 87 verses, and it changes keys a million times. So, I learned that song with my voice coach. And they said, "We're looking for a blonde." So, I borrowed a wig from a friend, and went in again. I auditioned for that show so many times they were gonna have to pay me. And I went in with a blonde wig and I sang. By that time, I knew the song backwards and forwards, and they gave me the part right there and then. We went to Philadelphia, they wrote another song for me for the second act, and I had big crush on Hal, he knows this, and his wife, Judy, knows this. We've all been together for many years. They used to fix me up. We used to go on double dates together when they were engaged, and they were married. I was always a dinner guest, and always invited. I mean we've been friends a long time. I knew their children as babies. We grew up together. We are the same vintage, the same era.
I could go into his office (and I did when I was out of work), and he was doing She Loves Me. I went to his office and I said, "I need a job," and he said," I'll put you in 'She Loves Me." And that's who Hal Prince is. So, when I was inducted into the Theatre Hall of Fame, who would I ask to speak for me? It was Hal Prince. I mean, we've even traveled together. And then, when Carol Burnett asked Hal to direct her play, "Hollywood Arms," he called me and said "Will you play her grandmother, the woman who raised her?" So, I got to work with him. And then last year I called him when I saw he was doing "Candide" and I said, "Who's playing the old lady?" And he said, "Oh my god, you are," and I said "Yeah, I am." Because I want to be in the room where he happens. He's such a visionary, he's such a force of nature, he's such a compassionate theater genius. He's the reason so many of us are here, and are still in the theater. It's life changing to be in his presence. He is sweet and funny and brilliant.
You were known to millions of TV fans for your two- time Golden Globe award winning role of Alice, which you did for 9 years. At what point during that experience did you realize the impact that your show had on the audience and women?
Right away. When we were doing the pilot, I called Gloria Steinem and said, "I've got this role, I'm playing a single mother, working woman, waitress, based on a movie but now it's gonna be a series, and really dealing with issues that I want to address, can you help me? Can you hook me up with writers? Can you teach me what the issues are?" And she did. She hooked me up with writers. The writers of the day, women who were writing about equal pay, sexual harassment on the job.
We went on the air in 1976. And in 1980, she put me on the cover of Ms Magazine. And the headline, Richie, reads, 'low pay, low status, and high hopes, 33 million working women unite. What Alice taught Linda Lavin, Marilyn French, Nancy Friday, and Jane Lazarus.' Inside was the article, 'Sexual Harassment in the Workplace: How to Deal with It.' I was connected right away because I had a feeling that this was gonna be something that behooves me to learn about and to give this story all it could and so we were an instant hit. We went on the air on a Sunday night after "All in the Family," and got off the wall ratings. And then, those writers that I had met with were not on the show. The show was peopled with men who had no idea what we were talking about. So, in the first 2 years we had 5 different sets of writers until we finally found Madelyn Pugh Davis and Bob Carroll, who had written "I Love Lucy," who were willing to really deal with these issues. Up until then it was not going too well, but we were still a hit, because people wanted to see this group of people, these 3 waitresses working for this knucklehead who didn't get it. He didn't get what women were struggling for, and so I just felt it was my responsibility, and so in my responsibility I became politicized. I had no idea. I was indicted to speak in national conventions, in labor conventions, and for equal rights amendments rallies, and I was pulled all over the country.
When I look now at 'Me Too' and 'Enough is Enough,' I think 'Thank you, okay, you're welcome, we've been doing it.' And thank God, finally, because in those years, all we could do, all we had the support to do, and it was a lot, was to make movies and television shows about these women. But, if we went to complain about bad behavior in the workplace, there was no support system for it, so we were not given any, we weren't believed, there was no strength behind the complaint. Now, thanks to these young women who are speaking out, all this history is finally coming back. To me it's exciting to see if you wait long enough and work hard enough, things will happen, something will change.
What are you looking forward to the most about playing the iconic Cafe Carlyle?
When I think of all the times I've been in that room and watched other people. I just went Saturday night to see my darling friend Megan Hilty. She killed. The audience was so enraptured with her, and I'm gonna be on that stage and it's just gonna be thrilling the way every first time that you do something that you've wished for is so thrilling, you just feel, pinch me. I'm so excited to be there. It's exciting to walk into that hotel, and see that portrait of Bobby Short, and stand on the same stage where he worked and so many other great artists have performed on that stage, so I'll be really looking forward to filling that space and doing what I love to do.
You and Steve are this renaissance couple that live life to the fullest. Tell me about your newest endeavor the Bed and Breakfast ?
Steve has built an inn. He is so talented and this vision that he had is behemoth. It's not your grandmothers B and B. It's absolutely beautiful. It's a five suite B and B up here in Spencertown, and honey, it is so gorgeous. That's what he's been doing this year. He took down an old barn and built a new building. So that's what we've got going on here. When we're not performing, we're in the hotel business!
---
Lavin makes her Café Carlyle debut with My Second Farewell Concert, May 8-19. Performances will take place Tuesday - Saturday at 8:45pm. Weekday pricing begins at $80 per person / Bar Seating: $60 / Premium Seating: $130. Weekend pricing begins at $95 per person / Bar Seating: $75 / Premium Seating: $145. Reservations can be made by phone at 212.744.1600 or online via Ticketweb. Café Carlyle is located in The Carlyle, A Rosewood Hotel (35 East 76th Street, at Madison Avenue).
Lavin was seen recently in Candide, directed by Hal Prince, and received stellar reviews. Inducted into the Theatre Hall of Fame in 2011, other theatre credits include The New Century(Drama Desk Award), Other Desert Cities (LCT), and Too Much Sun (Vineyard Theatre). She is a two-time Golden Globe winner for her role as Alice on the 9 year hit TV series Alice on CBS, and she co-starred with Sean Hayes in the NBC series, Sean Saves the World. Lavin has also recently guest starred on MOM and The Good Wife. She appeared with Robert De Niro in Nancy Meyer's The Intern. Recent feature films include A Short History of Decay, Manhattan Nocturne with Adrien Brody, and upcoming, How to Be A Latin Lover opposite Rob Lowe and Eugenio Derbez. Currently, Linda can be seen on the CBS sitcom 9JKL opposite Mark Feurstein and Elliot Gould. Born in Portland, Maine and a graduate of the College of William & Mary, which recently conferred on her an honorary doctor of arts degree where she endows a theater program.