Click Here for More Articles on KINKY BOOTS
BWW Interview: KINKY BOOTS' Blair Goldberg Talks Chipotle, Her Childhood on Broadway and Panic! at the Disco Heartthrob Brendon Urie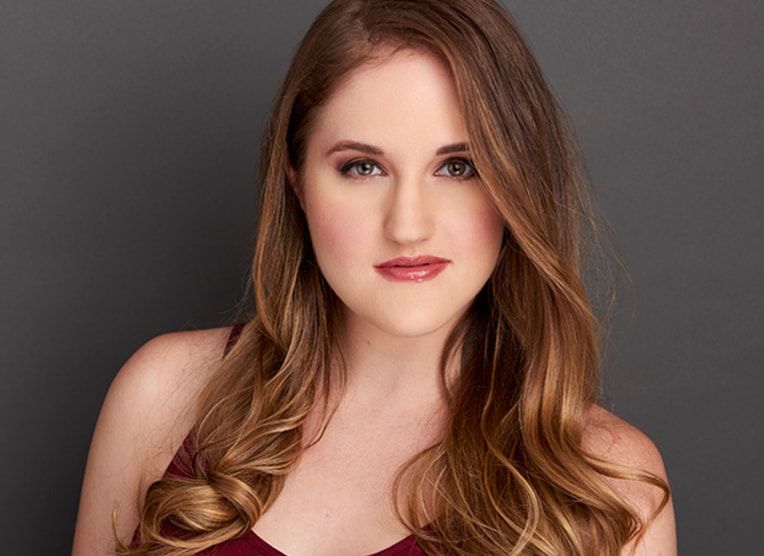 I made a new friend a few years ago (friendship is magic), and it happened purely out of my 20-year obsession with the prophetic John Dempsey-Dana Rowe political musical The Fix. This rarely-produced gem was being staged at NYU, and I simply had to see it. The company of students, under the direction of John Simpkins, did not disappoint on any level.
But there was one performance in particular that grabbed my attention, and I simply needed to meet this person. In the show-stealing role of calling-all-the-shots political mother Violet Chandler (think Lady Macbeth if she were grooming her idiot son for the U.S. presidency), was the one and only Blair Goldberg.
Her aggressively tragic lead performance and breathtaking vocals created, for me, the quintessential image of what that role should be... despite the fact that she was in her very early 20's and very convincingly playing a grizzled "matron" of Capitol Hill.
Dana Rowe, who provided the scores to The Fix and The Witches of Eastwick, said of her:
I knew the theatrical world was in for a treat the moment Blair took stage, literally, as Violet in the NYU production of The Fix and I saw the scenery wince. I mean, her energy was palpable and I forgot pretty quickly that she was at least three decades younger than what the character is meant to be. And I'm happy to say she's not only fiercely talented but also a delightful human being.
Over the years I would see her find immediate success in shows like Carrie, Sister Act and her current gig at Broadway's Kinky Boots. Blair is someone I am proud to call my homegirl, and (as a gambling man) I am thrilled to have "discovered" her early on and now boast the right to proclaim, "Ummmm.... I believe called that!"
Goldberg took time from her busy schedule to shoot the shit!
---------
Let's start at the very beginning (sorry). Where were you born and raised, and how did you first get involved in performing? Do you come from a performance family? Was there a single point where you realized you wanted to pursue this as your career?
I grew up in Plainview, Long Island, just about 1.5 hours outside of NYC. I'm the only performer in my family (my mom has quite a nice voice, though, while my father can't hold a tune to save his life). My mom used to play me cassette tapes of all of the classic Broadway musicals (I especially loved Rodgers and Hammerstein) when I would fall asleep.
I loved to singalong. She put me in dance classes fairly young, which I enjoyed, but I really fell in love with Broadway when I started singing lessons at 5. I used to write in my journal that if I didn't become a Broadway star, I would die. I know, subtle. So there was really no definitive point where I decided I was going to do this as a career. It was just always a fact of life, no questions asked, that I'm going to be on Broadway.
I remember seeing you onstage for the first time while in college (more on that later) and thinking, "This gal needs to be on Broadway!" I later found out you HAD been on Broadway, as a child in the revival of Annie Get Your Gun. Do you remember what the audition experience was like, and what it felt like when you landed the job? Did you understand that it was such a big deal?
Yes! Oh yes, I have such wonderful and vivid memories from this time in my life. I was 9 years old. I remember having 3 distinct auditions. I sang a song from the show that I just happened to know, and they had me come back the next day to sing for the director.
I remember not being overly excited about it because I had been going on a string of auditions for all of the shows on Broadway at the time that had children in it (Sound of Music, Annie, etc) and was starting to develop a somewhat thick skin.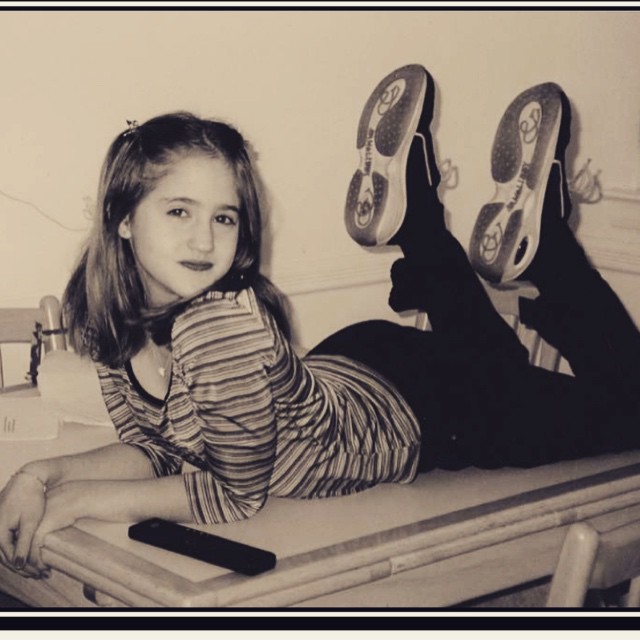 The second audition was with the director, Graciela Daniele, and I remember her sort of taking me under her wing and working with me for about 10 minutes on the material. She had such a sense of warmth and knew how to connect with children. After that second audition, I remember the Casting Director coming outside and taking my dad over to the side. He asked him if I could come back one more time to dance the next day. I remember on the drive home, my father told me not to get too excited, but that I had done a great job and just to do my best. I think at that point it clicked in for me that it could happen.
At the dance call the next day, they had a bunch of us in the room doing a simple combo. It went well and I remember seeing them point at me multiple times and wondering if that was a good sign or a bad sign. About a week later, my mom and I were out at the mall for a day of shopping, and when I returned home there was a message on the answering machine from my dad saying to call him back immediately. When we did, he told us the news.
I cried and screamed and yes, it clicked in that moment that I was going to be on Broadway. It was my dream come true. I had spoken about wanting this dream to come true every day of my life, and here it was in front of me. I definitely got the magnitude of it, but what it did take me my entire teen years /early adulthood to understand was that it would never be this easy again to land another Broadway gig.
In fact, it took 17 years :)
What are your main memories from that experience? You worked with some true heavy-hitters at a very young age. Do you still keep in touch with Bernadette, Wopat, Nick Jonas, etc? What would you say was the greatest challenge and greatest joy/learning lesson from being a Broadway star as a child?
Bernadette was absolutely incredible. She was and is still who I look up to most in this business. Watching her work was something I'll never forget. She was truly so warm and generous. She got to know all of our families and 17 years later when I have run into her, she asks about my parents and brother, by name. She has a freakishly amazing memory.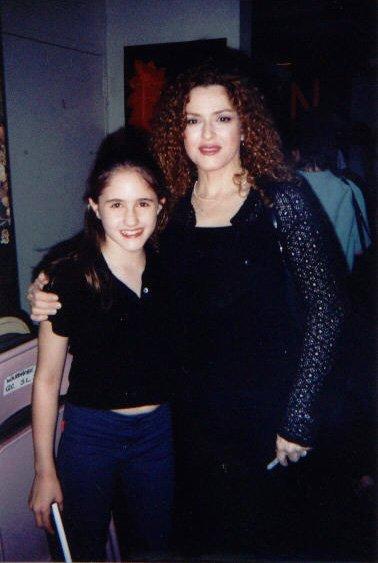 She came to see Carrie when I did it Off-Broadway and she came backstage after. She complimented my comedic timing and how happy she was to see me still performing as an adult. She even bought me a necklace when I left the show that I still wear. I remember her one piece of advice to us was that going forward in this business, we should be true to ourselves, as we are. Don't try and copy anybody else. Lessons i need to continue to remind myself still.
Tom Wopat was awesome as well. He was hilarious and fun and would always play around with us backstage, take the kids out between shows, etc. Nick Jonas and I never officially worked together because by the time he had arrived, I had left, but I do remember coming back and visiting and he was there, and we'd all play together.
The greatest challenge would have to be dealing with all that comes along with being a child performer. You grow up so fast and you also experience success so early in life which can lead to disappointment later on when things don't come as easy. Being a part of the union at such an early age was a double edged sword. I was able to audition later on in college for things my peers couldn't get seen for, but I also was up against every professional actor in the biz. I couldn't do non-union summer stock during college, or regional gigs, etc.
Ultimately, I think it was all for the best, but it was still difficult to grapple with at the time. And the greatest lessons, there were so many! I got to learn the ins and outs of the business, the backstage etiquette, the lingo, all of the things that it takes people some time to learn as an adult when most get their first jobs.
The greatest joy I ever experienced was performing on a Broadway stage for the first time in my life. It was an absolutely monumental moment, and I do still feel that same rush now as an adult. Not quite in the same way, but that feeling of "pinch me, is this real?" never went away, and I hope it never does.
Clearly, you followed a specific path leading you to where you are now. Did you have a fairly "normal" high school and college experience, and how did you balance work with that?
It became glaringly obvious to me as I entered puberty that there weren't going to be as many roles for me, and it was going to be a lot harder to get these roles. I continued auditioning throughout middle school and high school, but wasn't very successful, professionally speaking. I channeled that frustrated energy into taking as much class as I could in the city after my school days on Long Island. I was also pretty studious and enjoyed learning about things other than performing.
So yes, my experience in high school was fairly normal in that I was able to do our high school productions and got to have a proper school and social experience. I really would've loved to be working, but that time in my life and the experiences that came along with it were invaluable to me. Same goes for college.
I went to NYU and auditioned throughout my years there. I was getting close to big jobs and I started feeling confident that I was on the right path. Although I didn't get an agent from my showcase, I did pound the pavement going to open Equity calls (EPAs) and would wake up every morning before class and stand on line to audition. I'm a hustler by nature. I knew that talent could only take me so far and that I needed to put myself out there consistently while still studying.
The day I graduated NYU, I received a call from Craig Burns over at Telsey + Co telling me I booked Carrie. I had gone to an open call for the show Allegiance that Stafford Arima was directing, and while I didn't book it, he did want to see me for his other project, Carrie.
And I booked it. That was the beginning of a string of super exciting jobs for me, and I'm forever grateful that the team gave me that first chance back into the professional world.
Moving on, I first saw you as Violet in one of my favorite musicals, The Fix. Were you aware of the show prior? Tell me a little about that experience. Any research you did... how did you seemingly transform into this nasty politician's-wife/piece-of-shit human being?
As soon as I heard we were doing The Fix at school, I fell in love. I was a fan of Dana Rowe's work from Witches of Eastwick and though I wasn't previously familiar with The Fix, once I researched it, I knew the role of Violet Chandler was for me. I've always joked that I will hit my stride in my later years because I really feel like the roles that most resonate with me are middle aged divas. So when I found out I was going to be playing her in my early 20's, I was thrilled. Where else was I going to get that chance in the real world?
I got to sing a phenomenal song called "Spin," which I think I might finally be old enough to have in my book at least. I had an absolute blast playing her. I love playing the villain and finding out why they are who they are who they, and what possesses them to behave the way the do.
Although I can't say I'm a super political junkie, I did dive deep into the major scandals of our presidential history to get some tangible examples to work with. Something tells me it might've been way more, um, interesting, to research now.
Very quickly, you moved on to Carrie, then hit the road with Sister Act. Was this your first tour? At the time, I believe you were engaged or newly-married. How have you and Adam been able to balance a healthy relationship with the inherent unpredictability of a Broadway/touring lifestyle?
Sister Act was my first tour and it was such a fun show to travel with! Audiences across the country went wild for it, and I got to be in the ensemble as well as understudy (but never perform, boo) the role of Sister Mary Robert. I was newly engaged when the tour began and planning a wedding on the road. It was actually super fun because I had so much free time during the days, and didn't have to spend it auditioning, so I was super productive.
My girlfriends on the road were super helpful with planning as well! Adam and I always made it a rule never to go more than 3 weeks without seeing each other, but we kept the average to 2 weeks. I have to say that while long distance was hard, getting to see the country with my partner was incredible.
Some of our favorite memories in our long relationship are from when I was on tour. Cities like Chicago, Seattle and San Diego became my favorites and we would like to return to those cities one day with our daughter. My husband is a high school music teacher, so his schedule is a bit more flexible than others in that he has lots of vacation weeks, an entire summer off, and many random Mondays off for holiday weekends etc. So he really did fly out to see me as much as possible.
When we first got together, he knew what it was my life would look like, and he was on board. It's actually really one of my favorite qualities of our relationship, the fact that he has a "regular" and "stable" job and I am on a more unpredictable path. It allows me to meander comfortably and confidently.
He is truly remarkable in his unwavering support for whatever comes my way. We've made it through two tours (Sister Act and Kinky Boots) and I know we can make it through anything.
Fairly soon after, you were on the Kinky Boots tour and pregnant! How long into the tour did you find out, and how pregnant were you when you did leave? I've seen a number of Broadway stars performing ingenue roles while NOTICEABLY "large with child." What was it like being the pregnant lady in the cast?
I started working on the tour in July 2014 and I found out at the beginning of February 2015 that I was pregnant with my daughter. I was actually in Nashville when I found out, which is one of my favorite cities, so I was a tiny bit bummed to not get to go out and party there, but over the moon about the pregnancy as well. I stayed on with the show until I was about 5 months along.
I would've and could've stayed longer but my belly was becoming too noticeable to understudy Nicola without changing the plot completely! It was hard in the beginning, especially when I wasn't sharing my pregnancy with anyone yet.
I used to run to the bathroom to throw up in between scenes, and I had to make up the most random reasons for why I wasn't drinking or being as social as I normally am. It was a tough few months. However, once it was out in the open, it was an absolute blast performing pregnant.
The whole cast was really supportive and loved rubbing my belly onstage and working it into my track. We would joke around about how funny it was that I was playing a clearly pregnant bartender (one of my small parts in the show). Touring itself was a little tough, with all of the luggage and heavy lifting and flying, etc, but the cast was so helpful and there for me all the way. They threw me a beautiful baby shower and the team gave us some incredibly generous gifts off of our registry.
The Kinky crew is a true family in every sense of the word, and they were so excited for my daughter to become part of that family. When I look back on that time, I have such beautiful memories of my pregnancy across the USA. I found out I was pregnant in Nashville, saw my daughters heartbeat on an ultrasound for the first time in Houston, announced my pregnancy to the cast in Durham, and felt her first kicks in St Louis. It's kind of spectacular and I can't wait to tell her all about it one day.
And then came your little girl! Do you get the sense she might be a diva in training? Has she been able to see her mommy onstage?
Oh gosh, part of me hopes she is, and part of me prays she is not. She definitely has a musical sense about her (she sings on pitch), and she's a true ham, but I am not sure where her passions will take her. Right now she's obsessed with animals, so I'm gonna roll with that for awhile.
She hasn't seen the show yet, but my husband brings her to midtown every Saturday to do a family dinner between shows, and she knows exactly where the stage is. She runs right into the building and onto the stage and loves to dance and sing on it.
So yeah, who am I kidding, I'm pretty much screwed.
Another balance question, now you're finally back on Broadway. 8 shows a week, raising a child! How do you balance that, and how do you personally stay healthy and sane for such a grind?
It's so hard! I'd say the toughest part about it is simply the schedule. I don't get home most evenings until 10:30/11:30 depending on the day of the week. Add another hour to that if I want to be remotely social and go out for one drink once in awhile after a show. To quickly unwind, get ready for bed, and actually fall asleep takes a minute, and my daughter wakes up anywhere between 6:30-7:30 in the morning, so there's not too much sleep to be had. She's super active, so from the moment she wakes to the moment she goes down for her nap, I'm chasing her around the house and taking her to various activities.
It's an absolute pleasure and I adore my time with her. But that doesn't negate the fact that it's utterly exhausting, combined with an 8 show week. It's also tough to rest, vocally speaking, if I'm under the weather or have a big audition to prep/learn. Kinky Boots is a big sing for me, and I absolutely have to be mindful of how I use my voice throughout the day, which is next to impossible with a toddler. I also enjoy cooking for my family, so I usually use her nap time to prep dinner for the evening (while watching TV, of course).
Fortunately, my husband is incredible and lightens my load whenever he can. I truly couldn't do it without him. I catch up on sleep on the weekends, when he's home from work. Whenever I am feeling super tired, I just remember how much tougher this was when she was 3 months old and I was doing 8 shows a week. Now, THAT, I have no idea how I did. But that's the awesome thing about moms. We just get it done! Oh, and caffeine. Duh.
Moving on to more important things. I get the sense that a huge part of your day is spent watching garbage television and eating Chipotle. What's your current must-see TV?
Oh, I'm a complete garbage person when it comes to television. Anything that kills brain cells, I watch. As a married mother of a toddler, I still spend my free time watching things like "Say Yes to The Dress." It's simply pathetic. I'm obsessed with all of the "Real Housewives" franchises as well as any and all things Kardashian. The second my daughter goes down for her nap the television immediately gets turned on. I clearly have my priorities straight.
I live for "Grey's Anatomy," "Shameless," "Unbreakable Kimmy Schmidt," "Teen Mom" (OG only, of course), "Transparent," "The Handmaid's Tale," "Long Lost Family," "The Bachelor," "The Affair," "Broad City," "Shark Tank"... yeah.
TV is just something I can't live without, and I blame my parents for that. Thanks, guys.
How many times a week do you eat Chipotle? At my worst, I was at about 6 a week, even just popping in midday for a single crunchy taco to stave off withdrawal. What is your regular order and why is it SO GOOD?
I'm just going to put it out there: On average, I eat Chipotle about 4-5 times a week. I know, I'm not well. Every time I go, I get the same exact thing, but I sometimes get it in taco form and sometimes in salad form. When I'm feeling really healthy (LOL), I go for a salad. When I want to live my dreams, I go for the tacos.
If I'm being completely honest with myself here, it's a 90/10% mix, in favor of the tacos. I get pinto beans, steak, mild, corn, EXTRA cheese and guac.
I don't trust people who don't get cheese and guac. I have to stop here because I can truly discuss Chipotle for hours. And nobody wants to read that.
If you were to produce Chipotle the Musical, who would you want to write it and what would be some of your dream casting? I'm personally seeing Raul Esparza headlining as Guacamole.
Ha! You're freaking hilarious. Sondheim should be working on this immediately, someone should get his agent on the phone.
First I'd cast myself as EXTRA cheese, and then Patti LuPone as Pinto Beans, because why not? I also see a nice feature in there for Sutton Foster as the employee who catches our protagonist putting Diet Coke in her water cup, but do you think Sutton would take featured ensemble?
Finally, Kinky Boots. You did it on tour, and now have been with the Broadway company a good stretch. What is your track in the show, and how have you found the experience now doing Broadway as an adult?
I play Maggie in the show. She's in the ensemble as a factory worker. I also understudy the principal role of Nicola. Being on Broadway as an adult is really awesome. I get to have a family, spend the entire day with my daughter (with the exception of Wednesdays/occasional rehearsals) and then go to work on Broadway 20 minutes from my apartment.
It is something that I am careful not to take for granted, as I am constantly aware of the fickleness of this business. It is also pretty cool for me to connect with the 4 little boys in our show, because I was in their position at that age. I get to see them navigating through this world as children, now as an adult myself.
It cracks me up the games they play backstage and the way they joke around with us as if they are adults themselves. It's amazing for me to watch their fearlessness in action on stage. They don't edit or filter the way we as adults do, and it's a beautiful thing to see and be reminded of.
Do you have a single favorite moment in the show for yourself or any other character, and as the Nicola understudy, how do you make her likable?
The finale of our show is remarkable. There's just no way anybody can leave the theatre feeling anything but pure joy. I love to see the audience's reactions when we all run out in our boots. There have also been so many times in the past few years where the things happening in our world make singing the lyric, "Just be who you wanna be," incredibly emotional. I consider it a great privilege to get to sing those lyrics every night.
In terms of Nicola, it's a tough role to play, because you get a small amount of concentrated stage time, and most of the stage time is spent playing in polar opposition with our protagonist, Charlie. It's hard to get the audience on your side. But at the end of the day, Nicola is just a woman who knows what she wants in life. She's trying to do what is best for her and her husbands future. She's a go-getter and she's unwavering in her goals and ideals.
I am the same way, and though sometimes that could come off to people as rather rigid, it's actually a trait I'm most proud of. It doesn't make Nicola the villain. Another key factor in playing Nicola is that at the end of the day, there has to be real deep love and physical affection/connection between her and Charlie, otherwise the audience doesn't care at all when she leaves him (for good reason). It can't just all be conflict. There has to be an element of play between them.
You've been a part of KB for several years now and had the chance to perform it in various parts of the country. It's still going strong, and will soon receive a major staging in Manila! What is it about the piece that you think resonates so deeply with audiences of all shapes, sized, backgrounds, colors etc?
This show is so near and dear to my heart for so many reasons, and I'm so glad that audiences across the world are still falling in love with it too. We're all different, and our differences are what make us beautiful.
That is what Kinky Boots is all about. Each person that steps into our theatre can relate to that. Inspiring people to embrace who they are, as they are, is an honor for me. That, combined with a kick ass score by Cyndi Lauper, remarkable direction by Jerry Mitchell and a book full of heart and humor by Harvey Fierstein, you really can't go wrong!
You guys recently welcomed Brendon Urie to the cast. I've been obsessed with Panic at the Disco for years and, even having worked with some of the biggest celebrities on the planet in my career, I think I might totally fanboy out meeting him. Were you a fan, and what has it been like working with him?
Oh, I'm a full on-fan. I've already told him this, so I don't feel embarrassed admitting that I had a legitimate crush on him in high school. I used to jam out to the album A Fever You Can't Sweat Out on repeat in my Honda CRV. My freaking MySpace tagline on my profile was one of his lyrics. I bought their newest album a few months before we had any idea that he was joining the company and loved it as well. So yes, I am very much a fan.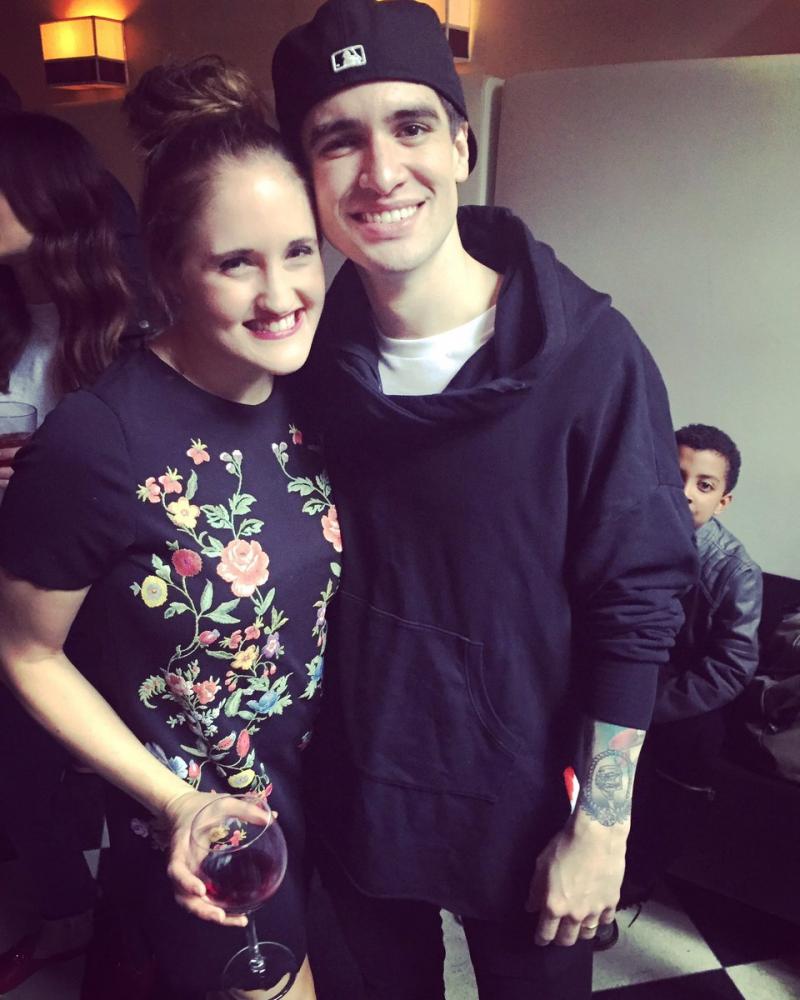 But it's been fun getting to know him as the person as opposed to the rock star because he's such a cool guy with absolutely no ego. It's been a joy to welcome him into our family because he's been so interested in getting to know all of us and socialize with us. We are going to have some great times with him as a cast. And he's absolutely remarkable in the role. I can't say enough wonderful things about him.
I did a stint as Nicola right before he joined the company, so I haven't gotten to do the role opposite him yet, but hopefully sometime this summer! We are so grateful that so many people at the stage door have been remarking to us how this is their first Broadway experience and they are now lifelong fans of the theatre. That is a beautiful thing to hear, and we are super grateful to Brendon for bringing his fans to our show!
Single dream role in musical theatre, male or female?
Dot in Sunday In The Park With George! DREAM!!
Finally, any words of advice or wisdom for aspiring performers, artists... actually, for anyone following their passion?
I always tell people that it's such a gift to know what you want to do in life. And of course, we all know, if you want to be on Broadway you have to work tirelessly at it. However, that doesn't mean that we have to forego every other aspect of our lives (hobbies, personal lives, etc) in order to achieve it. It is important to be a well-rounded person, because on stage we play people. We don't play actors (most of the time).
So you have to learn about and experience life as a whole to become a better actor, in my opinion. When you don't get that job you wanted, if you don't have anything at all that you enjoy in your life aside from performing, what is going to distract you from falling into a deep depression every time it happens? So have some other things you love to do, develop relationships, set some money aside to travel.
And another opinion I'm super adamant about is that one can never believe they're above doing anything to advance their career. Stand on line at the EPA's. Heck, I still do, if I think I'm right for the role and can't get an appointment. I got so many jobs from standing on line and auditioning. Don't expect or wait for anything to be handed to you.
Say yes to every concert, every reading, every workshop you can. You never know what projects will move forward.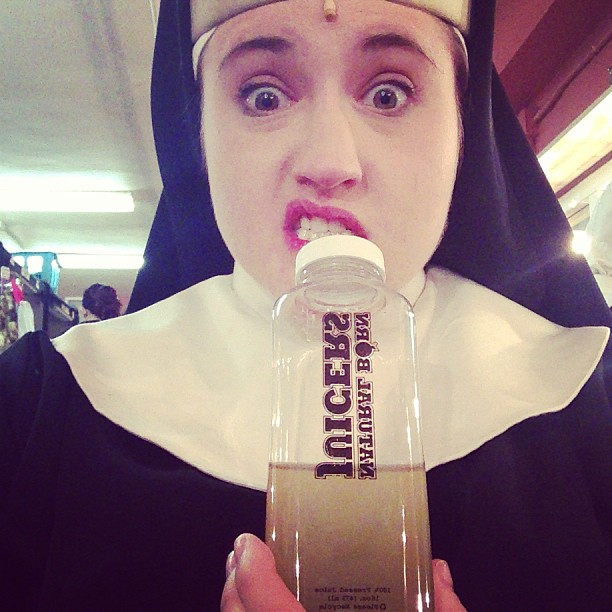 -----
See Kinky Boots on Broadway 8 times a week! Tickets and info can be found at www.kinkybootsthemusical.com. Learn more about the life and times of Blair at www.blair-goldberg.com.
*
Matt Blank is an arts journalist, educator, designer and lecturer. He most recently spent a decade on the editorial team for Playbill.com and as Editor-in-Chief of PlaybillArts.com, publishing over 7,000 articles and covering five Tony Award ceremonies. Follow him on Twitter @MattBlankPlease and Instagram @brdwymatt.
Related Articles