Interview: Jawan M. Jackson Recalls the Highs and Low Notes of AIN'T TOO PROUD
Get ready, Broadway, cause here he comes.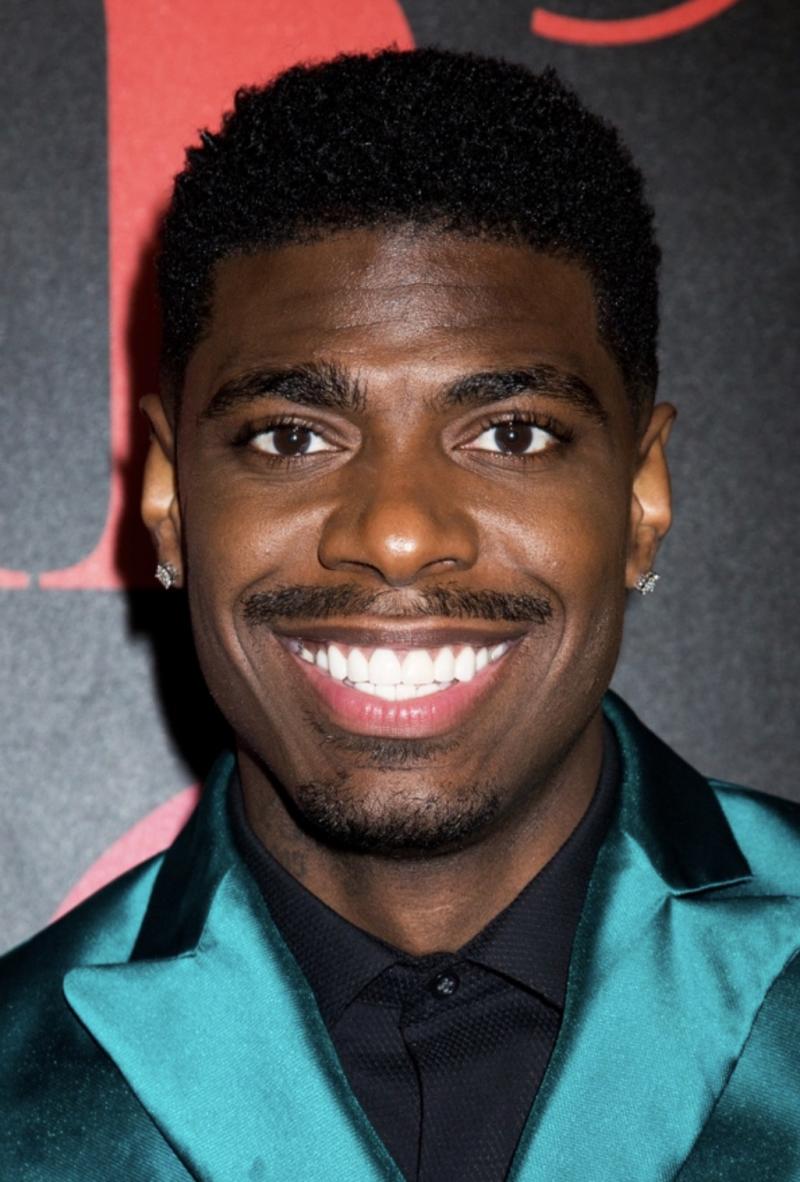 At Broadway's Imperial Theatre, toes are tapping and hands are clapping as audiences hum along to the hits of The Temptations. The story of the legendary musical group is told in Ain't Too Proud, a brand new musical that follows their extraordinary journey from the streets of Detroit to the Rock & Roll Hall of Fame.
At the root of every chord, from "My Girl" to "Papa Was a Rollin' Stone," is the deep and smooth voice of Jawan M. Jackson, who plays one of the group's founding members, Melvin Franklin. This marks Jackson's second appearance on Broadway- he made his debut in 2013's Motown The Musical, in which he portrayed who else, but Melvin Franklin.
Below, BroadwayWorld checks in with the Detroit native to find out what life is like as a Temptation, how he snagged the role, what he likes to do in his time offstage, and so much more!
---
How has everything been going since opening night?
The vibe at the theater is very much excitement still. We just can't believe the response that the show has gotten and the overwhelming love that New York given us. You know, you come into New York, where this is the hardest crowd! Just to be received this way has been so amazing and we just love each other. To love with this group of people - all 19 of them - has been an amazing, amazing experience.
This is definitely one of those shows that puts you in a mood. You leave the theater dancing and humming. Can you feel that energy in the audience?
Absolutely. It's also one of those things where I don't care what type of attitude you come in with, you're gonna leave differently. It does it for the audience but it also does for us too because we have to submit to the process and you can't give if you're not willing to be receptive to it. I'm just, you know, appreciative of it.
I know that you made your Broadway debut in Motown, correct? And you were playing the same character?
Correct!
Have you actually looked into that at all? It can't happened that often that people have played the same character in multiple Broadway shows...
My good friend Frank Conway, who works with Broadway Cares: Equity Fights Aids, he came to me and he said, "I think you're the only one that has done that." He challenged everyone to see if they could think back. I think they came up with a girl, a lady by the name of Vivien Leigh in 1951 who played Cleopatra in both Antony and Cleopatra and Caesar and Cleopatra.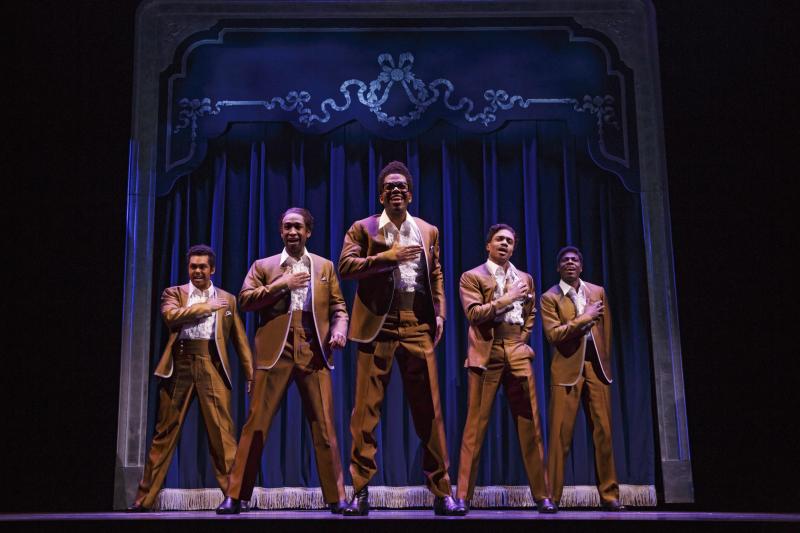 So Motown happened in 2013. When Ain't Too Proud came along, was that a foot in the door for you?
Well, first I didn't get to audition, let's start there. At the time, I didn't have an agent. It was radio silent. It was kind of one of those things where [the show] wasn't a known thing. My friends did the workshop and actually Derrick [Baskin], Ephraim [Sykes], and Jeremy [Pope] were like, "I have a friend who needs to be in this show. This is his role. This is his role. You need to see him. You need to see him." At this point they had gone to Berkeley, so it was too late for me.
But then, when they found out that they weren't going forward with the guy that they had, Ephraim and Derrick called me immediately and were like, "Hey, we told the producers all about you so get ready because you have an audition coming." At this time, I had my agents and everything lined up. I went in and auditioned and I'm not much of a dancer, so Ephraim, who's a really, really, good friend of mine, prior to this, he was like, "Whatever you need, I got you. I'll help you." So, we worked together and I thought I was fully prepared, going in, confident. I sang - the voice is there, I have it, but dancing was the thing that I did in the show.
I went to the audition and there was like four other guys there auditioning and they did this dance combination and they did the splits! I'm like "Umm...who does that?" They said, "You gotta do it," and I said, "Do I?" I said, "I ain't never known a Temptation to do a split so..." My very first time ever attempting to do a split ever in my life was in that audition. [Laughs] And I made it and surprised and shocked myself, but the hurt I felt after, that came after the audition was insane. I called Derrick and I kinda fussed him out, I said, "You didn't tell me there was gonna be splits in this show!" And he just bust out laughing at me, like "There's no splits. They just did it for the audition."
How great that you already had them on your side to help you get there.
Oh, absolutely. It's funny because they keep saying, "There's no basses in New York." Because I'm a bass, I know every single one of them. So I'm like, surely they're gonna like this person or this person. But they were like, "We need you. We want you." So they really fought hard for me and I owe them a great deal.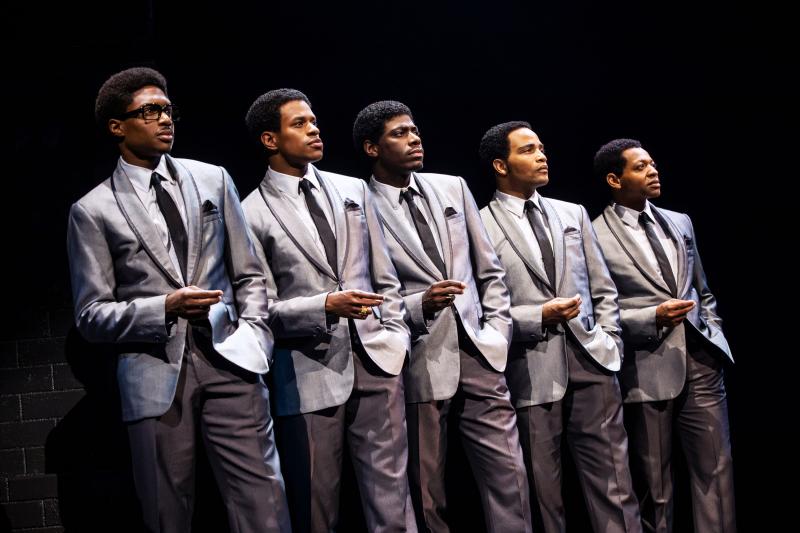 There's a huge responsibility involved in playing a real person. And you weren't able to meet Melvin Franklin. So how did you go about figuring him out as a character?
It's funny because I'm born and raised in Detroit, so this music is part of my history. Because of that, I feel a deep connection to Motown and anybody from Detroit. When you hear Detroit, it's like you have to gravitate and hold on to it. I did a lot of research. I had a lot of family members that knew different Motown artists and interestingly enough, once I booked Motown and got this role, it was my cousin - she's older - who told me - we were just talking and she said, "You know, Melvin and I went to high school together and we actually dated for a little while." That's how close we are. Melvin could have been my cousin!
That's nuts!
She was able to tell me a little bit about the younger Melvin, so I got that. You know, about how nice he was. She was like, "He was always nice. He was always willing to help and always smiling, always laughing, always joking." And then talking to everybody who actually knew him throughout his career and his musical career, they all said the same thing. And the interesting thing about it was that Melvin and I - based on the information that I got - I feel like we were similar, because like I'm always loving, I'm always happy. I feel like we have such a connection in regard to that. Always willing to give and to share. You know, when his wife saw me in LA, Kim, who I'm close with now, she just bust out in tears like "I would've thought you'd known him your whole life because every mannerism you had... it was him. It was like I was watching my husband on stage."
Well thats the ultimate compliment...
The ultimate compliment! I don't take it lightly. But I got some information from Berry Gordy and Smokey Robinson and Claudette Robinson, Stevie Wonder... It was all these Motown legends that worked with him and because of my Motown experience, I have that connection to go even further than some of my other parts.
You're a bass, so you're used to singing low, but even talking to you now, it sounds like you speak even in a different register when you're playing him. Is that difficult to keep that up?
It's so funny because I have to speak in a higher register often so people can understand me, because sometimes my voice is too low. I tell people I got this voice because I tried to copy my grandfather growing up, trying to sound like him because he has a really, really, deep voice too and then it stuck. But no, it's not difficult at all. I've had it so long, I know how to maneuver. And sometimes it's easier to speak in a lower register than the one I'm doing because I'm actually doing more work now than I'm doing when I'm speaking lower.
By this point the whole cast has spent quite a bit of time together. What's that whole brotherhood like backstage?
It's one of those things like - eight shows a week, we're seeing each other everyday... you'd think we'd be tired of each other. Absolutely not. We talk on our days off, we hang out with each other on our days off. We're actually trying to plan a trip, the five of us, to go to Miami just for the day. We are so engulfed with one another because we're friends in real life. I think that's what makes it so much easier and it shows on the stage. Even with all the ensemble members, we're so close. It's just a show cast full of love. So no, I don't get tired of them. Not yet anyway!
You can sense that energy on the stage.
I've known Derrick prior to this, but we weren't close. I just knew him through the theatre community and because we had mutual friends. So, we've hung together in social settings, but this process has really brought us a lot closer together. Because he's my best friend in the show, he and I wanted to make sure that we got to know each other the closest. And that experience has literally changed my life because he's such a leader and a mentor on and off the stage. So connecting with him in both settings is fulfilling and rewarding more than he even knows.
I hear that you've been working with a lot of kids in exposing them to the arts?
Prior to coming to Broadway and making my Broadway debut in Motown, I was teaching back at home in Detroit. I was actually teaching in the Ann Arbor-Ypsilanti school district in high school and middle school theatre. We were essentially going to schools that didn't have extracurricular activities or theatre and bringing the arts to education. We always did summer courses and summer camp and I think that's important because I grew up having those outlets and having these creative things to do and it's not so much a priority now. The first thing that they cut with budget cuts is arts and education. So actually doing that now that I have a platform... I think it's important to use because everyone needs it. I wouldn't be where I am today had it not been for arts education and having someone that important to me. So I think that as much as I can use my platform for positivity and change to bring awareness, I'm all for it.
When you're not at the theater, what do you like to do?
I love an open mic. I love to go to the pool. I love my dog- I'm trying to get her sponsored by Rachel Ray or something like that.[Laughs] Now that previews are over, it's a lot of catching up. On my days off it's a lot of seeing friends I haven't seen because of the work schedule and trying to be the brother and the uncle to my family members as much as possible. So, staying connected with them. Family is very important to me so I try to keep a normal life as much as possible, so that the craziness with the show and all the success, I don't lose myself within it. So keeping back and reflecting back on the week but centering myself again is very important. I usually do that on my days off and my time off.
Do you have a favorite moment in the show or does it change from night to night for you?
My favorite number in the show is "Cloud Nine." My favorite true moment is "Just My Imagination," when Jeremy Pope is singing. Just that moment and that scene period. I just think it's the most beautiful thing that we've constructed because the moment and the scene itself, but also the way Jeremy captures and captivates the audience. I remember the first time I heard it, I was doing the number and I just bust out in tears, I'm like, "Why am I crying?" It's just so beautiful to me, it takes me every night. And it's also joy because the audience does not have one clue what's about to happen to them. Not at all. That's my favorite moment.
Looking at the run ahead, what are you most looking forward to in getting to continue this journey with Ain't Too Proud?
I'm just excited to continue to tell the story in a way that shines a positive light on the city of Detroit and that tells the story of five men who gave their lives to an industry. Now, just to pay homage to them, I'm just very appreciative. I'm so looking forward to every award that comes to Dominique Morisseau, who is our book writer. She has really done tremendous work on this piece. I'm just excited, I think, for her to tell her story and for Otis Williams, who is such an active part in this piece. I think that's what I'm also excited about.