BWW Exclusive: Tony-Winner Scarlett Johansson Talks Hollywood to Broadway & More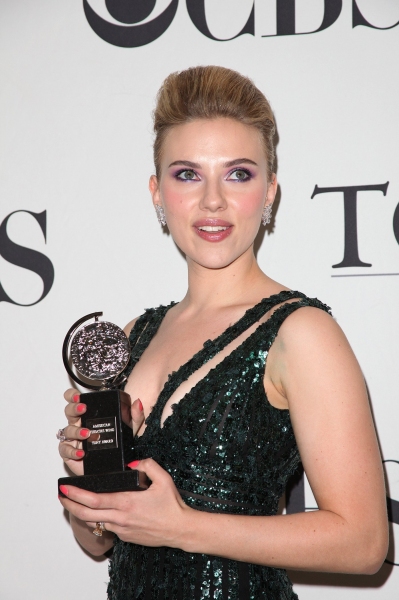 Tonight, I had the exceptional privilege of conducting an InDepth InterView with 2010 Tony-winning Best Featured Actress In A Play: the luminous and winsomely witty Scarlett Johansson. The interview was scheduled for only 15 minutes, but the passionate and free-talking Johansson graciously extended our talk to 45 minutes. We talked about her work in the theatre on this year's highly-praised revival of Arthur Miller's A VIEW FROM THE BRIDGE, as well as her feelings on musicals, Sondheim, and growing up in New York, which then veered off into a considerable discussion of her film work and working with actors like Hugh Jackman, Robert Downey Jr. and Penelope Cruz, as well as directors like Woody Allen, Brian DePalma and Christopher Nolan. In this sample portion of the forthcoming interview, in addition to speaking eloquently about the acclaimed revival and winning the Tony, Ms. Johansson was also gracious enough to address the "Give The Tonys Back To Broadway" Facebook campaign controversy and her response is reflected here, as well as in the e-mail follow-up and further explanation I received from her just moments ago. The complete interview will be available next week, here is a small sampling to whet your palette. Enjoy!
A View From The Top
Besides being in the highest grossing film of the year so far - IRON MAN 2 which co-stars Robert Downey Jr. and Mickey Rourke - Scarlett Johansson also managed to win a 2010 Tony Award for Best Featured Actress In A Play and if those accomplishments just weren't enough, she was magnanimous and gracious enough to discuss her intimate relationship to the play, what the rehearsal process entailed, what working with Gregory Mosher was like and her feelings on the state of theatre in New York right now, whether straight drama or musical. Someone as ravishingly beautiful and quick-witted and eloquent as she is would not be automatically assumed by most to be the best dramatic and comedic actress of her generation - the next Meryl Streep if there ever were any - but, she is. She is. For further proof, see: LOST IN TRANSLATION, THE PRESTIGE, MATCH POINT, SCOOP, VICKY CRISTINA BARCELONA & IRON MAN 2. Here, she tells us her feelings on BroadwayWorld and her thoughts on the Facebook campaign controversy.
PC: Let me be the first to congratulate you on winning the BroadwayWorld Fan's Choice Award as well as the Tony Award.
SJ: Wow! That's intense.
PC: Do you know BroadwayWorld? Do you read us? You have lots of fans here!
SJ: Oh, I know who you are! I am very well aware of your website! (Laughs.) It's a great site. It's very user-friendly!
PC: Could you comment on Hunter Foster's Facebook campaign, "Give The Tonys Back To Broadway"? Is it just sour grapes?
SJ: You know, I pounded the pavement for years and I know what it's like to struggle as an actor. A lot of it is luck and, certainly, a lot of it is opportunity - and the lack of that. So, I totally understand the frustration there. There's not much else that I can say about it, really...
PC: It's a sensitive issue.
SJ: I mean, I am very sympathetic to that. I totally understand it. A lot of my friends who are struggling actors are going through the same thing. But, I can't apologize for it. I have worked my ass off to get to where I am so I understand that struggle. For me, it's more about hiring the right person for the job. You know, who fits that description. If somebody is cast because they are a name but they're not right for the job, well, it's very frustrating. I see that. As an actor, you're trying to get one foot in the door all the time. It's the most competitive and challenging, one of the most competitive, though, for sure...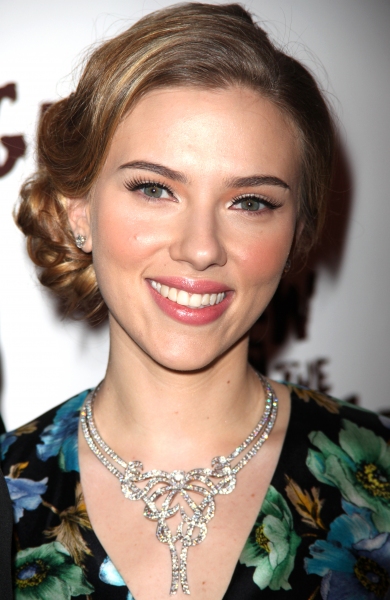 PC: Definitely the most competitive. But, with you, there's no equal grounds for competition to be had, for sure!
SJ: Aww, you're too sweet.
The following is the e-mail I just received a few moments ago from Ms. Johansson further explaining her thoughts on the controversial issue of the Facebook campaign (unedited):
"Please pass this on to Pat regarding his Facebook campaign question to bring theater back to Broadway:
I thought more about your question and would like to add that the actors we've seen this season that we recognize from film - Denzel Washington, Viola Davis, Liev Schreiber and Catherine Zeta-Jones, etc. - have not only made a huge impact on ticket sales but have given tour de force performances and all started their careers as stage actors, dedicating themselves to making an impression in the theater. This goes to show that actors are actors, whatever the outlet, and with perseverance and drive, can cross the boundaries of the medium. In VIEW, I had the privilege of working opposite Morgan Spector, a relatively unknown actor who gave a luminous, educated performance as 'Rodolpho'. Greg Mosher could've had his pick of recognizable film actors who would've jumped at the opportunity to fill the part, but he saw something worth pursuing in Morgan and our production was the better for it."
And whenever we see Scarlett on stage or film we are left mesmerized with stars in our eyes by her sheer beauty and talent - the lights of Broadway and Hollywood and far beyond. She is the real deal. Stay tuned for her thoughts on VIEW FROM THE BRIDGE, winning the Tony, Sondheim, BULLETS OVER BROADWAY on Broadway, in the complete interview coming next week.
Photo Credit: Walter McBride