Click Here for More Articles on NEWSIES
BWW Exclusive: The Cast of Disney's NEWSIES Reading!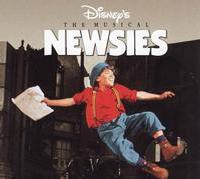 BroadwayWorld.com's scoopsters have found the cast list for this Friday's highly-anticipated reading of Disney's NEWSIES musical. Of course, participation in a reading is not a predictor of who will appear in any future productions and no announcement has been made regarding where or when a production will be mounted. 
Newsies features a score by Alan Menken and lyricist Jack Feldman (who together provided the music for the 1992 film) and a new book being written by Harvey Fierstein. 
The cast of the reading features Jay Armstrong Johnson (Jack), Jason Michael Snow (Davey), Matthew Gumley (Les), Meghann Fahy (Katherine), Shuler Hensley (Joseph Pulitzer), Liz Larsen (Medda), Tom Alan Robbins (Mr. Jacobi/Roosevelt), Marcus Neville (Snyder), Mark Price (Bunsen), Bill Nolte (Seitz) and Robert Creighton (Wiesel).
Also in the cast are Andrew Keenan-Bolger (Crutchie/Ensemble), Corey Mach (M. Delancey/Ensemble), Ben Thompson (O. Delancey/Ensemble), Bobby List (Finch/Ensemble), Robert Hager (Race/Ensemble), John Arthur Greene (Spot/Ensemble), Danny Calvert (Bill/George/Henry/Ensemble), Jordan Nichols (Albert/Darcy/Elmer/Ends), Dante Russo (Mush/Ensemble), Stuart Marland (Ensemble), Etai BenShlomo (Specs/Ensemble), Julie Foldesi (Ensemble) and Jenelle Lynn Randall (Ensemble).
Newsies was a 1992 Disney live-action musical film starring Christian Bale, David Moscow, and Bill Pullman. Robert Duvall and Ann-Margret also appeared in supporting roles. The movie gained a cult following after its initial failure at the box office. The film marked the directorial debut of choreographer Kenny Ortega (Dirty Dancing, High School Musical, This is It and upcoming In The Heights).
The film is based on the true story of the 1899 newsboys strike, in which the pint-sized newsboys delivering the New York papers went on strike against the unfair practices of news magnates Joseph Pulitzer and William Randolph Hearst. The film features 12 songs and multiple dance sequences including Carrying the Banner, Santa Fe, My Lovey-Dovey Baby, The World Will Know, Seize the Day, King of New York, Hard Times, Hard Times, Once and For All and more.