Click Here for More Articles on Tails of Broadway
BWW Exclusive: TAILS OF BROADWAY- Josh Segarra Snuggles with Suzy!
After a long week of treading the boards, what better way for performers to unwind than with the affection of a furry friend? In one of BroadwayWorld's newest series, Tails of Broadway, photographer Jessica Fallon Gordon is capturing priceless moments between Broadway's brightest stars and their pets.
In this edition, meet Suzy- the lucky pup of ON YOUR FEET! star Josh Segarra!
---
Pet Profile
Name: Suzy Segarra
Breed: Morkie (Maltese/Yorkie)
How long you've owned: She's 3 years old (we call her a Threenager) We got her at 3 months.
Adoption story: My wife has a close family friend that works for PAWS. She called us and said "I HAVE YOUR DOG!" My Mother In Law ran right over and picked up Suzy. She said she was the cutest pup she had ever seen. After fostering her for about 3 weeks (most importantly, beginning the potty training phase for us), we picked her up. She changed our lives. We ask ourselves all the time what life was like before our little monster.
Favorite thing to do with your pet: Besitos (those are little kisses in Spanish) As soon as I walk in the door, wherever she is, she immediately rolls on her back and I give her belly kisses (or besitos).
The naughtiest thing your pet has done: When she was a baby, I brought home some Petey's (a fast food joint in Astoria). Brace was about to go to sleep. I left the food on the coffee table. As I was walking back from the bedroom, I see her halfway on the couch, and half on the coffee table. She stood proudly over the fries. I said sternly, "Nooooooo". She looked at me, slowly lowered her head, and picked up 1 fry with her mouth. She held it half in/half out her mouth. I one more time said, "Nooooooo" and like a ninja, she flipped the fry into her mouth and chewed. Right in my face. Defiantly. I immediately busted into laughter. I will always remember that moment.
What would your pet's catch phrase be?: "You don't know nothing." (I always say that to her. Like when she looks at me with those eyes, I say, "Doggie... Don't look at me. You don't know nothing." And I always picture her saying it right back like "Dad, YOU don't know nothing.")
---

Suzy and Josh Segarra

Suzy, Brace and Josh Segarra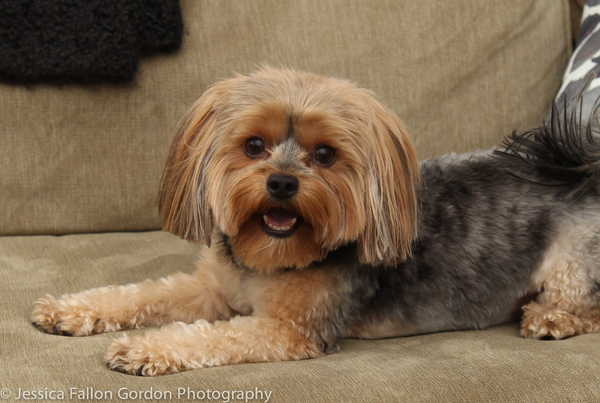 Suzy Segarra

Suzy Segarra

Brace, Suzy and Josh Segarra

Suzy Segarra

Suzy Segarra

Suzy and Josh Segarra
Related Articles