Interview: Matthew Morrison Will Bring Glee to Bay Area Cabaret; Recalls Weinstein Woes on Broadway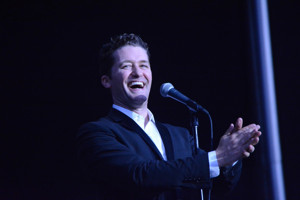 Matthew Morrison couldn't be more "Glee"-ful about launching Bay Area Cabaret's 15th Anniversary Season on Sept. 30 at the world-famous Venetian Room at the Fairmont Hotel in San Francisco. ''I love places that have so much history,'' says the Tony, Emmy and Golden Globe nominee. Among the celebrated singers who've sung there: Nat King Cole, Ella Fitzgerald, Marlene Dietrich, Peggy Lee and Tina Turner. And in 1961, Tony Bennett first performed ''I Left My Heart in San Francisco" there, which is especially apt since the Fairmont sits high upon Nob Hill, "where little cable cars climb halfway to the stars."
Morrison will be making his San Francisco cabaret debut with his spectacular show, "Song and Dance Man." He will croon showtunes by the score and uphold the highest standards of the American songbook. Footloose and fun, he'll dance about as if Gene Kelly were in his genes. In ''Hairspray,'' he belted "You Can't Stop the Beat.'' But in concert, you can't stop his feet.
Marilyn Levinson, the founding executive producer of Bay Area Cabaret, says: "I chose Matthew to open our 15th Anniversary Season because he embodies the best of what Bay Area Cabaret looks for in an artist: He is a consummate, triple-threat performer. I first saw him in "South Pacific" at Lincoln Center, and his dancing amazed me when I saw his solo show in New York. He also has a genuine love of Broadway and the standards, and he knows how to play to every member of his audience."
Morrison is best-known as "Mr. Schue," the compassionate teacher who "carefully taught" his "Glee" club of kids about music, life and love. But we chatted with him about what he has learned from being a performer, a parent and an entrepreneur. He also reflected on "Finding Neverland" and says his producer, Harvey Weinstein, "turned off ... the Broadway community" with his bullying tactics. And he gave us news about his BBC talent show and his grand plans for a Museum of Dance.
---
Congrats, Matt, on kicking off the 15th season of Bay Area Cabaret. Have you ever played San Francisco?
The only national tour I ever did was "Footloose'' [in 1999], and we played the Curran. But this will be my San Francisco cabaret debut. I can't believe it's taken so long. I'm a Northern California boy. I grew up in Chico, two hours outside of San Francisco. I remember the open spaces, the greenery and walking through creeks. It's where I got my love of camping and the outdoors.
Meantime, you'll get to see the indoors of the Venetian Room. It's a stunning ballroom with a beautiful, 22-foot-high ceiling.
A couple days ago, my dad said, ''I've sung at the Venetian Room.'' I said, ''What?'' My dad does not sing. At all. But once he took a tour of the Fairmont Hotel, and they handed everyone lyrics to "I Left My Heart in San Francisco." So my dad says he sang there before I did. (Laughs.) Tony Bennett has a lot of history in that room, and he does the standards better than anyone. I can't wait to perform at the Venetian and feel the voices of the past. We'll be doing a fun show with a 5-piece combo, and Brad Ellis will be my musical director. Brad and I have such a rich history that originated on the set of "Glee." He is a mentor and a friend.
Your show is called "Song and Dance Man," and you're always on the move. You don't just stand at the mike and sing. You swivel and swerve all over. To quote a "Finding Neverland" lyric, sometimes "your feet don't touch the ground."
Dance has always been so special and unique to what I do. Some of it's choreographed. Some of it's just me being inspired by the music. I can't help it. I'm a mover. It's just who I am. And I love Broadway, so I'll be singing songs I've done there, from ''Hairspray,'' ''The Light in the Piazza" and "South Pacific." I've always felt I was born in the wrong era. I love the standards.
Your second CD, "Where It All Began," is full of standards, but you give them your own spin. Like how you jazz up "It Don't Mean a Thing" or "On the Street Where You Live." And lately, you've found a new way to do a classic from "Oliver!"
Yeah, as a straight guy, I never felt a connection to "As Long as He Needs Me." But last October, I had a son [Revel]. Now, I can do this song and it's about my kid. It really touched me. That's the beauty of standards; you can bring a new meaning to them.
As a longtime straight ally, you've also brought a new meaning to "We Kiss in a Shadow": as a salute to gay marriage.
I really want to bring that to San Francisco, too. I strip it down, with no microphone. Just a ukulele. It has so much meaning.
As we're chatting, the Senate is holding Supreme Court confirmation hearings. Brett Kavanaugh won't say if he believes in marriage equality or if Obergefell is settled law. Do you have any concerns that marriage equality might be reversed?
I think we all have concerns about this [Trump] administration. But we've come so far, and I can't imagine it being reversed. The LGBTQ community is so active and political. If it were reversed, it would be the next modern-day civil war.
No doubt you'll do a couple of the lovely songs from "Finding Neverland" (by Gary Barlow and Eliot Kennedy). You got to play J.M. Barrie in a show about how he was inspired to write "Peter Pan." And you won the BroadwayWorld Award for Best Actor in a Musical and received Drama Desk and Drama League nominations. What did "Finding Neverland" mean to you?
I always knew I wanted to be a father someday, and that show really informed me about the kind of father I wanted to be: someone who never loses sight of that child inside himself. Over the course of my life, I really did lose that. Luckily, I'm in a career where I get to play constantly. But the work I was taking was becoming just that: work. The fun and the play wasn't in it anymore. But "Finding Neverland" opened up my imagination and my thoughts on fatherhood in a more serious way.
"Finding Neverland" started off strongly, grossing over $1 million a week from its first previews in March 2015 and through that August. I wished it won a ton of Tonys, but the reviews were rough and the nominators snubbed it. You tweeted: "Despite [the lack of] nominations, I'm so proud to be in a show that takes audiences on a beautiful journey." What happened?
I guess I can talk about it now, but a lot of it was [due to] Harvey Weinstein. It was kind of a shock. The way he acted [as a producer] turned off a lot of people in the Broadway community. He tried to bully his way into getting nominations, and that [rubbed] people the wrong way. But the show had a nice healthy run; it was beautifully done, and Diane Paulus did a great job.
Weinstein always said he was so proud of the cast. Before "Neverland" got the hook in August 2016, he even announced that he wanted to make a movie of it, starring you and Kelsey Grammer, and bring in Helen Mirren. Now, that's unlikely. When the allegations of Weinstein sexually harassing various women came out last October, what did you think? Was it disbelief?
It wasn't total disbelief. I've heard of a lot of stories in my time [about sexual harassment in showbiz], but it was never to that level or that extreme. Honestly, there were two sides of Harvey: the side that I never saw, and the other side where he was incredibly gracious to me and my family. He really took care of us for the whole run of "Finding Neverland."
Your concerts often include a song from "Glee." You must be thrilled with how well your "students" are doing. Amber Riley won the Olivier for "Dreamgirls" in London. Harry Shum Jr. is in "Shadowhunters" and "Crazy Rich Asians." And this Monday, Darren Criss is up for an Emmy for Ryan Murphy's "The Assassination of Gianni Versace." Did you get to see him in that?
Absolutely. I was talking to Darren yesterday. He's just so talented. I love everything he does or touches. He's so smart. That was such a great turn to go from Blaine [in "Glee"] to Cunanan [in "Versace"]. I'm rooting for him at the Emmys.
Speaking of TV, tell me about "The Greatest Dancer," the new show you're doing with Simon Cowell.
It's thrilling and so fresh. It's Simon's first talent show for the BBC. I'm a dance captain, along with Cheryl Tweedy and Oti Mabuse. The dancers walk into an audition room with mirrors before them. And there's an audience of 3,000 behind the mirrors, but the dancers don't know it. If 75% of the audience, which has controls, lights up for them, the dancers go on to the next round. I don't vote. I'm just there to give positive, constructive criticism and inspire them. It'll start airing in January in the U.K.
You're always juggling so many projects. Are you still hoping to revive "City of Angels" for Broadway?
The rights are still held up in London, but I'm doing an upcoming sitzprobe with Ted Sperling [from Lincoln Center]. He's starting a new program at NYU for future pit musicians. One day, we'll go through the score of "City of Angels," and I'll play Stone. I love that role. Meantime, we're still trying to lock in a Stine. Possibly Patrick Wilson. Possibly Leslie Odom, Jr.
One of your other dream roles is Booth in "Assassins." So what was it like to be in a workshop of Stephen Sondheim's new musical based on Luis Bunuel's "The Exterminating Angel" and "The Discreet Charm of the Bourgeousie"?
Exciting. It was very much in the beginning stages [in November 2016]. But I will say that the music was classic Sondheim, which was so exciting to sing. He still possesses that singular brilliance to tie together a haunting melody with provocative lyrics.
You've always performed a lot for charity. In 2005, we produced the first "Leading Men" concert for Broadway Cares at Joe's Pub. You were the first guy we asked and the first guy to accept. John Tartaglia hosted, and Seth Rudetsky music-directed. It was a showcase for young Broadway pros, like you, and cabaret stars, like Tom Andersen. Do you remember any of that?
Of course, I do. I even remember what I was wearing that night: a red shirt with black stripes. And backstage, I had a big bag of peanut M&Ms. I sang a song I loved ["One Day More" by Georgia Stitt]. I had such a good time with the guys you brought together for that, and just look at their careers: Cheyenne Jackson, Barrett Foa, Christopher Sieber, Chad Kimball ...
Besides being a performer, you're an entrepreneur. One of your idols, Paul Newman, inspired you to co-found (with Zach McDuffie) the SHERPAPA Supply Company, which sells "high-quality gifts and gear for the modern family.'' As you've written at Sherpapa.com, your company isn't simply about selling T-shirts, caps and bags: ''It's about inspiring men to handle responsibility, set a great example, and to ultimately keep their cool." And that's not your only new project, is it?
No. I'm creating a Museum of Dance in New York City. It'll tell the history of dance, and it'll be a completely immersive theater experience. For example, as you walk through the 1920s section, we'll have dancers who perform and can teach you the Charleston. Some of our advisory board members include Chita Rivera and Tommy Tune. We hope to open in early 2020 in Long Island City and create other versions in Tokyo, London and Paris. I'd love to bring culture together through dance. And I want to turn that area in Long Island City into a new Times Square. Broadway has become so elite and too expensive for families.
Just to bring things full-circle, your Bay Area Cabaret show is on Sept. 30. But the next day, Oct. 1, kicks off a pretty historic month for you. Oct. 12 is Revel's first birthday. And Oct. 30, you hit the big 4-0. How do you feel about that?
I'm going into this next decade with so much excitement and hope. And new projects and a family. There's so much to be thankful for. It's also Renee's birthday in October and our wedding anniversary. It feels like the beginning of a new Matthew Morrison.
That might've begun as soon as you met Renee. In fact, how did you meet this gorgeous Hawaiian actress and model?
Eight years ago, I was at a Grammy party. It was literally "some enchanted evening," and we saw each other "across a crowded room." But we didn't meet until I was leaving the party. I heard this girl speaking Pidgin, which is Hawaiian slang. I had spent a lot of time in Hawaii, and my first gig was singing backup for Don Ho. Then, I saw Renee. I thought "F*ck it" and went up to her and said: "How is it, Sistah?'' She looked at this white boy speaking Pidgin and just laughed. And the rest is history.
---
Matthew Morrison performs Sept. 30 at 7 p.m. at the Venetian Room at the Fairmont Hotel, 450 Mason St., San Francisco. Opening-night tickets, $125. The rest of Bay Area Cabaret's 2018-19 season features: Gavin Creel (Oct. 14); Kate Baldwin (Nov. 4); Christine Andreas (Dec. 2); Carmen Cusack and Susan Werner (Jan. 20); John Pizzarelli and Jessica Molaskey (March 3); Catherine Russell (March 24), and LaChanze (May 19). For more info, call (415) 927-4636 or visit bayareacabaret.org.