Click Here for More Articles on Shutdown Streaming
BROADWAY UP CLOSE Presents Virtual Broadway Tour Series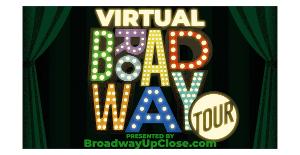 Since 2010, Broadway Up Close Walking Tours has been creating in-person experiences on the sidewalks of Times Square, bringing guests closer to the fun facts, history, magic, and ghost stories of the 41 Broadway theaters. On March 12, 2020, that all changed.
While it initially looked like the Broadway shutdown due to COVID-19 would abate after a month or so, news reports told a different story. Now, with theaters shut down across America until 2021, Broadway Up Close is bringing the magic of Broadway direct from the Times Square sidewalks to you - virtually!
Beginning with the oldest Broadway theater, The Hudson, and traveling forward in time chronologically, each week Green Team Owner Tim Dolan will share fun facts, history, and anecdotes in daily videos released on Instagram (@BroadwayUpClose) and Facebook (www.facebook.com/broadwayupclose). To celebrate the "Saturday Night On Broadway" tradition that takes place backstage at theaters, Tim will sit down with one performer who has worked at that week's featured theater to talk about their theatrical journey and memories of working at that specific theater. And finally, our YouTube Page will feature all the videos and interview from each week in a recap video for easy viewing every Sunday.
As part of the 10th Anniversary of Broadway Up Close, they released the Broadway Passport - a way for theatre-goers to stamp all the different shows they've seen on Broadway in one handy passport-sized book. The Virtual Broadway Tour experience will use the Broadway Passport as a guide throughout the journey.
While the Broadway theaters are closed, the goal is to relive the theatrical memories guests have already made on Broadway and beyond. And by the time the virtual journey concludes in March of 2021, hopefully Broadway will be re-opened and we can celebrate all the fun facts and history in person on a Broadway sidewalk in Times Square and in the red velvet seats of a theater together.
George M. Cohan hit the nail on the head in 1904: "Give my regards to Broadway, remember me to Herald Square. Tell all the gang at 42nd Street that I will soon be there." 41 weeks. 41 theaters. And every day is one day closer to Broadway.
YOUTUBE CHANNEL: https://www.youtube.com/channel/UCIlSYlbfeC9QhV1mRghRMww
FIRST VIDEO ON YOUTUBE: https://www.youtube.com/watch?v=eThaZIlS8R0&t=5s
INSTAGRAM: @broadwayupclose
FACEBOOK: www.facebook.com/broadwayupclose
BROADWAY PASSPORT: https://broadway-up-close.myshopify.com/collections/broadway-passport
Related Articles

More Hot Stories For You
VIDEO: Jennifer Hudson Performs 'Bridge Over Troubled Water' as Tribute to John Lewis
Jennifer Hudson was one of the stars who took part in CBSa??s John Lewis: Celebrating a Hero TV special, which aired on Tuesday at 10 p.m. ET....

Check Out the Original Broadway Cast of HAMILTON's Latest Projects
What have the original cast members, ensemble members, swings, and standbys of Hamilton been up to lately? Check out their latest projects!...

Disney Employee Pulls the Curtain Back on What it is Like to Work at Disney World During the Pandemic
Rolling Stone has reported on a conversation they had with one Disney World employee, pulling the curtain back on issues of safety, whether social dis...

VIDEO: On This Day, August 6- HAMILTON Opens On Broadway!
On this day in 2015, Hamilton officially opened on Broadway at the Richard Rodgers theater!...

VIDEO: HAMILTON Fan Creates a Side-By-Side Comparison of 'Helpless' and 'Satisfied'
One Hamilton fan saw some parallels while watching the musical on Disney+, specifically between A Winter's Ball/Helpless and Satisfied....

Zach Braff Shares Tattoo Tribute to His Friend, Nick Cordero
Zach Braff is remembering his friend, the late Nick Cordero, in a special way. Tattoo artist Doctor Woo shared a photo of his depiction of Nick in Bul...