BRING A GUN...THE LONG NIGHT OF LOUISE BROOKS Gets NYC Reading, Today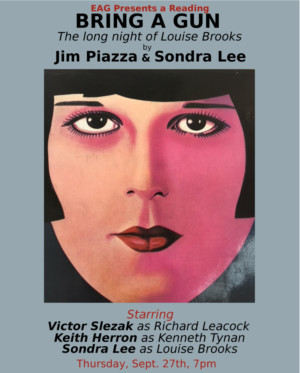 A woman in her 70s tells her tale of the roaring 20s in this reading of Sondra Lee's and Jim Piazza's new play about a night in Hollywood you will never forget!
Starring Victor Slezak as Richard Leacock, Keith Herron as Kenneth Tynan, and Sondra Lee as Louise Brooks
All proceeds from this dramatic night about the "it" girl from the Jazz Age will go to support the charitable programs of the Episcopal Actors' Guild (EAG) (actorsguild.org). EAG, established in 1923, is a charitable organization offering emergency financial assistance and career support to NYC's professional performing artists "of all faiths, and none." Tickets are $20 and will be available at the door starting 20 minutes before the show. Reservations can be made by emailing reservations@actorsguild.org and are strongly encouraged.
Sondra Lee is an award-winning actor, dancer, director and teacher whose career has been marked by outstanding achievements, among them her noted collaborations with Jerome Robbins, Federico Fellini, Robert Benton and Gower Champion, Garson Kanin Arthur Penn, and Frank Corsaro. Sondra was heralded on Broadway for her creation of Tiger Lily in the Mary Martin version of Peter Pan and for her performances in High Button Shoes, Hello Dolly, Hotel Paradiso (opposite Bert Lahr and Angela Lansbury) Sunday in New York with Robert Redford. International appearances: Ballets USA, Ballets des Paris, the Menotti Festival of Two Worlds in Spoleto, Italy with John Butler, Michael Cacoyannis' The Trojan Women (with Claire Bloom). Some directing credits include All My Sons, A Couple of White Chicks, Elizabeth and Essex, Watch on the Rhine, Don Juan in Hell, and Hillbilly Women. She has been consultant to film directors Robert Benton, Michael Mann and Francisco Rossi on the films Nobody's Fool, Last of the Mohicans, Billy Bathgate, To Forget Palermo, A Dry White Season, Places in the Heart, Light of Day, Nadine, Violets are Blue, The Enemy and The Morning After. She was co-producer of Charles Busch's Shanghai Moon. Her current cabaret shows include KT Sullivan and Jeff Harner's Sondheim Tonight. As a renowned acting teacher, she has inspired and nurtured scores of working professionals. Sondra has been a faculty member of the Stella Adler Conservatory and NYU Drama School and is a member of The Actors' Studio. She is on the Board of Directors of the Buglisi/Dance-Threshold Dance Projects, The John Butler Foundation Inc. and is an honorary member of the Institute of Cinematography, L'Aquila, Italy. Her memoir I've Slept With Everybody can be obtained on Amazon and Kindle. Sondra is also a major figure in biographies of Marlon Brando.
Jim Piazza is an author, playwright, essayist, and lyricist. Books: Academy Awards: The Complete Unofficial History (co-authored with Gail Kinn), The Greatest Movies Ever (co-authored with Gail Kinn); The King (a biography of Elvis Presley). Plays: Stage Stuck (co-written with James Kirkwood, Jr.). Essays: The Village Voice and Out magazine. He has also been a script analyst for Columbia, Fox, and Paramount Pictures.
Doors open at 6:40 pm. The reading will be followed by a wine and cheese reception. The Episcopal Actors' Guild is located at 1 E. 29th St. New York, NY 10016 (between 5th and Madison Aves.) 212-685-2927.
Related Articles
More Hot Stories For You