BREAK FREE: Broadway Performers to Throw Manchester Benefit Concert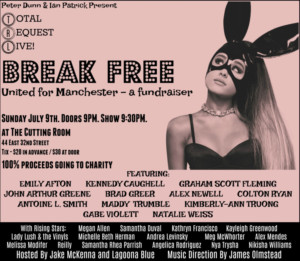 Taking place at 9:30pm on Sunday, July 9, 2017 at New York's famed The Cutting Room, a group of Broadway performers and musical theatre artists will join forces to raise money for those affected by the attack at the Ariana Grande concert on May 21 in Manchester, England. Entitled "Total Request Live: Break Free (a night for Manchester)" this special event will feature the work of Ariana Grande, as rearranged by the creative team and artists, and will benefit the We Love Manchester United Fund.
The TRL: Break Free show will start at 9:30pm and will feature performers such as Alex Newell (FOX's Glee), Natalie Weiss (Everyday Rapture, LES MISERABLES, Breaking Down the Riffs), Brad Greer (Bridges of Madison County), Gabe Violett (Spring Awakening, NBC's The Voice (Season 11)), Emily Afton (Amélie, Hair), Kennedy Caughell (Natasha, Pierre & The Great Comet of 1812, American Idiot, Wicked), Antoine L Smith (Miss Saigon, The Color Purple Revival, Memphis), Graham Scott Fleming (Miss Saigon, Kinky Boots), Maddy Trumble (Mary Poppins, Wicked, Newsies), Colton Ryan (Dear Evan Hansen), John Arthur Greene (School of Rock, Matilda), Kimberly-Ann Truong (Miss Saigon).
"What happened at Ariana's concert was horrific. We--as artists, as New Yorkers, as humans--owe it to the people of Manchester to use our talents to support them with compassion and love and all the money we can possibly raise," says Alex Newell, who starred as Unique on Fox's Glee. "I could not think of a better way to spend a Sunday evening."
TRL: Break Free will be hosted by Jake McKenna and Lagoona Blue, with the music direction of James Olmstead. TRL ("Total Request Live") is a monthly series created and developed by Peter Dunn, Chris Jehnert and Samantha Parrish at The West End Lounge that brings together performers and musicians to reinvent the songbook of a popular artist (past TRL shows have focused on the creative work of stars such as Michael Jackson, Lady Gaga and Rihanna). The featured artist is chosen each month by a public poll via TRL's active social media community. July's special benefit production of TRL will be produced once again by Dunn, along with Ian Patrick.
Also performing at TRL: Break Free will be a group of artists whose work has been key to the success of the TRL series. This group, dubbed the Rising Stars, include Megan Allen, Samantha Duval, Kathryn Francisco, Kayleigh Greenwood, Michelle Beth Herman, Andrea Levinsky, Lady Lush and the Vinyls, Meg McWhorter, Alex Mendes, Melissa Modifer, Samantha Parrish, Reilly, Angelica Rodriguez, Nya Trysha and Nikisha Williams.
100% of proceeds from the TRL: Break Free event will go towards the We Love Manchester Emergency Fund. Set up in the wake of the horrific attack at the Ariana Grande concert on May 21, 2017, the Fund supports people who have been injured or bereaved by the attack, helping ensure that the victims and their families do not face short-term financial difficulties.
"In the wake of tragedy, I always find it hard to figure out what I can actually do to help," says producer Peter Dunn. "However, I know that music heals and that it is my duty as a producer to help support those in Manchester. I am so proud and humbled by the overwhelmingly positive response that the musical theater community has shown in putting this event together. We're here to prove that, in the end, love will always, always, win."
Tickets for TRL: Break Free (a night for Manchester) can be purchased at http://tickets.thecuttingroomnyc.com/event/1511541-total-request-live-break-new-york/
Additional information about TRL: Break Free (a night for Manchester). TRL Facebook Page: https://www.facebook.com/trltotalrequestlive/
We Love Manchester Emergency Fund: https://www.justgiving.com/campaigns/charity/redcross/manchesteremergencyfund
Related Articles
More Hot Stories For You
VIDEO: On This Day, July 9- Lin-Manuel Miranda, Phillipa Soo, Ariana DeBose, and Leslie Odom, Jr. Say Goodbye to HAMILTON
On this day in 2016, original Hamilton cast members, Leslie Odom Jr., Phillipa Soo, and Ariana DeBose along with the musical's star and composer, Lin-...

Broadway League Approves 15-Second COVID-19 Test For Actors and Crew; League President 'Cautiously Optimistic' About Early 2021 Return
Broadway League President Charlotte St. Martin told the New York Post that for the first time, she feels 'cautiously optimistic' about Broadway being ...

BROADWAY AT HOME on PBS Continues With GREAT PERFORMANCES: SHE LOVES ME & More
Beginning July 24, GREAT PERFORMANCES will continue to keep the performing arts alive with Broadway at Home, broadcasting a theatrical favorite every ...

Actors' Equity Files Grievance Against Walt Disney World for Retaliating Over Request for Testing at Disney World
With days until Walt Disney World's scheduled reopening, Actors' Equity Association has filed a grievance against Disney for retaliating against membe...

QUIZ: Spend a Day at North Shore High and We'll Tell You Which Mean Girls' Plastic You're Most Like!
Are you a Cady, Regina, Karen, or Gretchen? Take our quiz to find out which of the North Shore plastics are you!...

Watch Audra McDonald & Seth Rudetsky Live In Concert (At Home) Tonight
Seth Rudetsky's internationally acclaimed Broadway concert series that first began in Provincetown at The Art House in 2011 is now a weekly virtual se...